Williams Selyem Estate Vineyard: A Description & Vertical Tasting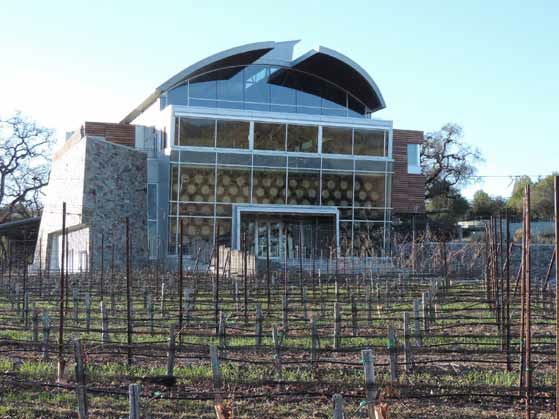 This article is the second in a series of in-depth profiles of distinguished Pinot Noir vineyards in California and Oregon. The vineyards are chosen by me for their record of producing consistently high quality Pinot Noir over multiple vintages. At this time, there is no classification of vineyards in North America and there is no established nomenclature to signify levels of quality such as is found in Burgundy.
In 2001, John Dyson, the owner of Williams Selyem Winery, bought 51 acres on Westside Road in the Middle Reach of the Russian River Valley that had formerly been an apple orchard, hops farm and pasture owned by the descendants of Cecil and Luella Litton. The Cecil Litton Ranch property, located 7 miles southwest of Healdsburg and ! mile south of Allen Vineyard, and adjacent Arista Vineyards estate, was one of the last available premier vineyard sites on Westside Road.
Dyson and winemaker Bob Cabral collaborated in planning the vineyard layout which surrounds the 30,000- square-foot winery. 32 sample pits were dug to study the various soil types and attempts were made to match the soils with compatible rootstocks. Because the soil was so rocky, many tons of rock were removed and re purposed in the property's driveway leading to the winery and in the winery construction itself. The road connecting the winery to Westside Road was covered with nearly 70,000 tons of gravel crushed from the rock, and the interior walls of the east entrance were fashioned from excavated rock. Both natural habitats and over 100-year-old oak trees were preserved on the property.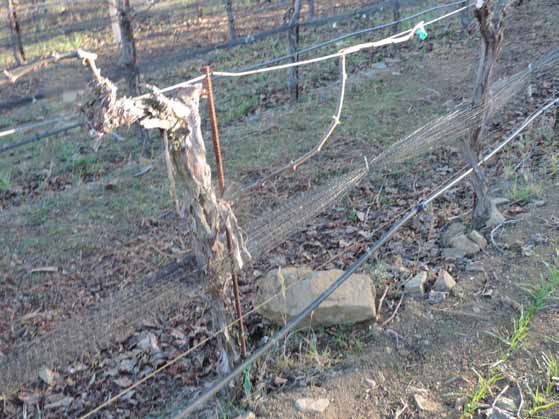 The initial planting of 19 acres started in 2002 in the upper hill portion of the land which presented a northeast to southwest aspect. The vineyard eventually grew in size to nearly 40 acres containing five different rootstocks and multiple clones, primarily heritage selections including Swan, Mt. Eden and Calera. Additional smaller plantings of Pinot Noir clones included Pommard and Dijon 777 and "828." The vines were densely planted in 5' x 7' rows at 1,245 vines per acre and trained to a VSP trellis.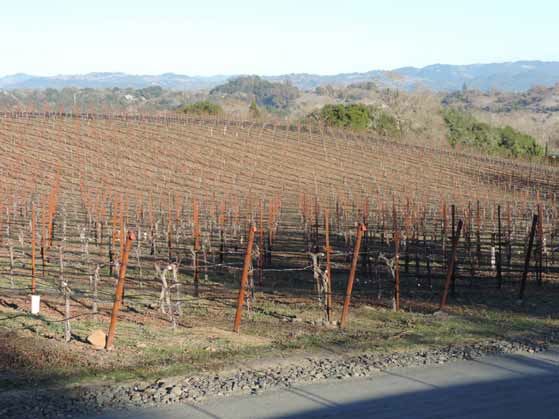 The Cecil Litton Ranch land also included a parcel on the eastern side of Westside Road, but has proven to be better suited for Chardonnay than Pinot Noir.
The Estate Vineyard was initially named the Litton Estate Vineyard to honor Cecil and Luella Litton who had originally homesteaded the land in the 1850s. After the 2008 vintage, the vineyard name was changed to the Williams Selyem Estate Vineyard after an agreement with Ridge Vineyards, which produces the Lytton Springs, Lytton Station and Lytton Estate labels, named after Sonoma County pioneer William Litton.
The Williams Selyem Estate Pinot Noir is a blend that includes at least 90% heritage selections, primarily Swan and Mt. Eden. Other selections and clones from the vineyard are vinified separately and added to the blend judiciously as needed, but most of that is included in the Russian River Valley and Westside Road Neighbors bottlings. There are plans to bottle the block of Calera selection separately in honor of Luella Litton.
The Williams Selyem Estate Pinot Noir is vinified in the same fashion as the other Williams Selyem wines. After a cold soak, the grapes are inoculated with the Williams Selyem yeast isolate, 15-25% whole cluster fermented, and malolactic fermentation induced with one strain (ML-34). Fermentation is carried out in stainless steel dairy tanks. The use of cultured yeast adds consistency to the Williams Selyem house style. The wine is aged in 100% Francois Frères French oak barrels.
The first vintage of Williams Selyem Estate Pinot Noir in 2005, commemorating the 25th Anniversary of Williams Selyem, produced only two barrels. The winery did not plan to bottle it for commercial sale since there was such a small quantity. However, the wine stood out after repeated tastings and it was decided to bottle it and give it away to the oldest and most loyal Williams Selyem customers. Mark Malpiede, the Vice President of Sales and Marketing, was very kind to offer me a tasting of the 2005 vintage, especially considering the winery only has about a case remaining. The Williams Selyem Estate Pinot Noir is priced at $100 and allocated to Williams Selyem mailing list members.
Mark related a humorous story regarding the 2005 Williams Selyem Estate Pinot Noir. One of the customers who had received a bottle, called Mark in desperation trying to buy a bottle at any price. It seems his spouse had used the bottle for cooking and this had created significant marital discord. Mark patiently explained they had no wine to sell him. When Mark told the story to Williams Selyem winemaker Bob Cabral, Bob offered to give him a bottle from his own cellar (Cabral receives a case of every wine he crafts at Williams Selyem), and marital harmony was restored.
To commemorate the 30th Anniversary of Williams Selyem with the 2010 vintage, an additional, very limited bottling of Estate Vineyard Pinot Noir was created. The first Williams Selyem Pinot Noir was produced from the 1981 vintage and carried the winery's original Hacienda Del Rio label (photo below top). The best barrel of 2010 Williams Selyem Estate Pinot Noir was paired with the best barrel of 2010 Williams Selyem Burt Williams' Morning Dew Ranch Pinot Noir and bottled as a collectable with the original Hacienda Del Rio label image and packaged in a special wooden box (photo below right bottom). Both 750 ml bottles ($250 for the pair) and magnums ($500 for the pair) were produced and sold only at the winery.

StmlImage: '4' matches multiple images: images/08_27/08_27-14.jpg, images/08_27/08_27-24.jpg, images/08_27/08_27-34.jpg, images/08_27/08_27-44.jpg, images/08_27/08_27-54.jpg, images/08_27/08_27-64.jpg, images/08_27/08_27-74.jpg
[[image center 350x0 4]]
When Burt Williams (pictured below) came to the winery last year for pickup weekend, the winery gave him a 3 liter bottle of each wine. Those in attendance who bought the anniversary wines had Burt sign the bottles and boxes, creating quite a memorable occasion.
There is a unique 3-acre Block 10 planting within the Williams Selyem Estate Vineyard (pictured below). It consists of an 18 clone mass selection in which every eighteenth vine in each row is a different clone or field selection intermixed throughout the block, all on 420 rootstock. This type of planting was commonplace in
Europe before the discovery of the genetics of field selections. The clones or field selections are planted diagonally so they can be located. All vines are picked at the same time, even though ripening is variable and usually spread over two weeks in the vineyard. That way, some grapes are picked under ripe and some overripe, with most in the middle ground of ripening.
The first Block 10 Pinot Noir was produced in 2008. The winemaking for Block 10 is distinctly different from the other Williams Selyem wines. The cold soak is twice as long, 35%-38% whole cluster is used, fermentation is carried out by indigenous yeasts, and the wines are aged in two types of oak barrels: 50% in Francois Frères and 50% in Marcel Cadet. About 40% to 50% new oak is used and the wine is aged an additional 4 to 5 months (a total of 20 to 22 months) The goal is to make the Block 10 Pinot Noir stand out but not significantly alter the Williams Selyem style.
The Williams Selyem Estate Vineyard Block 10 Mass Selection Pinot Noir is sold only at the winery for $75 and limited in allocation. The winery hopes to make the wine available for visitors to the winery to taste and purchase year round.
The Williams Selyem Winery is open by appointment to WS List members for a tour and tasting for up to six people. Contact the winery two weeks before your planned visit at 707-433-6425. Visit the winery's website at www.williamsselyem.com to join the WS List and have an opportunity to visit.
When I visited Williams Selyem winery in the fall, Mark offered me a taste of the 2007 Williams Selyem Coastlands Vineyard Pinot Noir out of magnum. Coastlands Vineyard is a very cold site resulting in thick grape skins and dark color. I was quite taken by the wine which offered bright aromas of cherry and black raspberry, and flavors of earthy black cherry and peppery spice backed by suave, dry tannins. A real treat. I also tasted the 2012 Russian River Valley Chardonnay which is sourced from several vineyards and released in the spring at $39. It is an unoaked Chardonnay that is crisp and vibrant, tasting of fresh Gravenstein apples.
I recently tasted a vertical of Williams Selyem Estate Pinot Noir, 2006 to 2011. The 2005 was tasted at the winery as I noted previously. The 2012 vintage will be released in the fall of 2014. I have not tasted the 2010 30th Anniversary bottling of the Williams Selyem Estate Pinot Noir. The 2011 Williams Selyem Block 10 Mass Selection Pinot Noir was also tasted and proved to be the star among all the wines. I believe the 2006, 2007 and 2008 wines have peaked or nearly peaked but should hold a few more years, while the later vintages are still young and have many good years ahead. The wines all display the luscious, ripe, sappy fruit typical of the Russian River Valley.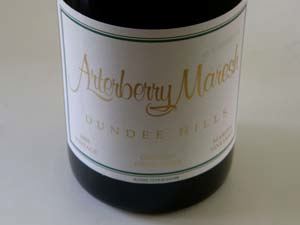 Bob Cabral Departing Williams Selyem
Winemaker Bob Cabral succeeded Burt Williams at Williams Selyem in 1998 after the winery had been sold to John Dyson. He was able to carve out his own success, a difficult task when following the legendary accomplishments of Burt Williams. He oversaw and helped plan new vineyard plantings, directed the acquisition of new vineyard sources, and assisted in the construction of a new winery. In 2011, Bob was honored with the Wine Star Award for Winemaker of the Year.
2014 will be Bob!s 17th and last vintage at Williams Selyem. He cited "growing demands on him and his family" as a major factor in his decision. He has not said what his future plans will be, but he will continue to make wine as part of his own project and will be freed up to see more of his family, travel less and enjoy a more tranquil lifestyle.
Another winemaker at Williams Selyem for the past three years, Jeff Mangahas, and his team, will continue the Williams Selyem style and tradition. Jeff, like Bob, was the winemaker at Hartford Court in the Russian River Valley before coming to Williams Selyem. He will be backed by assistant winemaker Patrick Bernard and enologist Jessica Gilmore.