Recently Tasted Oregon Pinot Noir Delights
Beckham Estate Vineyard, Tualatin, OR
Beckham Estate Vineyard is located on the flank of Parrett Mountain in the Chehalem Mountains at 412-568 feet elevation. The vineyard is organic and dry farmed, with extremely rocky, volcanic soils. Andrew and Annedria Beckham acquired this property in 2004 with the intent of building a pottery studio, but an estate vineyard soon followed and the first wine was made in 2009 by Andrew. The 6.5-acre vineyard is planted to Pommard, Wädenswil and Dijon 115 and 777 clones of Pinot Noir derived from cuttings from a nearby vineyard. A tasting room was completed in 2012. Visit www.beckhamestatevineyard.com. Annual production of Beckham Estate Vineyard and A.D. Beckham wines is 2,700 cases.

2015 Beckham Estate Vineyard Estate Chehalem Mountains Pinot Noir
13.3% alc., $30. A blend from the entire estate vineyard including Pommard, Wädenswil, 115 and 777 clones. Aged 15 months in French oak barrels, 10% new. · Moderate garnet color in the glass. The nose opens slowly in the glass to reveal aromas of blackberry, turned earth and oak vanillin. Fruit-driven by a mid weight core of black fruits accented with dark chocolate, spice and toast flavors. Very approachable, with suede tannins, balancing acidity and some finishing generosity. Score: 89
2015 Beckham Estate Vineyard Dow's Chehalem Mountains Pinot Noir
13.3% alc., 100 cases, $50. Released October 2017. The name of this wine honors Andrew's son, father, grandfather who carry the name Dow. Pommard and 777 clones. 30% whole cluster fermentation. Aged 15 months in French oak barrels, 25% new. · Moderately dark garnet color in the glass. Demure aromas of blackberry, cassis and smoke . Masculine in a mid weight plus style, with rich, full flavors of black raspberry and blackberry with a touch of smoke and tobacco. Silky in texture, with a noticeably intense and prolonged finish. More giving when tasted the following day from a previously opened and re-corked bottle. Score: 90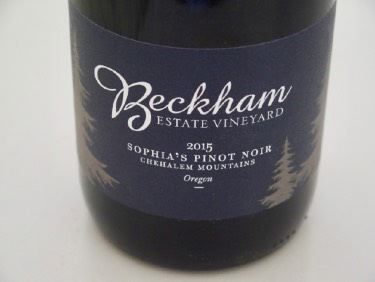 2015 Beckham Estate Vineyard Sophia's Chehalem Mountains Pinot Noir
13.3% alc., 100 cases, $40. Released April 2017. This wine is named for the Beckham's eldest daughter Sophia. Dijon 115 (ownrooted). Aged 15 months in French oak barrels, 10% new. · Moderately dark garnet color in the glass. A charming wine with enticing scents of black cherry, woodland, spice and piney oak. Lifted and vivacious, with a tasty core of dark red cherry and berry fruits framed by smart tannins. Impressive harmony, with a driving, extended finish. Score: 91
The A.D. Beckham project offers wines vinified and aged in 100 to 220-gallon terra cotta amphorae. As a ceramics teacher, Andrew found the confluence of his life's passions: clay and wine. He has worked to develop clay amphorae that are viable and food safe, using clay from the Delta in Sacramento. Through trial and error, he found the most appropriate firing temperature for making unlined amphorae. The project is ongoing, but Andrew has found that the extraction coming from amphorae at the end of primary fermentation is brighter and higher toned with more energy and tension. Ferments are not as hot and are slower. During aging in amphorae, wine is exposed to twice the oxygen as in an oak barrel and the wines tend to mature at a much faster rate than would be seen with wines aged in oak barrels. The clay vessel also acts as a fining chamber so the wines finish with clarity. The finished wines have a unique texture that Andrew describes as earthen or similar to brick dust. The amphorae wines are handcrafted in Andrew's studio located on the estate vineyard.
2015 A.D. Beckham Creta Chehalem Mountains Amphora Pinot Noir
13.5% alc., 100 cases, $55. "Creta" is Latin for clay and this wine was fermented and aged in terra cotta. Clones are Pommard, Wädenswil, 115 and 777. 30% whole cluster fermentation. Native yeast fermentation. Bottled unfixed and unfiltered. · Moderately dark garnet color in the glass. Primary aromas of black cherry, earth and white chocolate with a dank note in the background. More appealing on the palate, with mid weight flavors of dark red cherry, cranberry and spice. Lively and bright, with a purity of fruit expression unencumbered with oak. The texture is like fine emery. Similar to a Pinot Noir vinified in neutral oak, but with more richness of fruit flavor and structure. Score: 90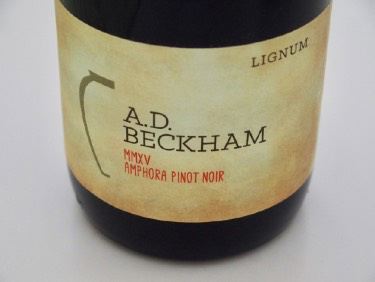 2015 A.D. Beckham Lignum Chehalem Mountains Amphora Pinot Noir
13.5% alc., $45. This wine was fermented in handmade terra cotta vessels and 50% aged in 12-year-old French oak barrels and 50% aged in amphorae. Bottled unfiltered. · Dark garnet color in the glass. A totally different wine than the "Creta." The fruit profile seems riper, showing aromas of fruitcake, prune and marzipan. Full-bodied, with plenty of purple and black fruit sap with a pleasing spice accent. Wellstructured, with a soothing texture and a enviable finish. I was attracted to the spice, balance and texture of this wine. Score: 91
Evening Land Vineyards, Salem, OR
Beginning with the 2014 vintage, Evening Land became the name of the winery producing exclusively Pinot Noir and Chardonnay from the 62-acre Seven Springs Vineyard located in the Eola-Amity Hills AVA. The 2014 vintage was the 30th anniversary vintage from Seven Springs Vineyard and marks the first vintage Rajat Parr and Sashi Moorman became sole stewards of the vineyard. A new label for the brand also appeared in 2014.
Three of the 2015 vintage estate wines are reviewed here. For 2015, there are seven bottlings including three Pinot Noirs, three Chardonnays and a Gamay Noir (current release is from the 2016 vintage). According to the winery, "The 2015 vintage sees all the traits of classic Oregon Pinot Noir turned up a notch. The color is brighter, the palate is weightier, the fruit purity more pronounced on both the nose and palate, and the wines in their youth are - dare we say it - a touch showy and opulent." Because of the showiness, the use of new oak was dialed back slightly. For the Chardonnays, "We brought the elegant influence of the larger Austrian puncheons to both the Summum and La Source cuvées in 2015." The Anden Pinot Noir is only available in a Reserve Case due to very small production. The wines are sold through a mailing list at www.eveninglandvineyards.com.
2016 Evening Land Seven Springs Eola-Amity Hills Gamay Noir
12.5% alc. $35., From a 3-acre block of estate Gamay Noir planting that is among some of the oldest Gamay vines in North America. Vinified in the traditional Beaujolaise approach in the cellar. · Moderate garnet color in the glass. Pleasant aromas of cherry liquor, strawberry malt, and a leafy/vegetal note. Mid weight flavors of red cherry, cranberry are shot through with a herbaceous tone. Refreshingly crisp, with balanced tannins and a juicy, red cherry-themed finish. Score: 88

2015 Evening Land Seven Springs La Source Eola-Amity Hills Pinot Noir
13.0% alc., $75, Dijon clones planted in shallow and rocky soils at the very top of the vineyard. · Moderately light ruby red color in the glass. Welcoming aromas of black cherry, spice, burnt tobacco, mocha and toast maintain over time in the glass. Delicious and seductive, with mid weight flavors of black cherry and black raspberry highlighted by baking spice and sandalwood goodness and underlain with complimentary oak. Rather elegant, with inviting Pinot delicacy, offering more flavor and complexity than the color would dictate. The finish has unusually gratifying length. A memorable wine from an iconic vineyard. Score: 95
Soléna Estate, Yamhill, Oregon
After successful careers in the Oregon wine industry, husband and wife team of Laurent Montalieu and Danielle Andrew Montalieu acquired an 80-acre estate to commemorate their marriage in 2000. In May 2002, they launched Soléna by bottling their first vintage of Domaine Danielle Laurent Pinot Noir and, shortly thereafter, opening a tasting room in Carlton. Soléna is the combination of the French and Spanish words soleil and luna, celebrating the sun and the moon, and the name that Laurent and Danielle gave their daughter. Soléna Estate began as a way to explore winemaking with several varieties grown in neighboring appellations while the family's young Domaine Danielle Laurent vineyard in the Yamhill-Carlton AVA matured. In May 2007, Danielle and Laurent added the spectacular Hyland Vineyard in the McMinnviille AVA to their estate vineyard holdings. Today, Laurent and Danielle produce Pinot Noir, Chardonnay and Pinot Gris from their estate vineyards and other exceptional vineyards in the Willamette Valley. Visit www.solenaestate.com.
Related value priced labels from Real Nice Winemakers in Dundee: www.realnicewinemakers.com.

13.5% alc., pH 3.14, RS 2g/L, $18, screw cap. Produced and bottled by Real Nice Winemakers, Dundee, OR. Pinot Noir and Riesling sourced from Domaine Loubejac Vineyard. Harvest Brix 22.4º-24.1º. · Moderate pinkish orange color in the glass. Nicely appointed aromas of blood orange, strawberry, apricot and nectarine. The flavors echo the aromas in a bone dry style with a good grip of finishing acidity. Fresh and pleasing, holding up nicely over time in the glass. A good wine to chill out with. Score: 89
2015 Black Magnolia Willamette Valley Pinot Noir
13.8% alc., pH 3.60, $22. Sourced from Hyland Olsen and Domaine Loubejac vineyards. · Light garnet color in the glass. Aromas of black cherry, vanilla and pain grille lead to a light to mid weight style wine that is heavily oaked. The core of black cherry fruit is rather shallow and oak flavors of char and vanilla predominate. A bit disjointed, with some aggressive oak tannins. Score: 85
Privé Vineyard & Winery, Newberg, OR
Longstanding readers know that I have written extensively about the wines from this 2-acre site in the Chehalem Mountains. The wines have become so popular and produced in such small quantities, that owners Tina and Mark Hammond can only accept appointments for tasting from club members beginning in January 2018. It is no secret that the Hammonds want to retire and their winery property is available for sale. The estate Pinot Noirs are 100% Pommard clone from vines first established in 1980 in Jory soil. All three wines were exceptional even three days after opening indicating they will age and there is no hurry to drink them. Visit www.privevineyard.com.
2016 Privé le nord Chehalem Mountains Pinot Noir
13.8% alc., $59. · Moderately light garnet color in the glass. The nose is highly rewarding, featuring hi-tone aromas of fruit jam, spice box, rose petal and toast. Expansive flavors of black cherry, raspberry and Coca-cola with just a touch of toasty oak. A gorgeous wine with impeccable balance and long, black cherry-infused finish. Still exceptional when tasted the following day from a previously opened and re-corked bottle predicting age ability. Score: 93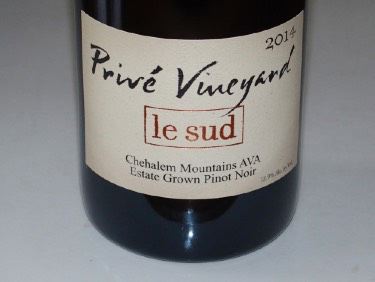 2016 Privé le sud Chehalem Mountains Pinot Noir
13.9% alc., $69. · Moderate garnet color in the glass. Heady aromas of dark cherry and berry and sous bois. Mid weight plus in style, with more sappy and deeper flavor than le nord. Flavors of blackberry, black cherry, and pomegranate fruits are highlighted with tastes of tobacco and spice. Texturally seductive, with enmeshed tannins and a very generous black-fruited finish. When tasted the following day from a previously opened and re-corked bottle the intensity and length of the finish grabbed my attention. Score: 94

2016 Privé Joie de Vivrie Chehalem Mountains Pinot Noir
13.8% alc., $99. 115 of 192 bottles signed by wiinemaker. Etched, heavy bottle. · Moderately dark garnet color in the glass. Brooding aromas of dark berries, fertile earth and oak. Velvety in the mouth in a mid weight plus style with initially reserved flavors of blackberry and cassis. Heavenly texture and balance with an outlandish finish that persists in the mouth for over a minute. Even better and more giving when tasted two and three days from a previously opened and re-corked bottle. Don't even think about drinking this wine for three to five years. A tour de force that unfortunately few will get to drink. Score: 96
Walter Scott Wines, Salem, OR
This winery has burst on the Oregon wine scene in recent years, although the owners, Ken Pahlow and Erica Landon, have been members of the Oregon wine industry for twenty years. Walter Scott Wines was launched in 2008 and was a featured winery at the 2016 International Pinot Noir Celebration. The winery now produces 3,000 cases annually of Pinot Noir, Chardonnay and Pinot Blanc from exceptional vineyards in the Eola-Amity Hills AVA. Look for more about this stellar producer in the next issue of the PinotFile.
The same care and attention to detail goes into the Walter Scott Willamette Valley appellation wines as for the single vineyard selections. La Combe Verte translates to "The Green Fault" or "The Green Valley." The phrase is a tribute to both the Willamette Valley and the team at Patricia Green Cellars, without whose support Walter Scott could never have been started. Essentially, it is Patricia Green's "fault" that Ken and Erica were able to start their project. See also the review of La Combe Verte Willamette Valley Chardonnay. The two wines reviewed below are the first of the 2016 wines to be released. Visit www.walterscottwine.com. 2017 futures may be ordered now by mailing list members.

2016 Walter Scott La Combe Verte Willamette Valley Pinot Noir
13.5% alc., 1,350 cases, $28. Released September 2017. Primarily sourced from Eola-Amity Hills sources (Hope Well, Justice and Sojourner vineyards) with barrels of Vojtilla and Freedom Hill vineyards added. 15% whole cluster, ambient yeast fermentation, aged 10 months in French oak barrels, 30% new. · Moderate dark garnet color in the glass. The nose offers its pleasures over time in the glass, showing aromas of black cherry, black raspberry, and spice. More expressive on the palate, with a real mouthful of luscious purple and black fruits dressed in matched tannins. The seductively silky texture is embraceable. Well-crafted, with some finishing intensity. Score: 91
2016 Walter Scott Cuvée Ruth Eola-Amity Hills Willamette Valley Pinot Noir
13.5% alc., 350 cases, $40. Released September 2017. This wine is dedicated to the memory of Ruth and Irv Kantor, the winery's partner's parents showing a tribute to partners Sue and Andy who helped Ken and Erica realize their dreams. A combination of select barrels from exceptional vineyards including Seven Springs, Sojourner and Temperance Hill. Grapes from Lewman Vineyard, a site adjacent to the winery, were also blended in. A blend of Pommard, Wädenswil and Dijon clones. Fermented with indigenous yeasts and aged 10 months in French oak barrels, 30% new. Bottled unfixed and unfiltered. · Dark garnet color in the glass. Shy aromas of red and purple berries with a whiff of spice. Mid weight plus in style, offering vivid flavors of boysenberry and pomegranate that flood the mouth with goodness. Silky and sleek in the mouth with cashmere tannins and laudatory oak input, finishing with class. This wine wows the palate with virility. Score: 93