Sips of Pinot
California
Bennett Valley
A number of impressive Pinot Noirs have been appearing in the marketplace from Bennett Valley. The appellation consists of only about 700 planted acres, but the wines from this tiny appellation are making an impression on wine aficionados. Matanzas Creek Winery, which released a Bennett Valley Pinot Noir from the 2007 vintage, its first since the 1970s, is the highest-profile producer in this region.
Bennett Valley is located at the foot of Sonoma Mountain in Sonoma County approximately four miles from the Russian River Valley. It is Sonoma County's newest appellation, approved in December 2003. The appellation is surrounded by three mountains: Taylor Mountain to the West, Bennett Peak to the East, and Sonoma Mountain to the South (see map below).
Most vineyards are planted between 500 and 600 feet elevation and enjoy a consistent marine influence throughout the growing season. The Crane Canyon/Grange Road gap in the mountains allows cooling fog and wind to enter the valley moderating summer temperatures and creating conditions that are ideal for cool climate grape varieties. The soils are mainly rocky and volcanic in origin.
The Bennett Valley Grapegrowers Association (www.bvgg.org) lists 31 member growers and 8 wineries scattered among the 8,140 total acres. 66% of the planted acreage is Chardonnay and Merlot, with Pinot Noir only making up 9% of the total.
More information on Bennett Valley available on the Grey Stack Cellars website at www.greystackcellars.com.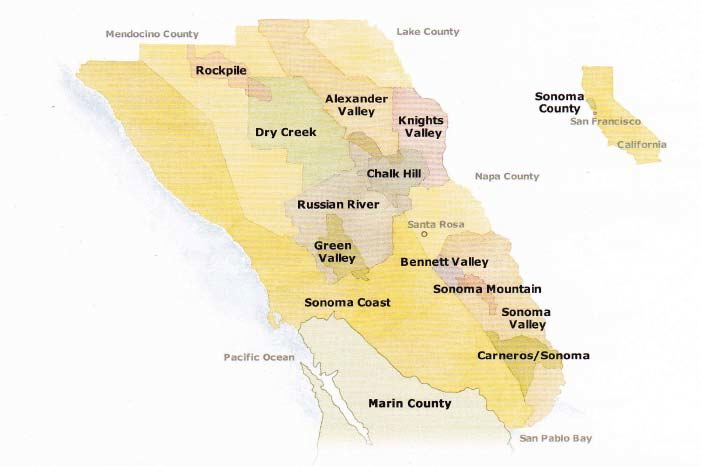 Oregon
'this'
Other
'this'