Tin Barn Vineyards
| | |
| --- | --- |
| Owner(s) | Kurt Chapman, Gray Fowler, Bud Johnson, Michael Lancaster, Carl Stewart |
| Web site | www.tinbarnvineyards.com |
| | |
| Link to this site | |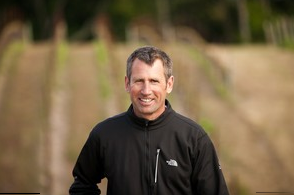 Tin Barn Vineyards is a collaborative effort of winemaker Michael Lancaster and his four partners. The name is inspired by the intersection of King Ridge Road and Tin Barn Road high atop the ridges of the Sonoma Coast, where the Coryelle Fields Vineyard sits. This was the first vineyard source for grapes (Syrah). Other wines include a Cabernet Sauvignon, Zinfandel, Sauvignon Blanc, and a Pinot Noir from the Ricci Vineyard on Ramal Road in Sonoma Carneros.
The managing partner and winemaker is Michael Lancaster who has worked in the industry for more than 20 years.
The winery is one of the Eighth Street Wineries of Sonoma at 21481 Eighth Street East in Sonoma. Production is 3,400 cases per year under the Tin Barn label and produce about 12,000 cases per year for clinets under a custom crush arrangement. Tin Barn wines are sold on the website.
Articles About Tin Barn Vineyards
Reviewed Wines

2012 Tin Barn Vineyards Ricci Vineyard Carneros Pinot Noir

13.5% alc., $36. Sourced from a family owned vineyard located in a cool and foggy setting facing San Pablo Bay. The winemaker is Michael Lancaster. · Moderately light reddish purple color in the glass. Aromatically alive with scents of red cherry, strawberry and red rose petal. A charming, polished and elegant wine with mid weight flavors of spiced cherry and plum. Easy to drink, with good tension, balanced tannins and a fruity finish. Score: 90. Reviewed October 6, 2014 ARTICLE&nbsp»

2011 Tin Barn Ricci Vineyard Carneros Pinot Noir

13.9% alc., pH 3.85, TA 0.38, 161 cases, $34. Released September 2013. This family owned vineyard is located on a south facing slope facing San Pablo Bay in a cook foggy area. 66% 777, 34% Pommard. Aged 14 months in 30% new French oak barrels. · Moderately light reddish-purple color in the glass. Persistent aromas of black cherry, spice, dark chocolate and sweet smoke fill the glass. Very tasty core of black cherry and black raspberry fruits with accents of cola and brown spice including cinnamon. Oak highlights add a welcoming tone. Very uplifting and juicy despite the lower acidity. I liked this wine the more I tasted it. The wine definitely has a Carneros imprint with its darker fruit and earthy, mushroom tone. Score: 92. Reviewed December 18, 2013 ARTICLE&nbsp»