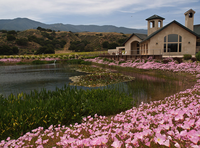 A producer of Pinot Noir, Chardonnay, Syrah and Sauvignon Blanc from the San Saba Estate Vineyard (18 acres of Pinot Noir along with Chardonnay, Syrah and Sauvignon Blanc) and other vineyards in Monterey County including Doctor's, McIntyre, and Tondré Grapefield.
Formerly San Saba, the label is now Wrath Wines since Michael Thomas, an archeologist, and his mother and business partner, Barbara Lemmon, bought San Saba winery and vineyards in late 2007 from Thomas' stepfather. Michael Thomas named the project Wrath, after a Led Zeppelin tune. Replanting of the 68-acre site, previously Merlot and Cabernet Sauvignon, ensued with the assistance of local grower Steve McIntyre.
The winemaker is Sabrine Rodems who earned her MS in Viticulture and Enology at University of California Davis. She interned at Gloria Ferrer Winery and joined Wrath in 2004. She is also consulting winemaker at Ventana Winery. Byron Kosuge is a consulting winemaker for Wrath.
Production is very small and sold primarily through a mailing list (the Wrath List) with the initial releases in April of 2009.