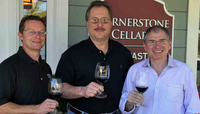 Napa's Craig Camp has enlisted noted Oregon winemaker Tony Rynders to produce Pinot Noir from the Willamette Valley beginning with the 2008 vintage. Production in 2008 was a minuscule 50 cases of Pinot Noir, increasing to 200 cases of Pinot Noir in 2009 and 800 cases of Pinot Noir and 200 cases of Chardonnay in 2010. The wine will be produced and bottled just outside of Gaston, Oregon where Rynders also makes his own wine under the Tendril label. Camp is using his contacts from time spent in Oregon to acquire top-notch vineyard contracts.
Camp, who was the president at Annie Amie Winery, developed a passion for Pinot Noir more than 30 years ago when he began importing the Burgundy selections of Becky Wasserman and made frequent trips to the Burgundy estates she was representing.
Tasting is available in Yountville at 6505 Washington St. (707-945-0388).