B.R. Cohn Winery & Olive Oil Company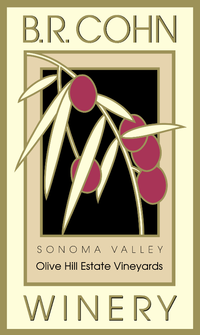 B.R. Cohn was founded by in Sonoma Valley in 1984 on land originally acquired by founder Bruce R. Cohn in 1974. The European-style wine estate is best known for its Olive Hill Estate Vineyard Cabernet Sauvignon and the extra virgin olive oils produced there. The French Picholine olive trees that were planted in the mid 1870s and surround the estate, giving the inspiration for its name, Olive Hill Estate Vineyards.
Veteran winemaker Tom Montgomery joined B.R. Cohn Winery in 2003 after 20 years of making wine in Napa, and is crafting an outstanding Russian River Valley Pinot Noir sourced from several top vineyards in that region, and a Sangiacomo Vineyard Chardonnay.
The wines are available on the winery website. The tasting room, housed in a building once used as a stagecoach stop for Wells Fargo, is open daily and tours are offered by appointment (800-330-4064, ext 124).
Articles About B.R. Cohn Winery & Olive Oil Company
Reviewed Wines

2010 B.R. Cohn Russian River Valley Pinot Noir

14.6% alc.,pH 3.60, TA 0.63, 2,400 cases, $40. Sourced from Lera's and Dutton vineyards. Average vine age 12 to 17 years. Clones 667, 777 and Pommard. Whole berry and whole cluster fermented with natural and Assmanshausen yeasts. Aged 19 months in 64% new and 36% 1-year-old French oak barrels. Winemaker Tom Montgomery. · Moderate reddish-purple color in the glass. Very aromatic initially, offering bright aromas of Bing cherries, cola and toasty oak. Discreetly concentrated core of nicely ripened Bing cherry fruit with accents of cola, mocha, brown spice and oak flavors clothed in soft, dry tannins. The immensely appealing velvety mouth feel is a clincher. This wine will have wide appeal. Score: 91. Reviewed September 29, 2013 ARTICLE&nbsp»

2010 B.R. Cohn Winery Russian River Valley Pinot Noir

14.6% alc., pH 3.60, TA 0.63, 2,400 cases, $40. 44% Lera's and 56% Dutton vineyards. Clones 667, 777 and Pommard, average age 12 to 17 years. Whole berry and whole cluster fermentation with natural and inoculated yeasts. Aged 19 months in 64% new and 36% 1-year-old French oak barrels from several cooperages. Previously reviewed 9/29/13. · Moderate reddish-purple hue in the glass. Aromatically alive with scents of strawberry preserve, cherry, vanilla and haunting oak. Mid weight flavors of ripe strawberry, black cherry, cola, mocha and sassafras with some toasty oak in the background. Very Caliesque in style with full-on extraction and generous oak treatment. The fruit is well balanced by firm tannins, the mouth feel is velvety, and the wine finishes with good intensity albeit showing a hint of heat. Score: 89. Reviewed December 18, 2013 ARTICLE&nbsp»

2008 B.R. Cohn Russian River Valley Pinot Noir

14.5% alc., pH 3.64, 1,700 cases, $40. Sourced from Lera's Vineyard (33%), Dutton Vineyard (30%), Rochioli Vineyard (19%) and Simon Oliver Vineyard (18%). Clones are Pommard, 667 and 777. Cold soaked 4 to 5 days. Whole berry and whole cluster fermentation in 3 and 5 ton open-top fermenters with indigenous and Assmanshausen yeasts. Aged for 18 months in 64% new and 36%1-year-old Francois Frères, Louis Latour and Rousseau oak barrels. Unfiltered. · Moderate reddish-purple color in the glass. Terrific nose replete with slightly confected fresh Bring cherries and allspice. Delicious essence of ripe cherries and strawberries accented by flavors of cherry cola, spice cabinet, and Red Vines. Elegant and seamless with deft use of oak, a silky smooth texture, and a finish that sails along. Très Russian River. Reviewed September 22, 2010 ARTICLE&nbsp»