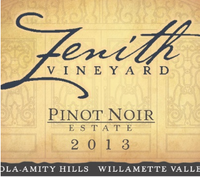 See St. Innocent. Pinot Noir, Pinot Gris and Tempranillo are produced under the Zenith Vineyard label by St. Innocent Winery winemaker Mark Vlossek. St. Innocent is a 25% owner of Zenth Vineyard.The Ramey Family along with St. Innocent Winery own and operate Zenith Vineyard. The property was purchased in 2002 from Pat O'Connor, the founder of O'Connor Vineyards as it was then known.
Zenith Vineyard is planted to Pinot Noir, Tempranillo, Auxerrois, Chardonnay, Pinot Blanc and Pinot Gris (82.942 planted acres). 85% of the grapes are custom farmed under long term contracts for winery clients including St. Innocent (St. Innocent made a O'Connor Vineyard Pinot Noir from 1989-1998 and a Zenith Vineyard Pinot Noir since 2006), Adelsheim Vineyard, Ponzi Vineyards, Domaine Serene, Domaine Nicholas Jay, Broadley Vineyards, Grochau Cellars, Sineann, Seufert Winery, Vincent Wine Co., Cristom Vineyards, Elemental Cellars, and Silas Wines.
Zenith Vineyards wines are sold on the winery website.
A custom-designed wedding and event ballroom in the Eola-Amity Hills at Zenith Vineyard is popular.