Jeff Gordon Collection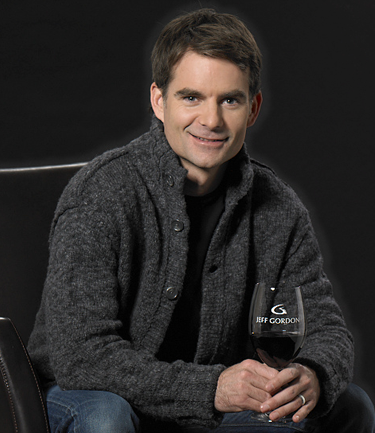 Race car driver and four-time NASCAR Cup Series Champion Jeff Gordon has his own line of wines produced in Napa Valley including Cabernet Sauvignon, Merlot, a Joie De Vivre red blend, Pinot Noir and Chardonnay.
Gordon grew up in Vallejo, California, and driving through Napa Valley was always curious about the vineyards. In the mid-1990s, he won a championship, and went out to a very nice restaurant where he encountered a wine list for the first time. He ordered a white Burgundy from Joseph Drouhin and loved the wine. That experience got him into drinking wine.
The winemakers are noted veteran August "Joe" Briggs (formerly of August Briggs Winery) and his nephew Jesse Inman. Gordon tastes the wines at different stages of development and gives his feedback.
The wines are sold through the winery's online store.
Articles About Jeff Gordon Collection
Reviewed Wines

2012 Jeff Gordon Sonoma Coast Pinot Noir

14.5% alc., pH 3.62, TA 0.59, 196 cases, $52. Released June 15, 2015. Sourced from Dutton-Lorenzo Vineyard in the Green Valley of Russian River Valley. Aged 9 months in 100% French oak barrels, 35% new. · Moderately light cherry red color in the glass. This is a very appealing wine that reflects its cool climate Green Valley origins. Highly fragrant scent of red cherries, spice and sandalwood that holds up over time in the glass. Elegant and refined, with pleasing flavors of cherry and cranberry touched by tobacco oak. Soft in the mouth with suave tannins and balanced acidity. Do I dare say, "racy?" Score: 91. Reviewed June 14, 2015 ARTICLE&nbsp»

2010 Jeff Gordon Cellars Leo Sonoma Coast Pinot Noir

14.5% alc., pH 3.60, TA 0.62, 124 cases, $56. Jeff and Ingrid Gordon dedicate this wine to their son Leo Benjamin, born in August of 2010. Jeff is a four-time NASCAR Cup Series Champion and long time wine enthusiast. Sourced from Cummings Vineyard just west of Santa Rosa and Archer Vineyard just west of Windsor. Aged 9 months in 30% new and 70% 2- and 3-year-old French oak barrels. Unfined and unfiltered. · Moderately dark reddish-purple color in the glass. The inviting aromatics feature aromas of blueberry, red plum, ripe strawberry, pine sap, spice and oak vanillin. Quite flavorful and easy to drink with a middleweight core of strawberry, cherry and blueberry fruits backed by juicy acidity and buffered by fine-grain tannins. Score: 89. Reviewed October 27, 2013 ARTICLE&nbsp»