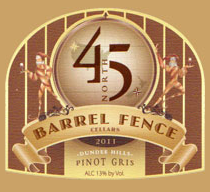 Pinot Noir from a vineyard in Dundee Hills, Oregon and Central Otago, New Zealand. In 2003, Herb and Eleanor Sims came across a 10-acre parcel on Worden Hill Road in the heart of the Dundee Hills, 7.5 acres of which had been planted to Pinot Noir in 2000. Neighboring operations includ Dick Erath's Prince Hill Vineyard, Maresh Vineyard, and Winderlea and Ana vineyards. Now called the Sims Estate Vineyard, the plot has clones 667, 777, 115, and Pommard.
The name Barrel Fence Cellars comes from the striking fence on their Dundee Hills property fashioned out of oak barrels. Combined production from both sources is about 300 cases. All the New Zealand Pinot Noir is being shipped to Oregon for sale.
A tasting room is open at 8880 Worden Hill Road in Dundee Friday-Sunday 11:00-5:00 (May-December).