Windrun Vintners & Négociants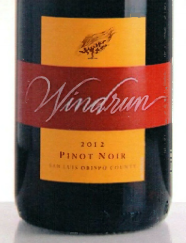 Started in 2010 by Lance Mason to produce Pinot Noir and Chardonnay from grapes sourced from the Santa Barbara County appellation. Noted Santa Barbara County winemaker, Ken Brown, oversees the purchase, blending, finishing and bottling of these wines. The wines are produced at Terravant Wine Co. in Buellton, CA.
Windrun is a measurement of the amount of wind passing a station during a given period of time.
Articles About Windrun Vintners & Négociants
Reviewed Wines

2013 Windrun Santa Barbara County Pinot Noir

14.1% alc., pH 3.66, TA 0.68, 2,530 cases, $23. A blend of 5 clones grown primarily in the Santa Maria Valley. Fermented in stainless steel and aged in new and used French and American oak barrels for 6 months. · Moderately light reddish purple color in the glass. Shy aromas of cherry, sandalwood, and tobacco lead to a middleweight styled wine with juicy flavors of cherries and purple berries. Easy to like, with bright acidity, mild tannins and a pleasing cherry-driven finish, although the oak overlay is a bit heavy-handed. Score: 88. Reviewed February 5, 2016 ARTICLE&nbsp»

2013 Windrun Sta. Rita Hills Pinot Noir

14.3% alc., pH 3.48, TA 0.67, 479 cases, $33. A blend of 5 clones from the Lafond Vineyard (Pommard, 115, 777, "828," and 667). 100% de-stemmed, fermented in open tanks. Aged in neutral 500-liter puncheons for 10 months with complete malolactic fermentation in barrels. · Moderately dark reddish purple color in the glass. Aromas of blackberry jam and woodland lead to a full-bodied charge of blackberry and black raspberry fruit flavors with an earthy undertone. The prodigious fruit is framed by bold tannins that stick out a bit on the finish. A fruit-driven wine that is a bit one-dimensional, and the wine's devilish tannins supersede the acidity. That said, the fruit is ripe and luscious, and the fruit intensity really holds on to the finish. Score: 89. Reviewed February 5, 2016 ARTICLE&nbsp»

2012 Windrun San Luis Obispo County Pinot Noir

13.6% alc., pH 3.72, TA 0.53, 1,648 cases, $23. Sourced from Edna Valley vineyards. · Moderately light reddish purple hue in the glass. The deeply aromatic nose offers a very pleasing marriage of black raspberry, dark cherry and rose petal scents. Noticeable fruit presence and a deft touch of oak make this cherry-driven offering a delight. Nicely balanced, with a modest, but gratifying and elegant finish. Score: 89. Reviewed February 5, 2016 ARTICLE&nbsp»