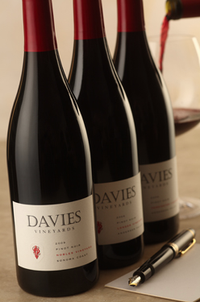 J. Davies Winery is located at the historical Schramsberg Winery in the Diamond Mountain appellation just south of Calistoga. J. Davies is named after Jack Davies, who along with his wife Jamie, founded and restored the modern day Schramsberg. This is one of the oldest wineries in Napa Valley with a founding dating to 1862 during the Civil War. As a result, the earliest hillside vineyards on the property date from 1862.
Pinot Noir and Chardonnay had been planted on the Schramsberg property for many years, but the estate is best for growing red Bordeaux varieties. As a result, their grapes for Schramberg's sparkling wines are sourced from cool weather generally coastal California locations.
The first red wine grapes were planted on the estate in 1994. They waited 7 years before releasing their first commercial vintage in 2001 under the J. Davies Estate label. The vineyard is 15 acres. Today Davies produces a Bordeaux style blend each year which can be tasted at the winery.
In 2009, the Davies family released their first still wines made from Pinot Noir under the Davies Vineyards label. The family's experience with Pinot Noir dates back to 1967, when Jack and Jamie Davies first used Pinot Noir to make their inaugural vintage of Blanc de Noirs sparkling wine. Over the years, Schramsberg's winemakers have built relationships with growers of Pinot Noir in the North Coast.
Second generation vintner Hugh Davies, winemaker Sean Thompson, and the Davies/Schramsberg team produced three vineyard-designate Pinot Noir wines from the 2009 vintage (Ferrington and Londer vineyards in the Anderson Valley and Nobles Vineyards in the West Sonoma Coast) and two from the 2010 vintage (Londer and Nobles vineyards). Spring Hill Vineyard was later added.
Sean Thompson became senior winemaker in 2015, replacing Keith Hock with Jessica Koga becoming associate winemaker for Davies Wines.
The wines are sold on the Schramsberg website (the wines immediately sold out to wine club members).