Soho Wine Co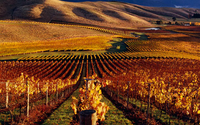 A popular brand in New Zealand with more glass pours in New Zealand's best restaurants and bars than most other boutique wine companies. SOHO founder Rachael Carter's family owns vineyards in Marlborough and Waiheke Island, which are used for SOHO wines along with Grant Taylor's Central Otago vineyard.
The wines have only been imported to the U.S. recently (mid-2012), through importer Vici Wines and Spirits. Plans are for SOHO to increase production by 253% over the next years, and import into the U.S. half of the expected 60,000 cases to be produced in 2014.
Winemakers include Dave Clouston (Marlborough), Pete Turner (Waiheke Island), and Grant Taylor (Central Otago).
Articles About Soho Wine Co
Reviewed Wines

2010 SOHO White Marlborough New Zealand Pinot Noir

13.7% alc., $18, screwcap. A newer winery founded in 2009 by Rachael Carter whose family has been involved in the New Zealand wine business for over 40 years. The winery has won multiple awards. Younger sibling of Black Label. Winemaker Dave Clouston. Imported by Nedrac Inc., Palm Desert, CA. · Moderate reddish purple color in the glass. Aromas of black cherry, toasted oak and campfire. Medium weight flavors of black cherry with a prominent oak sheen. Supple tannins, bright acidity and easy to drink. Score: 84. Reviewed February 4, 2014 ARTICLE&nbsp»

2010 Soho McQueen Central Otago New Zealand Pinot Noir

14.0% alc., $27, screwcap. Imported by Nedrac Inc., Palm Desert, CA. Winemaker is Grant Taylor. · Moderately dark reddish-purple color in the glass. Very ripe aromas of raisin, black plum and dark chocolate. Dark, earthy, ripe fruits are featured, highlighted by citrus-laden acidity that persists on the finish. The acidity brings the wine freshness, but is a bit imposing. Decent. Reviewed October 2, 2012 ARTICLE&nbsp»