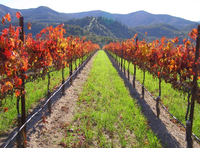 Harry Kuchta originally purchased a 200-acre ranch in Arroyo Seco, which was a turkey farm. He had a successful dairy business but later went into farming alfalfa and oat hay as well as fruits and vegetables. A son-in-law, Rob Madsen, had the expertise to transition the family ranch to wine grapes. In 1997, the family was approached by Kendall-Jackson and eventually established 60 acres of vineyards.
The vineyard has 5 acres of 777, 5 acres of 667, and 8 acres of 115 along with several other red varieties.
Madsen's experience included time at Paul Masson and Monterey Farming Corporation (now Scheid Vineyards) and has led the success of Sycamore Cellars.
A tasting room is open seasonally on weekends. Wines can be ordered through the tasting room.