Save Me, San Francisco Wine Co.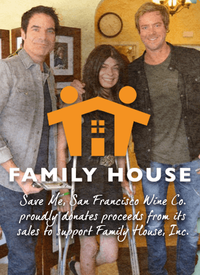 A collaboration between winemaker James Foster and the San Francisco based, Grammy Award-winning rock band - Train. Train guitarist Jimmy Stafford has been a wine lover for many years and often received wine from fans as he performed across the world. He found wine was a great way to connect with fans, and this led to the founding of Save Me, San Francisco Wine Co.. Five California wines are currently offered, including "Drops of Jupiter" California Red Wine, "Calling All Angels" Chardonnay, "California 37" Cabernet Sauvignon, "Hella Fine" Merlot, and the latest addition, "Soul Sister" Pinot Noir. Save Me, San Francisco proudly donates proceeds from its wine sales to support Family House, a non-profit organization providing temporary housing to families of seriously ill children while they receive treatment at the University of California Benioff Children's Hospital.
As a musician who tours most of the year, Stafford has incorporated wine into his touring life, consume a glass or two of red wine before each show while getting ready in the dressing room. Wine has become an important part of his pre-show routine. Winemaker James Foster is a graduate of University of California Executive Wine Program. Check the website for retail distribution or to purchase the wines directly.
Articles About Save Me, San Francisco Wine Co.
Reviewed Wines

2011 Save Me, San Francisco Soul Sister California Pinot Noir

13.0% alc., pH 3.62, TA 0.64, 12,000 cases, $12. Released winter 2012. · Moderately light reddish-purple color in the glass. Very accessible nose with bright aromas of strawberry, cherry, tea leaf and cardamom spice. Relatively light and delicate, but flavorful, with notes of dark red strawberries, cherries, cranberries and a hint of spice. Crisp and easy to drink with very tame tannins and appealing balance. A solid, straightforward, easy summer drink. Score: 88. Reviewed July 21, 2013 ARTICLE&nbsp»