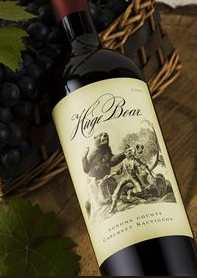 Legend has it that in the pioneer days of Knights Valley, a huge grizzly bear would come down from the mountains in search of food. Never trapped, his strength and independence were captured in 1846 when the grizzly appeared on the first flag of California, known then as the Bear Republic. The bold spirit of that bear is said to live on in Huge Bear wines.
Co-founder and managing director Tim Carl comes from a sixth generation California farming family and can trace his grape growing roots back over 150 years. The other co-founding partners are Jim Bailey, Tom Costin and Essel Bailey.
The winemaker is Meredith Leahy who works with consultants Jeff Ames and Douglas Danielak. Varietals include Cabernet Sauvignon, Chardonnay and Sauvignon Blanc.