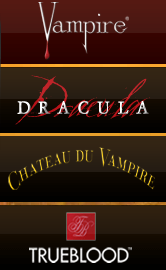 The company's founder is Michael Machat, an entertainment attorney from New York. Located in Paso Robles, the wines are bottled at Creston. The names of the two winemakers are not revealed.
Brands include Vampire (including a California appellation Pinot Noir, Dracula (including a Santa Maria Valley Pinot Noir), Chateau Du Vampire and Trueblood. The wines are sold through a wine club, an online store and through retail channels.
The Vampire Lounge and Tasting Room, designed by Lisa Dominique Machat, is located in Beverly Hills.