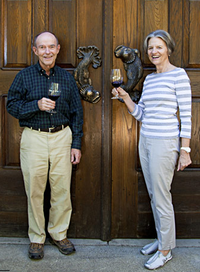 Wurtele Vineyard is located between two Spring Mountain estate properties in the Spring Mountain District of the Napa Valley. The 30-acre Cabernet Sauvignon vineyard was planted in 1990 by the Raymond family, and was bought by Angus and Margaret Wurtele in 1995. In 1999, they bought the Yverdon Vineyard, also on Spring Mountain., and sold this vineyard and winery to Jackson Family Wines. They retain ownership of Wurtele Vineyard and Terra Valentine
The father-son winemaking team of Sam and Phil Baxter was hired as winemakers for the Terra Valentine label. Sam became the Managing Partner and President of Terra Valentine.
Both a Russian River Valley and Sonoma Coast Pinot Noir are offered in addition to several Cabernet Sauvignon wines, Merlot, Syrah and Cabernet Franc.