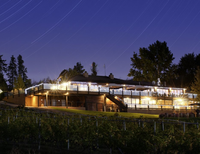 Named Canada's "most visited winery," Summerhill Pyramid Winery is the vision of entrepreneur Stephen Cipes.
Gabe Cipes directs the biodynamic viticulture program and works with vineyard manager Willem Semmelink. The winemaker and viticulturist is Eric von Krosigk, who was trained in Germany.
Multiple varietals are offered including a Pinot Noir grown in the central Okanagan Valley.
Tasting is available daily and tours are given on weekends.