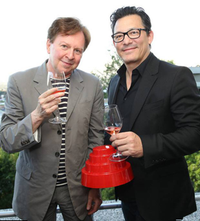 A new North Coast estate in 2014. Founder Gerald Casale was a New Wave pioneer as a musician in the band Devo. This cross-cultural movement led him into the world of New Wave California cuisine and a love of wine followed. He is a self-admitted Pinot Noir junkie.
The name refers to a never-built architectural blueprint from Mies Van Der Rohe that dates back 60 years, which the design firm MDMA will use to build the 50 By 50 estate in Napa's Wooden Valley.
The fruit for the 2013 Pinot Noir Rosé and Pinot Noir come from Rodger's Creek Vineyard, helmed by Randy Luginbill and Jonathan Gold in the Sonoma Coast AVA. Only 280 cases of the Pinot Noir.