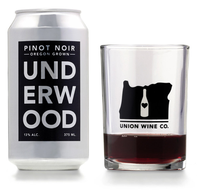 Oregon wine producer Union Wine Company, owned by Ryan Harms, launched Underwood Pinot Noir and Pinot Gris in 375-milliliter cans (two glasses or about a half bottle of wine) with a canned Rosé planed for early 2015. The wines are the first non carbonated wines to be bottled in a can. The exact wines are also available in bottles.
The allure is that wine in cans is unpretentious ("pinkies down") and practical as a can is very portable and readily disposable. They are lighter than bottles, easy to transport, unbreakable and reduce the environmental footprint because they are 100% recyclable. Apparently when the wine is poured into a glass, it tastes identical to the same wine poured from a bottle. Since the can is lined, there is no metallic flavor.
A four-pack of Pinot Noir is $24.00. The 2013 Underwood Pinot Noir is sourced from the Umpqua Valley (60%) and the Willamette Valley (40%). Aged 6 months in 15% new French oak barrels with a finished alcohol of 13.0% and residual sugar of less than 0.2%. The 2013 wine was released in April 2013. There is distribution in many states and it can be bought online at www.unionwinecompany.com.
Union Wine Company, operating out of Sherwood, Oregon, has a Tasting Truck which is used for events and will serve as a mobile tasting room in Portland. Union Wine Co. recently purchased historic Amity Vineyards.