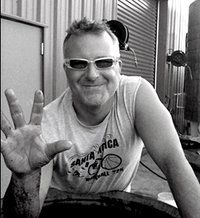 A unique producer that makes distinctive wines often from vineyards that have been ignored or small vineyards of individual farmers. The wines are crafted by Abe Schoener are vinified without sterilization of the fruit, juice or must and no commercial yeasts, enzymes or acid is added. Intervention is only done if absolutely needed. The exception is white wines which do not go through malolactic fermentation. Sulfur dioxide is used to block the activity of malolactic bacteria. Long macerations and long maturation in barrel are usual.
In 2012, the winery produced its first Pinot Noir, the "Unamed Pinot Noir" from Bill Brosseau's Antle Vineyard. The vineyard is located in the Chalone appellation in the Gavilan mountains. The old vines struggle here.
This winery is said to be unlike any other and, according to The New York Times, "No winery in California is more unconventional, experimental or even radical." Visit the website and you get the idea.
The wines are sold on the website and through a mailing list. Large formats are available.