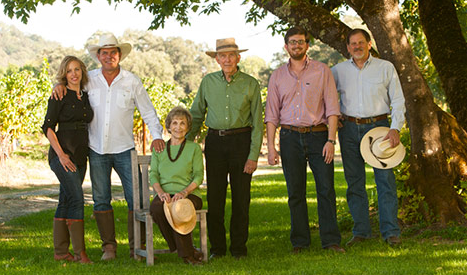 Three generations of Thornhills have a legacy of growing grapes in Mendocino County. In the late 1990s, Tommy thornhill, Jr., a retired businessman, and Ann Thornhill, an educator, moved from Texas to the Ukiah Valley of California to rejoin sons Tom and Tima and their families.
The estate La Ribera Vineyard is located on the eastern banks of the Russian River in the southern Ukiah Valley. 150 acres are planted to vines, with the original plantings dating to the early 1950s. The river and its riparian zone have a cooling influence that tempers summer heat. Varieties grown include Chardonnay, Sauvignon Blanc, Viognier, Cabernet Sauvignon, Zinfandel and Syrah.
The Moniker winemaker is Mark Beaman who worked at Columbia Crest Winery before joining Moniker as enologist in 2004.
A Pinot Noir sourced from three cool-climate Mendocino County vineyards is among the varietal offerings.