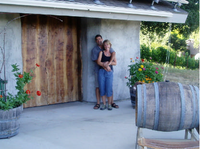 John and Chris Mason produce a single estate Pinot Noir from a dry-farmed, 2 acre certified organic vineyard located in Forestville at the juncture of the Russian River Valley and Green Valley AVA's of Sonoma County. They live on the property, farm their estate Labyrinth Vineyard, and control all of the winemaking. Nothing really unusual about this, but let me tell you about these extraordinary people and their dedication to humanitarian causes.
The Masons (both of them had the sir name Mason before marriage, but were unrelated) have been international relief workers since 1999 when they went to Kosovo to build homes and shelters in remote villages as part of relief efforts for homeless families. John is a retired paramedic and Chris a retired worker in the health care field with a master's degree in dietary science. Every year, from December to February, they close up the farm while the vines lay dormant and the wine rests in barrels and travel to a foreign country where they are needed. They have been in Gujarat, India helping in the aftermath of a disastrous earthquake, in Bamenda Highlands of Cameroon assisting AIDS educators, and in Chaman, Pakistan where they established medical clinics in two border refugee camps and provided medical services to over 30,000 refugees. In 2005, they founded the Labyrinth Foundation for Disaster Relief to allow them to operate independently or in cooperation with other aid organizations. All of their profits from Emtu wines go to their charitable foundation.
Contact the winery to purchase the wines (707-887-1239).