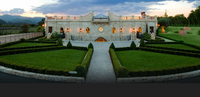 Del Dotto has quickly become one of the hottest visitor sites in Napa Valley. The winery's caves, first dug in 1885, have been lovingly restored and the winery offers a candle lit cave experience and barrel tasting by reservation for a small charge. Del Dotto owns 400 acres to which 96 are planted to vines. Known for Bordeaux varietals grown in the Rutherford Bench, Howell Mountain and St. Helena appellations, the winery has started a Pinot Noir program as well.
In 2005, an additional 359 acres were purchased in the true Sonoma Coast overlooking the Pacific Ocean. The vineyard, named Cinghiale (Italian for wild boar), was previously named Maritime Vineyard and owned by W.H. Smith. About 42 acres are planted here (35 acres of Pinot Noir and lesser amounts of Chardonnay, Sauvignon Blanc and Syrah) at an elevation of 1,800 feet. The soils are gravelly and yields are very low. The 2005 is the inaugural release. The Cinghiale Pinot Noir is big and bold in style and the fruit source is first rate. The winemaker is Nils Venge.
Multiple Pinot Noirs are offered including an entry level Piazza Pinot Noir ($38) and premium wines from Fort Ross-Seaview Cinghiale Vineyard at premium prices. The winery is interesting in that its focus is both Napa Valley Cabernet Sauvignon as well as Chardonnay and Pinot Noir (from Cinghaile Vineyard)
Visit the website for tasting room information and to purchase the wine - wines are available in 1.5L, 3L and even 5L formats!