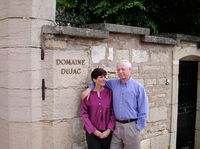 Dujac has always been known for a noticeable terroir in their typically Burgundian Pinot Noirs, but they have also had one foot elsewhere in the world. Jacques Dujac founded the Domaine in 1967, but regularly employs interns from around the world as he is highly receptive to the exchange of winegrowing and winemaking ideas. Jacques' spouse, Rosalind is an American. Their son, Jeremy, is married to American Diana Snowden Seysses, who grew up in the Napa Valley, studied enology at the University of California at Davis, and interned at wineries in California and France. She met Jeremy while they were both working at Robert Mondavi Winery in 1998. Now she is the enologist and cellarmaster for Dujac. Jeremy grew up in Morey-St.-Denis but spent time in California and was educated in England as well as Dijon.
Since 1986, the Domaine has pursued a green approach to viticulture and much of the Domaine's vineyards are farmed organically and biodynamically. The Domaine owns about 37 acres. primarily premier cru and grand cru vineyards.
Use of a large percentage of stems is the rule, varying with the vintage, and the wines are almost entirely aged in new oak.
There is a small négociant company, Dujac Fils et Pére.