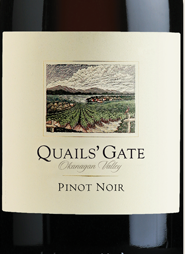 Quails' Gate is located among the vineyards of Mount Boucherie in the Okanagan Valley. The 125 acre lakefront estate is located on the historic home site of Okanagan pioneers, the Allison Family, who settled in Kelowna in the 1870s. The vineyards are planted in a mixture of volcanic rock and clay situated on south-facing slopes above Lake Okanagan and below the extinct volcano Mount Boucherie.
The pioneer for the current proprietors, Ben and Tony Stewart, was Richard John, who emigrated from Ireland to Canada in 1908. With his brother Bill, they formed Stewart Brothers Nurseries Ltd. in 1911 in the Kelowna area of British Columbia, growing fruit trees, shade trees, and potatoes. One of John's sons, Dick, along with three friends, purchased 65 acres where Quails' Gate Winery is now situated and planted a vineyard. Additional land purchases brought the total land holdings to 125 acres. The grapes were consigned to St. Michelle Wines in Victoria. In 1970, Dick bought out his three partners in the vineyard and renamed the company Boucherie Mountain Vineyards. The main varietal grown on the property was Chasselas. Pinot Noir was first planted in 1975, with additional plantings throughout the years as part of an extensive planting program to supply St. Michelle with a wider range of grape varietals. With the passage of the Free Trade Agreement in 1988, Dick's son, Ben, co-founded and incorporated Quails' Gate Estate Winery in 1989, and together the family has brought it to where it is today. Quails' Gate now employs more than sixty people and the winery produces 40,000 cases of wine a year. A new hospitality center was completed in June of 2007 which includes a modern tasting bar in the Wineshop, and a first-class, highly-awarded restaurant, the Old Vines Restaurant headed by Chef Roger Sleiman.
Today the vineyards consist of Pinot Noir, Chardonnay, Old Vine Marechalk Foch, Riesling, Chasselas, Chenin Blanc, Sauvignon Blanc, Pinot Blanc, Merlot, Optima, Cabernet Sauvignon, and Gamay plantings. Of all of its wines, Quails' Gate is best known for its Chardonnay and Pinot Noir. The 2004 Family Reserve Pinot Noir won Gold Medals at both the 2007 San Francisco International Wine Competition and the 2007 Grand Harvest Awards in California. The Quails' Gate Pinot Noir has recently been the top rated Pinot Noir in Canada and maybe Canada's top overall table wine. The largest production is a white blend of Chasselas-Pinot Gris-Pinot Blanc (over 14,000 cases).
Quails' Gate has had a long line of Australian winemakers including Jeff Martin, Peter Draper, Ashley Hooper, and since 2003, Grant Stanley. Stanley broke new ground and focused the wine practices at Quails' Gate in pursuit of terroir specific wines. I interviewed him at World of Pinot Noir and that videocast can be seen on Grape Radio. He won 45 gold medals, 84 silver medals and 89 bronze medals at Quails' Gate. After ten years, Stanley moved to 50th Parallel Estate Winery as an partner-investor and winemaker, and was replaced by experienced winemaker Nikki Callaway.
The Quails' Gate website offers further information and breathtaking photographs of the estate. This winery is a must visit for anyone venturing to the Okanagan Valley.
There are a number of other wineries in the Okanagan Valley pursuing Pinot dreams as well and the potential shown by Quails' Gate Pinot Noirs bodes well for success with this varietal in the Okanagan. Quails' Gate is located at 3303 Boucherie Road, Kelowna, BC, Canada VIZ 2H3. The phone is 250-769- 4451, toll-free 800-420-9463.
Unfortunately, Okanagen Pinot Noirs are not exported to the United States in any significant quantity at this time.