Peay Vineyards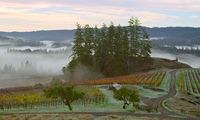 Peay Vineyards is a partnership between Vanessa Wong, and Andy and Nick Peay. They make wine from a cold, marginal site on the extreme Sonoma Coast four miles from the Pacific Ocean. Founded in 1998, this remote 48-acre hilltop vineyard is located above a river gorge in the far northwestern corner of the Sonoma Coast, 4 miles from the Pacific Ocean in Annapolis. The property was originally an apple orchard known as the Peterson Ranch. The Peay brothers bought the 280 acres of land in 1996.
They grow 34 acres of Pinot Noir (15 clonal selections including both Dijon clones and heritage selections), 8 acres of Syrah, 7 acres of Chardonnay, 0.8 acres of Viognier, 0.4 acres of Roussanne and 0.2 acres of Marsanne. They sell fruit to 2 wineries: Williams Selyem Winery and Failla Winery.
Winemaker Vanessa Wong, Nick's wife, left her position as winemaker at Peter Michael Winery in 2001 to dedicate her efforts to launching Peay Vineyards. Wineries on her resume include Lafite-Rothschild, Domaine Jean Gros, Franciscan Estates in addition to Peter Michael.
Nick took a job at La Jota Vineyards after graduating from college, and later pursued his education at the University California at Davis enology program. He then spent time at Schramsberg, Newton, Storrs, Flowers and Coldstream Hills. Now he is the vineyard manager at Peay.
Andy is a Dartmouth graduate who originally followed a career as a financial analyst on Wall Street. He decided to jump into the wine business, working at Cain Vineyards and selling wine at the Jug Shop in San Francisco while he spent the occasional weekend searching the Sonoma and Mendocino coasts for a suitable plot of land. He is the evangelist for Peay cool-climate wines.
Though Peay vineyards are not certified organic, every effort is made to grow the fruit using sustainable vineyard practices. The long term health of the vineyard and the ecosystem drive their practices. The sandstone soils lead to desirable low fertility. The vineyard and winery are not a family heritage; rather, they are the result of a combined 39 years working in the wine industry.
The estate production is divided into several lots called "terroir-based cuvées." Scallop Shelf shows the more floral blocks of Pinot Noir, Pomarium capture's Pinot Noir's meaty, savory expression on their site, and Ama, composed of two blocks planted in 2001, is a generous interpretation of the vineyard.
The wines are sold through a mailing list. Total production is 3,000 to 3,900 cases, 90% from estate fruit. Wines include Pinot Noir, Syrah, Chardonnay, Viognier and Rousanne. Declassified juice is sold under the Cep label. The Pinot Noirs are crafted to age with optimum drinking windows at least 3 to 5 years after release. Winery of the Year 2009 award by the San Francisco Chronicle.
Reviewed Wines

2009 Peay Vineyards Scallop Shelf Estate Sonoma Coast Pinot Noir

From a vineyard 4 miles inland from the Pacific Coast, planted in 1998 to 15 clones at an elevation of 600 to 800 feet. 4 cuvèes are produced from the 35-acre estate vineyard. This wine is 40% Pommard, with lesser amounts of Dijon 115, 777, and Swan selection. Aged in 30% new French oak from several coopers. · An stunning wine displaying enticing aromas of spiced black raspberry and blackberry fruits holding intensity over time in the glass. Delicious core of dark berry fruits delivering layers of flavor, finishing with impressive length. A tea and soy accent add interest. The tannins are supple and the balance is spot-on. Exceptional. Reviewed August 23, 2012 ARTICLE&nbsp»

2009 Peay Vineyards Sonoma Coast Pinot Noir

13.5% alc., $40. · Moderately light reddish-purple color in the glass. The wine offers a complex array of aromas including dark red cherries and berries, underbrush, leaf, violets and a hint of oak. Unusually complex and layered for an appellation bottling offering flavors of black cherries, black raspberries, cola, dark chocolate and spice. Nicely composed and very user friendly with well-mannered dry tannins. Reminds of a Russian River Valley Pinot Noir. A solid, even special wine for current every day drinking. Good (+). Reviewed January 11, 2012 ARTICLE&nbsp»

2009 Peay Vineyards Ama Estate Sonoma Coast Pinot Noir

14.2% alc., 650 cases, $46. Inaugural vintage from a section of the Peay Vineyard planted to a suitcase clone and Dijon clone 828. · Moderate reddish-purple color in the glass. Inviting aromas of black raspberries, black cherries and potpourri with a hint of oak cask. Very charming on the palate with dancing flavors of dark red and black berries and cherries with a complimentary hint of spice and cola. Maybe some pheromones are lurking as well. A bit daunting, brooding and linear now and sporting plenty of ripe tannins, but this wine has sensational upside potential. More expressive and interesting the next day from a previously opened and re-corked bottle. Reviewed January 11, 2012 ARTICLE&nbsp»

2009 Peay Vineyards Scallop Shelf Estate Sonoma Coast Pinot Noir

13.8% alc., 850 cases, $54. This wine takes its name from the fossils found in the soil at this site. It is a blend of six clones, including Pommard. · Moderately light reddish-purple color in the glass. Brooding aromas of red and black fruits with toasty oak and spice. Delicious core of red plums and assorted berries accented with mineral qualities. Juicy and bright with lively acidity and an appealing softness in the mouth. A sophisticated wine of great promise that will require a few years more in bottle for full enjoyment. Very good. Reviewed January 11, 2012 ARTICLE&nbsp»

2008 Peay Pomarium Estate Sonoma Coast Pinot Noir

14.2% alc., $53. The name refers to "apple orchard" and is pronounced "po-mare-ee-um," as a nod to the days when the hill where the vineyard sits was planted to apples. · Moderate reddish-purple color in the glass. Nicely composed aromatics with plenty of fresh cherries and mixed berries accented by forest floor and mountain air. Hearty and fairly bold attack of berry and black cherry fruit augmented by oak. Earthy and savory with a faint aftertaste of smoke on the persistent finish. Still has some tannins to shed and should improve over time, assuming the smoke affect doesn't become accentuated. Very good. Reviewed August 24, 2010 ARTICLE&nbsp»

2004 Peay Vineyard Sonoma Coast Pinot Noir

14.0% alc., $45. · Bizarre aromas of celery stalk and sweet cookie dough. Nice cherry, raspberry core with persistent, drying tannins. Reviewed April 7, 2008 ARTICLE&nbsp»

2004 Peay Vineyards Estate Sonoma Coast Pinot Noir

14.0% alc., 575 cases, $48. A blend of seventh leaf selections/clones including 115 (29%), Pommard (29%), 667 (12%), 777 (12%), Swan (8%), and Calera (2%). Yields were 2 tons per acre. The wine was aged in 42% new French oak barrels for 11 months. · Beautiful garnet color in the glass. Aromatics are addicting with notes of red berries, graham and mocha. The succulent fruit flavors are dominated by cherries with accents of exotic spice. There is an earthiness that adds interest. This wine is really good now, but given a few more years in the cellar, it will rock you. Reviewed April 6, 2006

2003 Peay Vineyards Sonoma Coast Pinot Noir

14.0% alc., 575 cases, $45. · Slight orange tinge to the rim. Initially there are captivating aromas of cherries, anise and dried roses. Over time, the nose takes on notes of prune and cigar box. Tart cherry flavors veering toward raisin with staunch acidity, and a clean, dry finish. Reviewed April 7, 2008 ARTICLE&nbsp»