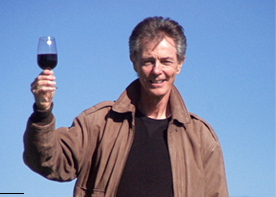 Founded in 2003, this label is a partnership between four principals. Stephen Vincent Situm began his career in the wine business with the Gallo Sales Co. in 1962. Steve has over 40 years of experience in the production, marketing and sales of premium and ultra premium wines. He has been instrumental in the building of many major brands including Robert Mondavi, J. Lohr, Vichon, Tepusquet Vineyard, Louis Roederer, Foppiano, Stephen Zellerbach, and Draper & Esquin.
Founder of the early boutique winery, La Crema, Bob Goyette grew in skill and experience at the Benziger Winery combining his French Heritage with New England up bringing. He lets traditional winemaking methods guide him while keeping an eye on the creative use of modern technology to create superior wines of great value for the current market. Today, he leads the winemaking team at Stephen Vincent Wines as well as the daily management of the corporation.
120 acres owned. Multiple varietals, total production 50,000 cases.
Hossein Namdar has been in the wine business for 20 years as a vineyard owner and manager in Lake County and the Sonoma Coast regions of California. He is in charge of strategic planning; including vineyard management, contractual arrangements for grape and bulk wine purchases as well as consulting partner on all winemaking decisions.
Stephen Vincent Situm III is responsible for marketing, regional and chain sales.