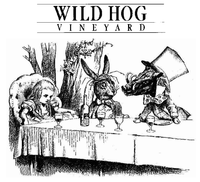 Daniel and Marion Schoenfield have been quietly crafting wine from their 5-acre estate vineyard and from purchased grapes since 1990. Their vineyard land was discovered in 1973 and was planted in 1981 initially to Zinfandel and Gewürztraminer The Gewürztraminer was later budded over to Pinot Noir, one of the first Pinot Noir plantings in the true Sonoma Coast. Wild Hog is located forty minutes west of the tiny town of Cazedero on the true Sonoma Coast, 3.5 miles from the coastline, 1400 feet above the water.
The winery is a 2,000 square foot timber building powered by solar and hydro electricity. Farming is very hands-on and the vineyard is non-irrigated for the most part. The wines are the result of a true Bohemian lifestyle. They do not have a Thomas Kinkade print over their mantle!
There are two Pinot Noirs: an Estate and Saralee's Vineyard Russian River Valley bottling. The wines tend to be high in alcohol, tannin and extraction and require decanting or cellaring for best enjoyment. The wines, including several other red varietals including Zinfandel, are sold primarily through a mailing list. Total production is 3,000-4,000 cases per year.