Robert Stemmler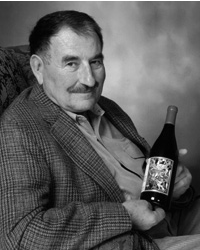 Robert Stemmler was a pioneer of California Pinot Noir. He arrived in Napa Valley in 1961 after making wine for a decade in his native Germany. He worked at the Charles Krug Winery with the Mondavi brothers and then became the winemaker at Simi. He also consulted for other notable wineries including Inglenook, St. Clement and Raymond. In 1976, he founded his own eponymous winery in Sonoma's Dry Creek Valley. He released his first Sonoma County Pinot Noir in 1982 and received considerable critical acclaim. The vintages that followed won many awards from wine competitions and accolades among the wine press. He quickly set a standard in the industry for Pinot Noir.
Robert mentored young Pinot Noir producers like Davis Bynum and Gary Farrell. He traveled widely, promoting his Pinot Noir in a world that was dominated by Cabernet Sauvignon and Chardonnay producers, and steadily developed a following. In 1984, he met Anne Moller-Racke and their friendship began.
In 1989 Robert retired from full-time winemaking after 35 years. His friends, the Rackes, purchased the label, maintaining it initially as a wine club and tasting room brand within Buena Vista. With the sale of Buena Vista, and the founding of The Donum Estate, the Robert Stemmler label was launched by the Rackes.
See winery description under The Donum Estate. I can remember many, many years ago visiting the original Robert Stemmler Winery in Sonoma and it was one of the Pinot Noirs I cut my teeth on.
Pinot Noirs are sourced from The Donum Estate in Carneros and the Nugent Vineyard in the Russian River Valley. Check out the Pinot Blog on the website. The wines are distributed to fine wine retailers.
Beginning with the 2008 vintage, the wines are labeled as Stemmler (see under Stemmler for reviews in 2008 forward).
Reviewed Wines

2007 Robert Stemmler Estate Grown Carneros Chardonnay

14.1% alc., $25. Clones are Old Wente, Weimer and Dijon. Whole cluster pressed, cold fermented, aged in 40% new French oak, stirred on its lees, partial MLF. · Light yellow in color in the glass. Has the aromas and flavors of an older wine and this bottle may be slightly oxidized. On the nose, poached pear and shoe box are noted and the flavors veer toward roasted peach, kumquat and grilled apricot with accents of caramel, brown sugar and stewed apple. Moderately rich, very smoothly textured and easy to drink. Decent. Reviewed May 24, 2010 ARTICLE&nbsp»

2007 Robert Stemmler Estate Grown Carneros Pinot Noir

14.4% alc., pH 3.70, 3,500 cases, $36. The label is inspired by Le Vendange, a 14th century tapestry displayed in the Cluny Museum in France. Represents every part of the Donum Ranch including Dijon, Martini, Roederer, Calera, Hanzell and Swan selections planted in 1989-1990. 100% de-stemmed, native fermentation and Burgundian yeast isolate inoculation. Aged in 40% new French oak. Lovely aromas of red fruits, lemon cola, cherry cobbler and mint. · Primarily red-fruited with a note of chocolate-filled brioche. On the light side with a good spark of acidity on the short finish. Good. Reviewed April 23, 2010 ARTICLE&nbsp»

2007 Robert Stemmler Nugent Vineyard Russian River Valley Pinot Noir

14.4% alc., pH 3.65, 1,100 cases, $40. 11-acre tightly spaced vineyard planted in 1997 to Dijon clones 115 and 667. 100% de-stemmed. Aged 11 months in 45% new French oak. · The nose is filled with very ripe cherry fruits complimented by Provencal herbs and oak. The black cherry and plum core falls just short of overripeness. A hint of oak, tea and fig adds interest. Nicely crafted and silky textured with a satisfying finish. Good. Reviewed April 23, 2010 ARTICLE&nbsp»

2007 Robert Stemmler Ferguson Block Carneros Pinot Noir

14.4% alc., pH 3.52, $44. From the oldest portion of the Donum Estate planted in 1974 to Martini selection on St. George rootstock. Yields are one tone per acre. 100% de-stemmed, native fermentation and Burgundian yeast isolate inoculation. Aged 11 months in 35% new, tight-grain French oak. · Distinctive aromas of cassis, rose petals, green bean, tar and compost bin. Rustic and earthy with a heart of black currants and creme de cassis. Silky smooth with balancing tannins and bright acidity on the finish. Takes on more charm with time in the glass but remains a man's wine. Good. Reviewed April 23, 2010 ARTICLE&nbsp»

2006 Robert Stemmler Nugent Vineyard Russian River Valley

14.6% alc., 2200 cases, $40. This is one of three excellent Robert Stemmler Pinot Noirs crafted by winemaker Kenneth Juhasz, the 32-yearold wonder kind behind Donum Estate and Auteur Pinot Noirs. The Nugent Vineyard is an 11-acre site P,anted to Dijon Clones. · Hard to stop smelling this voluptuous Pinot extract which is very haunting and sexy. A fruit-driven wine that is juicy, succulent, long and smooth. Pinpoint balance. Very Caliesque. Reviewed December 16, 2007 ARTICLE&nbsp»

2005 Robert Stemmler Carneros Estate Grown Carneros Pinot Noir

14.4% alc., 4,800 cases, $36. · Oak, herbs, smoke and cherries are featured in the nose with lightly spiced red fruits and oak on the palate ending with a short finish Reviewed December 16, 2007 ARTICLE&nbsp»

2004 Robert Stemmler Ferguson Block Carneros Pinot Noir

14.3% alc., 400 cases, $35. This wine is sourced from the oldest portion of the Donum Estate, planted in 1974 to Martini selection on St. George rootstock. Yields are .9 tons/acre. Aged 11 months in 50% new oak. · This is a wine for fans of dirt. Very earthy with a mushroom and woodsy edge. Plums, blackberries and boysenberries make up the fruit profile. A decent, but not extraordinary wine. Reviewed April 7, 2008 ARTICLE&nbsp»

2003 Robert Stemmler Ferguson Block Carneros Pinot Noir

250 cases, $45, sold out. · The aromatics are unique featuring eucalyptus, herbs and dried cherries. Dark fruits dominate the rich, round palate. The tangy finish is plush with dark cherries, black plums and spice. This Pinot is a real lip smacker and brings the Robert Stemmler label to a new lofty level. Reviewed July 10, 2006