Shandel's Oppenlander Vineyard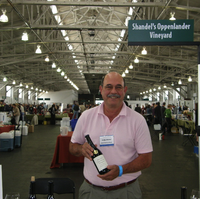 Oppenlander Vineyard is located in Comptche in Mendocino County. It is owned and farmed by fifth generation owners Bill and Norm Shandel. The property was homesteaded in the 1860s and Bill and his family still live in the original log home. The property was known as Oppenlander Ranch for nearly a century, then Shandel Ranch for over a decade, and now Surprise Valley Ranch, Inc. since 1963.
Winemaker John Pepe crafts one of the best wines you probably have never heard. The Shandel's Oppenlander Vineyard Pinot Noirs have been produced since 2002 and have won many awards in wine competitions. There is currently no website. This is one of those rare finds that you have to work to locate. This is not a beautifully-landscaped and highly-profiled vineyard and the Shandel's label is plain and simple. What is important here is what is in the bottle and that is great down-to-earth Pinot Noir. The Shandel's Oppenlander Vineyard Pinot Noir is distributed locally in Mendocino, but your best bet is to call to order: 707-937-5400. John tells me the wines age extremely well and become "pure silk" in five years.
Articles About Shandel's Oppenlander Vineyard
Reviewed Wines

2007 Shandel's Oppenlander Vineyard Comptche Mendocino County Pinot Noir

14.5% alc., >400 cases, $40, unreleased. · Moderately dark in color and darkly floral on the nose with full-bodied flavors of wild blackberries and raspberries, red plum and bittersweet chocolate. The taste is quite exotic and distinctive. The wine is nicely composed and charms with its satiny texture. The remarkably persistent finish leaves a hint of warmth in its wake. Still young and not as expressive as it will be, this one is a winner. Reviewed May 7, 2009 ARTICLE&nbsp»

2006 Shandel's Oppenlander Vineyard Comptche Mendocino County Pinot Noir

14.8% alc., 400 cases, $40. The Oppenlander Vineyard is located 8 miles from the Mendocino Coast as the crow flies and is just north of Anderson Valley. Pommard and Dijon clones 114 and 115 are planted in Oppenlander (510) heavy clay loam which is unique to Comptche. Several wineries are producing superb vineyard-designate Pinot Noirs from this vineyard including Adrian Fog, Baxter, and Phillips Hill Estate (see PinotFile, Volume 6, Issue 60). Fruit is also sourced and blended by Handley, Navarro and Harmonique. · I am fascinated by the Pinot Noirs I have sampled from this special vineyard. The wines have an exotic reach to them and really show off the unique terroir. This is a beguiling Pinot Noir with scents of fresh berry fruit, oak vanillin, and violets. The sweet-fruited palate of red berries coats the mouth and earth notes add interest. Robust and virile, but discreet. Reviewed July 7, 2008 ARTICLE&nbsp»

2006 Shandel's Oppenlander Vineyard Estate Mendocino County Pinot Noir

415 cases, $45. · The flavors trump the aromas at this stage. Demure Pinot fruits which are quite vibrant and juicy with moderate tannins. Reviewed April 18, 2009 ARTICLE&nbsp»