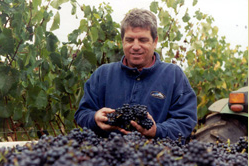 Roar is owned by Gary and Rosella Franscioni, who also own the nearby Garys' (with Gary Pisoni) and Rosella's (planted in 1996) vineyards.
ROAR was launched in 2001 to feature Pinot Noir and Syrah from Garys', Rosella's, and Pisoni Vineyards. The label was later expanded to include Soberanes and Sierra Mar vineyards (owned by the Franscionis and Pisonis), as well as Chardonnay from both vineyards.
The name "ROAR" is derived from the sound of the ocean winds that characterize the Santa Lucia Highlands. Adam and Diana Lee collaborate on the winemaking with Ed Kurtzman and Gary Franscioni.
The wines are sold primarily through a mailing list. The style is big, bold, fruit-driven, statement wines.