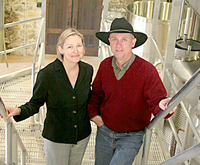 Pillow Rd. Vineyard consists of two vineyard blocks located in Sebastopol, Sonoma County, on the southern edge of the Russian River Valley. 7 acres of Pinot Noir and 2 acres of Chardonnay were farmed by the Pat and Anne Stotesbery, the creators of Ladera Vineyards on Howell Mountain in the Napa Valley. The vineyard was planted to Pommard 4, 115, 777 clones and Swan and Calera selections of Pinot Noir.
The winemaker was Jade Barrett and consulting winemaker Karen Culler.
The winery's Pinot Noir, about 1,000 cases, was sold online. The first release was the 2006 vintage.
In 2016, Castello di Amorosa acquired the Pillow Rd. Vineyard.