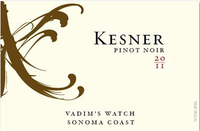 Owner and winemaker Jason Steven Kesner has lived in the Napa Valley since 1979 where he and his family have been involved in the wine business for the last 30 years. From 2000 to 2008 Kesner managed Hudson Vineyards in Carneros and in the summer of 2008, joined Kistler as an assistant winemaker and vineyard manager. In 2014, he became the winemaker at Kistler.
In 2007, Kesner released three wines totaling less than 700 cases: Hudson Vineyard Chardonnay, Napa Old Vines Chardonnay, and a Sonoma Coast Pinot Noir. The Pinot Noir ($60, 55 cases) is from a hillside vineyard just outside the town of Occidental farmed by Ulises Valdez.
Kesner Pinot Noir is on many prestigious restaurant wine lists including The French Laundry, Per Se in New York, Spago Beverly Hills, Alex at Wynn Las Vegas and Boulevard in San Francisco.
The limited production wines are sold through an allocated mailing list and to restaurants.