Ata Rangi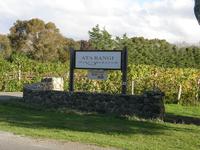 Ata Rangi translates as dawn sky. Owner Clive Paton first planted vines in Martinborough, Wairarapa, New Zealand in 1980, a time when there was no significant wine industry in the region. The site had been a small sheep paddock when Paton bought it. His first vintage was 1985. With the contributions of Paton's winemaker spouse, Phyll Pattie, and highly educated winemaker Oliver Masters who is married to Paton's sister, Alison, the foursome brought Ata Rangi worldwide recognition by the early 1990s.
The current winemaker is Helen Masters, who began her career at Ata Rangi at age 18, then worked vineyards around the world before returning in 2003. She works with over 30-year-old vines, a rarity by New Zealand standards.
Ata Rangi has won the prestigious Bouchard-Finlayson Triphy from the UK's International Wine and Spirit Competition three times. The Ata Rangi Pinot Noir is considered a benchmark wine for the Martinborough region.
The Pinot Noir is exported to the United States (Epic Wines, Aptos, CA), UK and other countries.
Articles About Ata Rangi
Reviewed Wines

2008 Ata Rangi Martinborough New Zealand Pinot Noir

13.5% alcohol, $45, screw cap. Imported by Epic Wines, Aptos, CA. · Very shy aromas of darker berry fruit with hints of oak and green garden. Tasty attack of earth-kissed dark red cherries and berries which persist on the fruit-driven and uplifting finish. Nicely balanced and silky textured. Still closed and will benefit from a few years in the cellar. Very good. Reviewed November 7, 2010 ARTICLE&nbsp»

2006 Ata Rangi Martinborough Pinot Noir

13.5% alc., $44, screw cap. Imported by Epic Wines,Aptos. · Lovely and powerful scents of cooked cherries, smoke and baking spice. Medium-weighted black cherry fruits which are slightly tart and accented with tasty oak. Softly textured and nicely balanced with a pleasing cherry persistence on the dry finish. Reviewed October 13, 2008 ARTICLE&nbsp»

2005 Ata Rangi Martinborough Pinot Noir

13.5% alc., $37, screw cap. Imported by Epic Wines, Aptos, CA. · Darkly colored with pleasing cherry, spearmint and herbal aromas. Bitter woody, vegetal and medicinal flavors mar the enjoyment. Disappointing for the money. Website: www.atarangi.co.nz. Reviewed October 14, 2007 ARTICLE&nbsp»

2002 Ata Rangi Martinborough New Zealand Pinot Noir

14.0% alc., $29. Imported by Epic Wines, Aptos, CA. · The aromatic profile includes strawberries, currants and herbs. Earthy flavors lead to a short and slightly stemmy spice-tinged finish. Reviewed April 16, 2006