American Pinot Noir Awards for 2011
Justin Bieber Award: Promising Newcomers and/or New Discoveries
The following wineries made an impression on me in 2011 as either relative newcomers whose recent vintages were very solid or even outstanding, or as wineries whose wines I sampled for the first time and was suitably impressed. Despite the marked increase in the number of Pinot Noir producers post-Sideways (2004), there are still new hounds eagerly entering the Pinot race. There are some newbies that are producing Pinot Noir that is of borderline acceptability and charging way too much, but all these wineries are worthy of your attention.
Alexana Winery (Willamette Valley)
Alysian Wines (Russian River Valley)
Anaba Wines (Sonoma)
Amalie Robert Estate (Willamette Valley)
Balo Vineyards (Anderson Valley)
Bailiwick Wines (San Francisco Bay)
Bedrock Wine Co (Sonoma Valley)
Big Table Farm (Willamette Valley)
Bonneau Wines & Vineyard (Sonoma Carneros)
Briceland Vineyards (Humboldt County)
Bruliam Wines (Healdsburg)
Burn Cottage (New Zealand)
Campesino Cellars (Carneros)
Cartha (Sonoma Valley)
Castello di Amorosa (Napa Valley)
CAW (Willamette Valley)
Chanin Wine Co (Santa Maria Valley)
Coelho Winery (Willamette Valley)
Couloir Wines (Napa Valley)
Frank Family (Napa Valley)
Furthermore Wines (San Francisco)
Gracianna (Russian River Valley)
Gray Stack Cellars (Bennett Valley)
Gros Ventre Cellars (Sierra Foothills)
Haden Fig (Willamette Valley)
Hilliard Bruce Vineyards (Sta. Rita Hills)
John Tyler Wines (Bacigalupi Vineyards, Russian River Valley)
Kent Rasmussen (Carneros)
La Follette Wines (Russian River Valley)
Lula Cellars (Mendocino)
Masut Vineyard & Winery (Mendocino)
Neely (Santa Cruz Mountains)
Odonata Wines (Santa Cruz Mountains)
Presqu'ile (Santa Maria Valley)
Roots Vineyard & Winery (Willamette Valley)
Samsara (Sta. Rita Hills)
Saracina (Mendocino)
Sonría (Napa Valley)
Thomas George Estate (Russian River Valley)
Tyee Wine Cellars (Willamette Valley)
Wind Gap Wines (Russian River Valley)
Winderlea (Willamette Valley)
Wren Hop Vineyards (Sonoma)
Zotovich Cellars (Sta. Rita Hills)
John Steinbeck Award: Best Winery Newsletter
Newsletters in print form are a vanishing breed. I still love to receive them though, and eagerly read every word. The Navarro Vineyards Newsletter can hardly be considered a newsletter as it consists of ten or so pages in a booklet format packed with useful information and color photographs. The Navarro newsletter has been published longer than any of the others listed here and is a masterpiece of marketing know how.
Dutton-Goldfield
MacPhail
Navarro
Peter Michael
Peay Vineyards
Pisoni (great annual calendar as well)
Red Car
A special mention should go to a retailer newsletter: Stock Report from the Wine Exchange (www.winex.com) in Orange, California. This monthly 50 to 60 page newsletter is packed with wine reviews that are carefully written by the owner who has an experienced palate and a way with words. The reviews appear in the writer's own handwriting which makes them even more appealing. As with all retailers, there is an emphasis on scores, but look beyond this for the true story on the wines. This retailer carries one of the most extensive stocks of California and Oregon Pinot Noir in the country and the prices are competitive with anyone hawking wine in this country.
Mark Zuckerberg Award: Best Winery Website
I visit multiple winery websites daily and honestly, the majority of them suck. It is unfortunate, for the quality of a winery's website directly reflects the owners, winemakers and the wines themselves. I can't tell you how many times I have reviewed a wine that impressed me, decided to write about, only to find little useful information communicated on the poorly designed website. Often simple information like owners of the winery, e-mail contacts for the owners or winemaker, useful tech information, and label images is missing. The result is that I spend considerable time searching the internet and making phone calls to try to track down critical facts. The websites below are exemplary. Any wineries needing help? Contact Wendy Coy at wendy@coydesign.com or my son, Dane Gaffney, at danegaffney@gmail.com.
Bailiwick Wines
Beaux Frères
Big Table Farm
Calera Wine Company
Clos Pepe Vineyards
Hanzell Vineyards
Loring Wine Company
Presq'uile Winery
Scribe
Sheldon
Sonría
Talisman
Winderlea Vineyard & Winery
Wren Hop Vineyards
Youngberg Hill
Vincent van Gogh Award: Best Label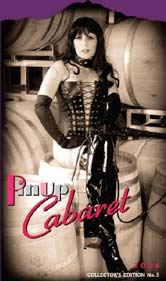 There is no question that wine labels sell wine and are the most important piece of communication between the winery and the consumer. Sexy labels often drive sales. Paula Sugarman wrote (www.winelabelsthatwork.com), "Labels with scantily clad or naked women are popular....to both genders because they both find wine and beauty an appealing combination. Both men and women like the Marilyn Monroe wine labels. Keep it sexy, keep it simple, or dress it up, but stick with the classics." I haven't seen many scantily clad women on Pinot Noir labels recently, except for the PinUp Series of wines by De La Montanya Winery in Healdsburg (right) and the three labels pictured below (one of which is Sauvignon Blanc), but the Pinot Noir labels for the Van Gogh Award are my favorites.
Undone
Merry Edwards
Libra
Loma Prieta
Hart's Desire
Red Car Wine Co.
Laura Volkman
Hanzell
Gypsy Canyon
Belle Glos
Antica Terra
Eric Kent
Cherry Pie
Harmonique
Alta Maria
O'Reilly's
Lenné
Sonria
En Route
Mount Eden
The Eyrie Vineyards
MacPhail
Joseph Swan Vineyards
Sea Smoke