Cruzin' to Windy Oaks Estate Vineyard & Winery
It has been a couple of years since I lasted visited proprietor Jim Schultze at Windy Oaks. Windy Oaks farms 26 acres of Pinot Noir divided among 15 acres on the main winery site first planted in 1996, 7 acres nearby, and 4 acres in Aptos. Jim proudly showed me his new plantings of Chambertain selection and cuttings from previous Burgundy selection plantings that had been cleaned up by microshoot technology (photo below).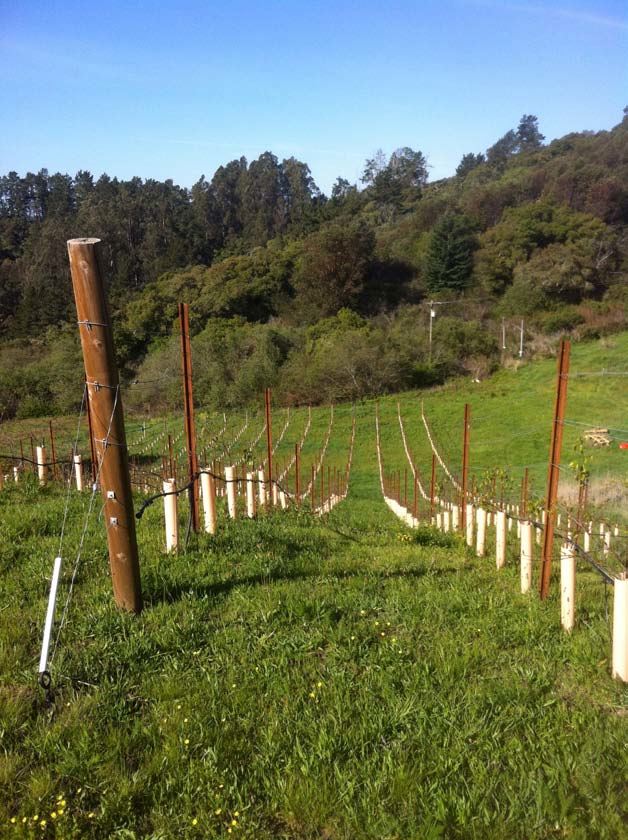 The photo below shows the aspect of Windy Oaks Estate, overlooking Monterey Bay in the distance and situated mostly above the fog line. This is a very cool, rugged site exposed to maritime weather. The growing season is one of the longest in California, often extending well into October or even early November. The vines, clones 115, 667, 777, 828, 2A, Pommard, and Burgundy selections, are meticulously farmed.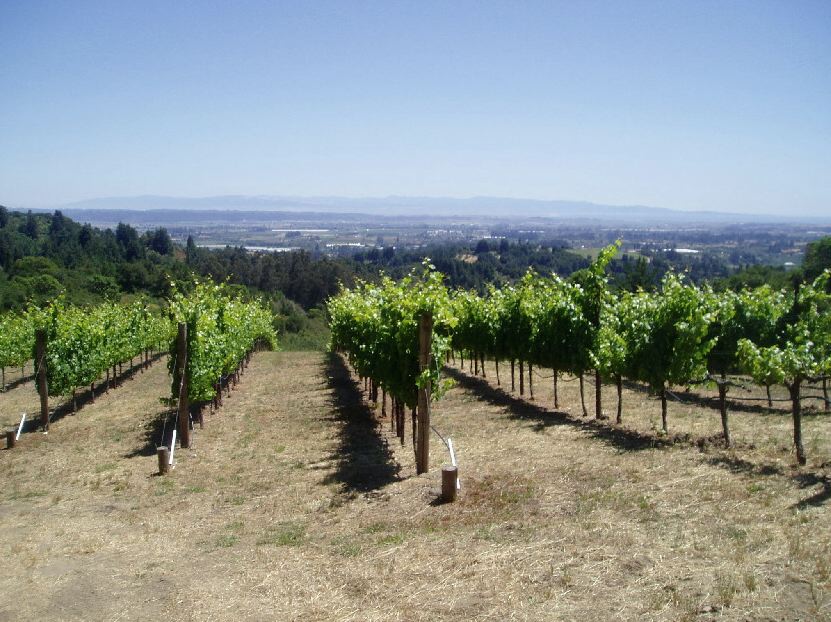 Jim directs all the vineyard management and winemaking. He likes to say, "I do the most I can in the vineyard and the least I can in the winery." Jim's two sons are now actively participating in the winery as well. Son Spencer Schultze also crafts a small amount of Pinot Noir from a neighboring vineyard under the "Eleven" label. Most fermentations use 50% ambient yeast and last an incredibly long 30 to 45 days. 25% to 30% whole cluster is the rule since the stems are often ripe, but Jim produces a limited amount of 100% whole cluster Pinot Noir. Jim is obsessive about his oak regimen and travels to Burgundy each year to meet with coopers. He uses 3-year-old air-dried tight-grained French oak barrels exclusively. Typical, he ages the wines for 17-27 months in 35% new oak with larger percentages in certain bottlings. His compact winery has all the toys for proper Pinot Noir vinification including a basket press and a modern bottling line.
A new project, "Windy Oaks Whites," will feature tank-fermented Sauvignon Blanc, Chardonnay, and Pinot Gris from purchased non-estate grapes priced in the $17 to $22 range. The first vintage will be 2012.
Windy Oaks sells a high percentage of their wine directly to an active mailing list and visitors to the tasting room located on the property which is open Saturdays, 12:00 to 5:00. Wine club members receive significant discounts. Visit www.windyoakestate.com.
I tasted through several 2010 Windy Oaks Estate Pinot Noirs and the 2010 Chardonnay. Jim told me farming was very challenging in the 2010 vintage, but the wines turned out well. I couldn't agree more.