Rocking K Vineyard: Carneros Jewel
The Los Carneros AVA, including parts of both Napa and Sonoma counties, is one of the few regions known for Pinot Noir that does not have many small boutique producers. Laws were instituted years ago to preserve the pastoral heritage of the region (it was previously largely dairy and sheep grazing land), and the land cannot be subdivided into parcels less than 160 acres (Napa, in comparison, allows subdivision into as little as 40 acres). The result has been that the only people able to purchase land have been large producers. The small parcels remain because they were grandfathered in. I have written about the few small, boutique Los Carneros producers in the past such as Adastra Wines, Bonneau Wines & Vineyard, Campesino Cellars, Kazmer & Blaize, Molnar Family and Valerie's Vineyard.
Covering 90 square miles along the low declining hills of the Mayacamas range as it approaches San Francisco Bay, the Los Carneros region is known historically for landmark viticultural research conducted by Louis M. Martini at Stanly Ranch and Francis Mahoney at Carneros Creek Winery. Pinot Noir and Chardonnay, grown for both still and sparkling wine, had a significant presence in Los Carneros long before those grapes reached significant plantings in the Russian River Valley, Anderson Valley, Santa Lucia Highlands and Santa Rita Hills.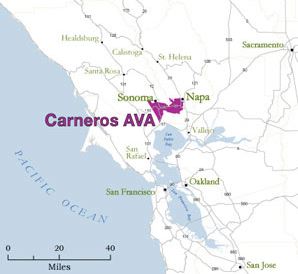 Recently, I received an invitation to visit Bobby Kiel, the proprietor of Rocking K Vineyard in Los Carneros. Bobby, and his spouse Char, purchased their 3 acre property and 1.3-acre vineyard in 2010, which is located off Broadway and Splude Rd, about 2 miles south of the historic Sonoma Plaza, and across the street from the famed Sangiacomo Vineyard. I only knew that the small vineyard was on the site of a previous chicken farm, was planted in 1997 to Pommard 5 clone, and that the first vintage of Rocking K Vineyard Pinot Noir was 2010. I was in the area last week and stopped by for a look and taste.
Upon arrival, I was invited into the Kiel's home to taste the 2010 and 2011 vintages while they filled me in on their story. Bobby had a successful career in the restaurant industry and commercial real estate and Char is an interior designer and former furniture store owner. Together, they transformed this property from a dilapidated ranch into a beautifully landscaped, very welcoming spread consisting of the owner's abode, two fitted-out rental cottages, a wine storage barn, and a beautifully tended Pinot Noir vineyard. The name of the vineyard and winery is derived from Bobby's surname.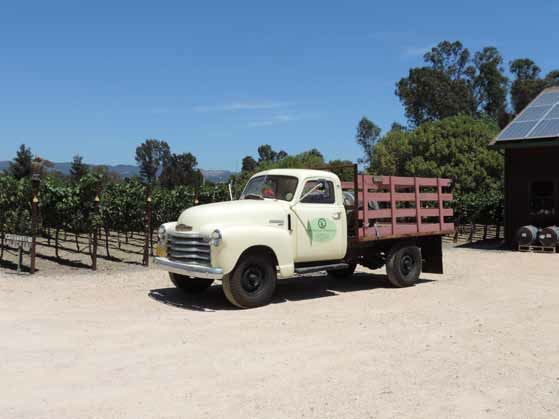 Bobby told me he is a defector from the world of Cabernet Sauvignon and Zinfandel, now enjoying the "nuance, subtlety and power of Pinot Noir." His vineyard receives plenty of love and attention (a vineyard management company agreed to farm the tiny vineyard) and the resulting wines show it.
A single estate Pinot Noir is produced from the Rocking K Vineyard. The winemaker for the 2010 vintage was Scott Rich (Talisman) and for the 2011 and 2012 vintages Michael Peters (Kasuari Wines). The wines are vinified with native fermentation and bottled without fining or filtration.
After tasting the 2010 and 2011 vintages at the Kiel's home, I was blown away! Very cool packaging too. I told Bobby he was a very lucky man because Pommard seemed to love his site. I am a big fan of the Pommard clone anyway, and often say that Pommard is my paramour.
Tasting is available by appointment at Rocking K Vineyard by contacting Bobby at 415-601-4299 or email at bobby@rockingkvineyard.com. Wine purchases can be arranged through Bobby as well. There is some restaurant and retail availability in Northern California (visit the website at www.rockingkvineyard.com). The two rental cottages have a beautiful view of the countryside and vineyard and are perfectly located for a wine country visit to Carneros and Sonoma. Contact Char at 415-609-4299 or by email at char@rockingkvineyard.com. Guests receive a discount on wine purchases. A 2012 Rocking K Vineyard Sparkling Brut Rosé (30 cases) will be released in the spring 2014.

2010 Rocking K Vineyard Single Vineyard Los Carneros Pinot Noir
14.1% alc., 128 cases, $55. 100% de-stemmed and aged in 33% new French oak. · Moderately light reddish-purple color in the glass. Lovely aromas of fresh Bing cherries, ripe strawberries and cardamom spice which maintain over time. Delicious middleweight core of dark cherry flavor with accents of cola, anise and spice. Enticing finesse and supple, well-balanced tannins. Ready to drink now but the balance will keep this wine fresh for years. Like cherry pie day at cooking school: cherries, baking spices and very interesting results. Will work beautifully at the table, complementing rather than fighting with food. Score: 95
2011 Rocking K Vineyard Single Vineyard Los Carneros Pinot Noir
13.9% alc., 75 cases, $55. 100% destemmed. Aged in 33% new French oak. · Medium reddish-purple color in the glass with a slight amount of sediment. Deeply perfumed with scents of Bing cherries, dark chocolate, spice and subtle oak. Darker and a little denser than the 2010 vintage but sharing a very similar flavor profile of dark cherries, cola and spice. Seductively soft and silky in texture, offering balanced tannins and nicely integrated oak, finishing with plenty of Pinot singing. Score: 94

2012 Rocking K Vineyard Single Vineyard Los Carneros Pinot Noir
14.1% alc., Unreleased. 50% whole cluster. Aged in 40% new French oak. · Medium reddish-purple color in the glass. Aromas of black cherries, spice, s'mores and espresso. Brilliant Bing cherry flavor with a delicious finishing kick of fruit. Plenty of cola and oak-driven notes are evident. The tannins are suave and the mouth feel is dreamy. Could turn out to be the best and most age worthy of the three vintages sampled here. Tasted the following day from a previously opened and re-corked bottle, the wine showed more whole cluster driven spice and much better integration of oak. Yummy. Score: 95