2011 Paul Lato Wines: Report on Winery Visit and a Tasting of the Vintage
It has become an annual tradition for me to visit Paul at his winery at Central Coast Wine Services in Santa Maria each year before World of Pinot Noir in early March. Each time I visit, I discover that Paul has expanded his space and is gradually ramping up his modest production.
There is no need to go into detail about Paul Lato as I have written about him extensively in the PinotFile and have thoroughly enjoyed and praised his wines since the 2005 vintage. If you like your Pinots elegant with grace, nuance, vibrancy and balance, then Paul Lato is your guy. He is very modest about his accomplishments, but he has an uncanny knack for finding the "sweet spots" in vineyards and sourcing the best possible fruit. Paul doesn't make a lot (about 2,500 cases of Pinot Noir, Chardonnay and Syrah), and the wines are only sold through a mailing list and to select restaurants, but if you are fortunate to snag a few bottles, you will be very pleased. You can find Paul each year pouring his wines at the World of Pinot Noir.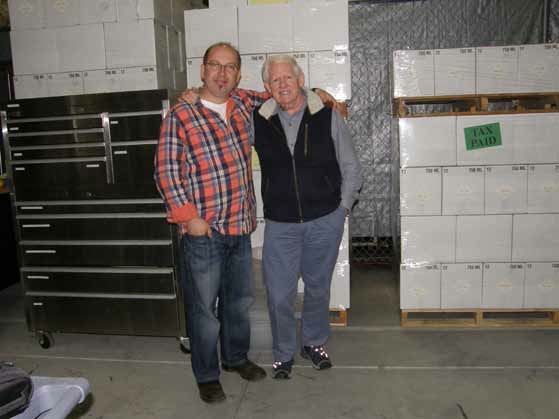 The website, www.paullatowines.com, has been updated with a good description of Paul's philosophy and vineyard sources. All grapes are 100% de-stemmed during vinification.
The first wines below were tasted at the winery and had only been bottled ten days prior. The final wines were tasted at home in September 2013 after 6 months in bottle (Paul had suggested that some of the wines needed time in bottle to make a proper evaluation).
The 2011 was a "wild child" according to Paul. "Some kids have tremendous possibilities, wonderful talents waiting to be nurtured, but need just the perfect guidance to express their potential. There was an early frost, a late frost, spans of unusually cool days throughout the growing season. Yields were low, yet it was necessary to drop more fruit. Every underachieving barrel in the winery was sold in bulk to protect the integrity of the vintage." Paul did a commendable job with what the vintage dealt him.
Winery Tasting March 2013
Home Tasting September 2013
Also available in 2011
2011 Paul Lato "Alegria" Hilliard-Bruce Vineyard Sta. Rita Hills Pinot Noir $70.
2011 Paul Lato "Belle du Jour" Hilliard-Bruce Vineyard Sta. Rita Hills Chardonnay $55. Aged in 45% new French oak.