2013 Oregon Pinot Noir First Team All-Americans
2011 Adelsheim Temperance Hill Vineyard Eola-Amity Hills Willamette Valley Pinot Noir
13.0% alc., pH 3.60, 363 cases, $68. 100% clone 667 planted in basaltic-origin (volcanic) soils. This 100-acre vineyard was established by Edward and L.S. Koo in 1981. Adelsheim replanted on of the ideal sections of the vineyard. A late ripening site. Fifth single vineyard bottling. Aged 10 months in 33% new medium toast French oak barrels. Medium reddish-purple color in the glass. The nose is striking with bright aromas of Bing cherries, raspberries, and spice. Outstanding depth and length of flavor featuring a core of dark red cherries and berries with a hint of graham, cola and spice. Seductively ethereal in the mouth, with firm, supportive tannins, and a long, long, long finish. A brilliant wine with superb balance. Still extraordinary when tasted the following day from a previously opened and re-corked bottle.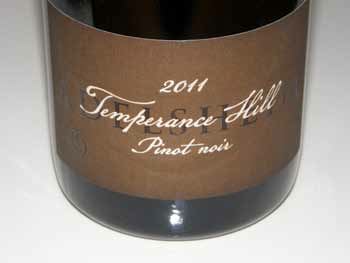 2010 Bethel Heights Estate Flat Block Eola-Amity Hills Willamette Valley Pinot Noir
12.8% alc., pH 3.45, TA 0.66, 167 cases, $58. The Flat Block is one of seven different sections of Pinot Noir planted over 37 acres in the estate vineyard. It was planted in 1979 on a flat table of the vineyard and is 100% own-rooted Pommard clone. The soil is gravelly and of a different mineral composition than the neighboring Southeast Block. This 3.3-acre block consistently has a distinctive character, usually offering the most refined and elegant Pinot Noir. Wines from Flat Block have been bottled separately since 1991. Moderately dark reddish-purple color in the glass. This is one of those wines that makes you sit up and take notice. Marvelous aromas of black cherries, damp earth, and warm s'mores. Earthy, exotic, and erotic black cherry and black berry flavors with a compliment of spice. The fruit is robed in ripe, firm but polished tannins and invigorated with bright acidity. This giving wine is blessed with a charge of black cherry flavor on the dancing finish. Pure seduction.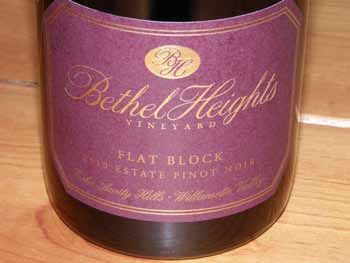 2011 Big Table Farm Wirtz Vineyard Willamette Valley Pinot Noir
12.6% alc., 119 cases, $45. This vineyard is old by Oregon standards as it was planted in the early 1970s. Brian likes to say he was still wearing diapers when the vines went into the ground in this vineyard. Moderate reddish-purple color in the glass. This wine reminds of cherry pie baking day at cooking school. Deliciously flavored with ripe cherries and baking spices with a hint of sandalwood and wintergreen. Crisp and juicy with a long, spirited finish. Hard to put your finger on the reasons for it, but this wine grabs your interest and holds it. An old vine treasure.

2010 Coeur de Terre Sarah Jane's Block Reserve McMinnville Willamette Valley Pinot Noir
13.5% alc., $58. From the second block planted in the Estate Vineyard in 2001. 4 acres of 667, 777 and 115 planted in Willakenzie marine sedimentary soil. · Medium reddish-purple color in the glass. Stunning and nearly overwhelming in aromatic intensity featuring a deep perfume of black cherries, blackberries and plum. Delicious core of ornate black stone fruits that make you sit back and take notice. A touch of smoky oak and dried herbs add interest. Impressive fullness and concentration on the palate without being jammy. Seamless with perfect integration of tannins and acidity. A poster child for Oregon Pinot Noir.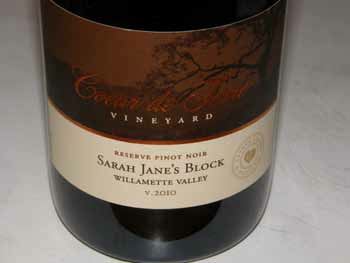 2010 Cristom Marjorie Vineyard Eola-Amity Hills Willamette Valley Pinot Noir
13.5% alc., pH 3.69, TA 0.59, 363 cases, $55. This vineyard was originally planted in 1982 and is one of the oldest vineyards in the Eola-Amity Hills AVA, and home to some of the oldest vines on the Cristom estate. It is situated on a gently sloped east facing hillside between 480 and 615 feet above sea level. Named for owner Paul Gerrie's mother, the first single vineyard estate Marjorie was released in 1994. The soil is primarily Jory in type. Phylloxera struck the vineyard in 2000, and beginning in 2007, replanting was initiated with Dijon clones 113, 115, 777, Pommard and Wädenswil grafted onto phylloxera-resistant rootstocks. The vineyard produces very small, concentrated clusters. Aged 17 months in 53% new Burgundian cooperage. Moderate reddish-purple color in the glass. Bombastic and exotic aromas of red and black cherries, whole cluster spice and floral notes, smoky oak, incense and licorice. Delicious core of cherry fruits which are broad in the mouth and supported by integrated notes of spice, fennel, anise and mocha-laden oak. A special wine that is built for the long haul, with firm, fine-grain tannins, refreshing acidic verve and a lengthy finish of great energy. A whole cluster triumph that really impressed me.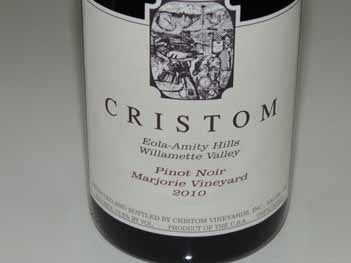 2009 Hillcrest Vineyard Richard Sommer Memorial Cuvée Estate Umpqua Valley Pinot Noir
13.2% alc., 100 cases $36 (sold out). Released October 2012. Sourced from old, non-irrigated, low-yielding estate vines at Oregon's oldest estate winery. The label is identical to Sommer's original Pinot Noir label except for the "Memorial Cuvée" banner in the upper left corner. Medium reddish-purple color in the glass. A very distinctive wine with appealing aromas of black cherries, spice, sarsaparilla, chocolate mint, and smoke. Striking fruit core of ripe dark cherries, black raspberries, cherry cola, dark chocolate, spearmint, spice and sassafras with good tannin support and a generous fruit-filled finish. Definitely speaks of place and is nothing like any Pinot Noir from the Willamette Valley or anywhere else in Oregon for that matter.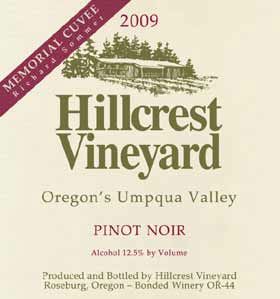 2012 Lenné Estate Yamhill-Carlton District Willamette Valley Pinot Noir
13.5% alc., $45. A barrel selection of the finest barrels representing the best parts of the 30-acre vineyard. The site is a steep south-facing slope just east of the town of Yamhill. Shallow soils, dense spacing and a diversity of clones (Pommard, 1125, 114, 777 and 667). Medium reddish-purple color in the glass. The nose is captivating, offering fresh and vibrant aromas of fresh cherry tart, red raspberry, and Xmas spice that become more generous over time in the glass. A polished wine with admirable finesse, displaying a middleweight core of juicy cherry and berry fruits with a complimentary note of spice and sous-bois. The soft, but evident tannins are well balanced the finish is plush with spiced cherry goodness. Satisfying now, but still young and relatively closed. Much more expressive and enjoyable the following day from a previously opened and re-corked bottle. This wine will definitely benefit from more time in the cellar, but when you do bring it out, the wine will be a cause for celebration.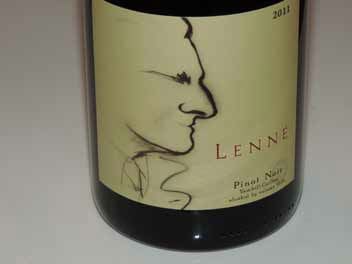 2012 Privé Vineyard le sud Chehalem Mountains Willamette Valley Pinot Noir
13.6% alc., 75 cases, $65. From the south block of this estate with vines dating to 1980. Extreme crop thinning and the extra small berry size in this vintage led to special flavors. Southwest facing hillside with Jory soils. 100% Pommard clone. Moderately dark reddish-purple color in the glass. I was searching for proper descriptors to do justice to the nose. Dreamy aromas of black raspberry jam on a warm croissant, black cherries, exotic rose petals, and a hint of truffle. Delicious and luscious on the palate with perfectly ripened fruit flavors of black cherry and black raspberry with riffs of baking spice, dark chocolate, vanilla, sassafras and rose hips tea. Highly flavorful and full of sappy fruit goodness, but not imposing. Beautifully composed and harmonious, with silky tannins, balanced acidity, and an orgasmic finish. Scary to think it will get even better with some time in the cellar. My highest rated Oregon Pinot Noir in 2013.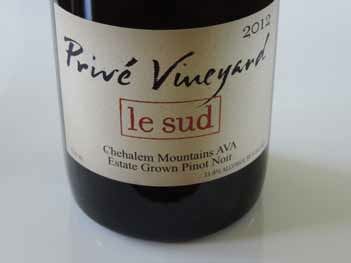 2012 Privé Vineyard le nord Chehalem Mountains Willamette Valley Pinot Noir
13.6% alc., 100 cases, $55. 100% Pommard clone planted in Jory soil (rootstock dates to 1980) on a southwest facing hillside. Dark reddish-purple color in the glass. The nose is complex and captivating initially, with aromas of black raspberry, black currant, licorice, spice and purple rose petals. The wine hits the mid palate with an unctuous core of black cherry and black raspberry fruit caressed by soft tannins and brought to vivid heights with bright underlying acidity. Very smooth and sexy, with a gorgeous finish replete with perfectly ripened blackberry fruits. Darker fruits, earthier and a little more sap and tannin than the le sud, with more evident acidity and a brighter finish. This wine is like le sud's teenage sister - more rebellious, untamed and immature. Much better when re-tasted later in the day. Awesome.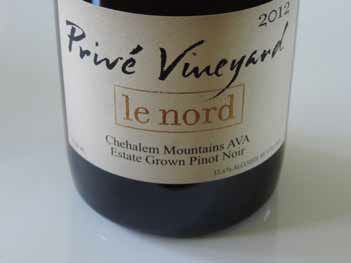 2012 Raptor Ridge Gran Moraine Vineyard Yamhill-Carlton District WV Pinot Noir
14.4% alc., 127 cases cases, $45 . Released November 2013. Originally this 53-acre vineyard was a "no-expense- spared" project planted in 2006 and financed by CALPERS. Portions of it were eventually acquired by a California wine label. Sourced from blocks planted to clone 777 on Willakenzie soils. Moderately dark reddish-purple color in the glass. Aromatically uplifting with hi-brow scents of fresh black cherry, blackberry and a hint of vanilla. Deliciously rich and sappy on the palate with layers of fruits including blackberries, black cherries, plums and currants. Hints of cola, spice and vanilla add interest. Very soft and luxurious on the palate. The fruit is well-buffered by a substantial tannic backbone. The finish is remarkably long, generous and decadent. I have rarely experienced a single clone 777 Pinot Noir this appealing.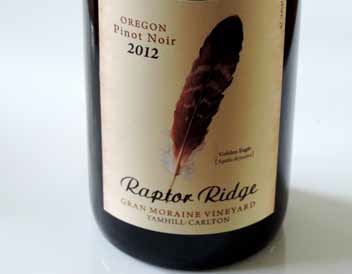 2011 White Rose Estate Winemaker's Cuvée Dundee Hills Willamette Valley Pinot Noir
13.0% alc., 99 cases, $85. Sourced from White Rose Vineyard and Luciole Vineyard. Pommard, 115 and 777 clones in Jory soil. Harvested November 4 (White Rose Vineyard) and November 1 (Luciole Vineyard). Fermented with 75% whole cluster on average. 8 day pre-fermentation maceration, total skin contact 23.5 days. Aged 16 months in 25% new French oak barrels. Moderately light reddish-purple color in the glass. The nose draws you into the glass with aromas of dark cherries, dried rose petal, exotic spice and a hint of smoke. Delicious from the get-go with a rush of spiced cherry and strawberry fruits on entry, penetrating every nook and cranny in the mouth, and finishing with uncommon grace and generosity. The spice is particularly evident on the finish. Despite the flavor onslaught, this wine remains elegant and refined. The healthy tannic structure predicts a long life ahead. A very special wine.