2015 World of Pinot Noir: Adventure Along the Pinot Trail
This year's Fifteenth Anniversary World of Pinot Noir (WOPN) was held March 6-7 at the Bacara Resort & Spa in Goleta California. Fifteen hundred Pinot geeks reveled in the sunny and glorious weather and the Pinot Noir smorgasbord of unlimited options. With 225 wineries participating, each of which was pouring multiple offerings, one had to be in peak shape for this bacchanalia. On Friday, if you participated in the seminar, "Latitudes & Longitudes," chaired by Jancis Robinson, the luncheon that followed, the Pinot Noir Focus Tasting in the afternoon, and any of four dinners offered in the evening, you could have tasted an outrageous number of Pinots. If you were in superb condition, you could have done it all over on Saturday by attended the Burgundy Seminar and its luncheon, the Pinot Noir Grand Tasting, and one of the three special dinners presented that evening.
The WOPN was truly the "World" of Pinot Noir with wineries from Australia, Austria, British Columbia, Chile, France, Italy, South Africa, and New Zealand participating. Stateside, all major Pinot Noir growing regions of California were represented, and wineries from Oregon's Willamette Valley, the New York Finger Lakes, and the Leelanau Peninsula of Michigan were present.

I came away with a few general impressions:
1) More wineries are bottling Pinot Noir using some proportion of whole cluster fermentation. There are several reasons for this including more favorable and extended ferments, appealingly complex spice and rose petal aromatics, and favorable textural changes (stem tannins are silky and smooth).
2) There is no "Holy Grail" region for Pinot Noir in California. Multiple quality growing areas have been identified, but the vines are still relatively young in most areas. I tasted superb wines from all major California appellations.
3) At the walk-around Pinot Noir Focus Tastings, the most rewarding tasting tables were those staffed by the winery's winemaker or owner, who not only were most informative but put a face to a wine. The character of the person who made the wine is highly relevant to how that wine tastes. Below are Tom and Susan Higgins of Hearts and Hands Wine Company who travel to the event each year from the Finger Lakes region of New York.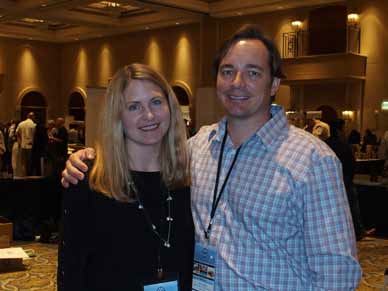 4) The large PInot Noir Focus Tastings are not an ideal setting for evaluate wines critically. That said, Pinot Noir is a lot like love: you know it when the right one comes along.
5) Attendees at the large Pinot Noir Focus Tastings often gravitate to the "name" producers, and ignore the small, boutique wineries that are relatively unknown. This is unfortunate, for they miss out on some of the most appealing wines. Every year I find undiscovered wineries that intrigue or impress. This year it was Center of Effort Wines, Cotiere Winery, DELLA Wines and Stephen Goff Wines.
6) Attendees of the large Focus Tastings would be better served if they had a plan when they enter. For example, limit yourself to Pinot Noir from a certain region or appellation in California, or just taste Pinot Noir from Oregon, or just taste Pinot Noir from a certain vintage. This way, one can leave with some comparable, useful information.
7) I find it thrilling experience to bump into readers of the PinotFile that I have never met and receive their impressions of the newsletter (and hopefully accolades).
8) Attendees should learn to spit. It is simple to learn (try practicing with water) and there is no reason to be self-conscious about doing it because no one is interested in watching you spit anyway.
9) Practically every wine I tasted from Anderson Valley in the 2012 vintage was exceptional, even extraordinary. Stock up while the wines are still available.
10) The offerings from Big Basin Vineyards, Maggy Hawk and Phelps Creek Vineyards really stood out from the pack.