Rochioli Vineyards & Winery West Block
Spending an hour with Joe Rochioli, Jr., was a highlight of our trip. A humble, but proud man, Joe possess an indefatigable devotion to his vineyard and his personal history is marked by numerous notable achievements that inseparably link him to the history of winegrowing in the Russian River Valley. Now 81 years old, and hobbled by recent knee surgery, he still is active in the management of his vineyards. Considering he grew up in a very poor Italian-American immigrant family that lived completely from the land, struggled in the early years of school because he could not speak English, it is remarkable that was able to initiate a remarkable number of viticultural innovations that led to his unprecedented success and notoriety in the wine industry.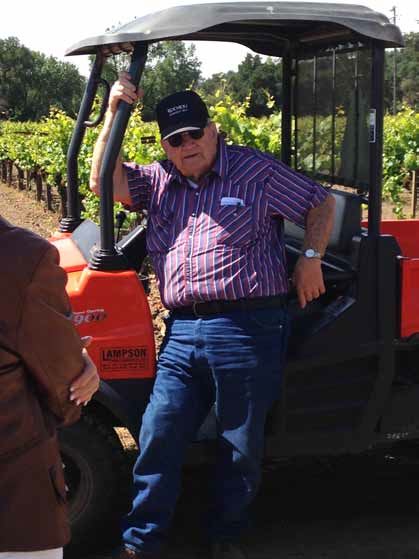 To understand the significance of Rochioli Vineyard West Block, it is important to review the historical circumstances that led to the planting of this vineyard. The Rochioli family arrived in the United States in 1912. Joe's father, Joe, Sr., was sent to an orphanage at a young age, and since he had no name, he was given the name "Rochioli," a word in Italian that had no meaning. Joe, Jr., was born in Sebastopol in 1934, and four years later the Rochioli family moved to the 125-acre Fenton Acres ranch adjacent the Russian River in Healdsburg where Rochioli Vineyards is located today. The farm was initially leased to Joe, Sr., who eventually bought portions of the ranch over time. The large farm was planted to hops, fruit, grapes ( a typical Italian field blend of Alicante Bouschet, Zinfandel, Petite Sirah, Sauvignon Vert and Black Malvasia), prunes and vegetables. By age 12, Joe, Jr., was doing a man's work, lifting 60 pound sacks of hops in the hop kiln.
When the hops business declined in 1953, hops were taken out and Blue Lake string beans planted and soon Joe, Sr., became one of the largest string bean growers in California. The old grapevines that dated to the 1890s were ripped out in 1957, and French Colombard was planted with two rows of beans planted on stakes between each row of grapevines.
By the time Joe, Jr., returned from attending college at Cal Poly San Luis Obispo in 1959, Joe, Sr., had acquired the entire 162 acres. Joe, Jr., had read and researched grape varieties, and wanted to plant additional vinifera varieties, but his father and uncle were reluctant because wine grapes produced small crops and only returned $50 to $70 a ton at the time. Joe, Jr., finally talked his father into planting Sauvignon Blanc in 1959. (Cabernet Sauvignon was also planted but did not perform and was pulled out in the 1970s) Joe, Jr., traveled to the University of California at Davis in a 1947 Ford pickup to look at Sauvignon Blanc that was planted there to multiple clones. He walked the rows and tasted the grapes, finally deciding on one particular row where the grapes tasted the best. 10 acres of Sauvignon Blanc were planted and today, Rochioli Sauvignon Blanc has won more awards than any other wine Rochioli produces. The clone at Rochioli Vineyard forever remains a mystery as the Sauvignon Blanc vines at the University of California at Davis were eventually pulled out.
By the early 1960s, farm labor was difficult to find and the string beans had all been pulled out at the ranch. Joe, Jr., begged his father and uncle to try Pinot Noir. He had done enough research to indicate to him that the grape would do well on the Rochioli ranch. Joe, Jr.'s father wanted to plant "early Burgundy," a Gamay clone that was vigorous and more profitable, but produced wines that were more like a rosé." Joe, Jr., said, "No way was I going to plant that stuff!"
After Joe, Sr., died in 1966, Joe, Jr., used a tractor to pull out the French Colombard and some Cabernet Sauvignon that had been planted, and planted in their place Pinot Noir. His neighbors thought he was crazy. Since there was no Pinot Noir budwood readily available, Joe, Jr., sought out a Frenchman who had plantings south of St. Helena in the Napa Valley. He was met with resistance from the owner who reluctantly gave him some "suitcase" Pommard budwood from his vineyard.
In 1968, Joe, Jr., planted 4 acres of Pinot Noir in what was to become known as East Block, named for the area east of the telephone pole on the property. This was one of the earliest plantings of Pinot Noir in the Russian River Valley. In 1969, he acquired the shares of the ranch owned by his brother and sister, and became the sole owner of Rochioli Estate. In 1970, 4 more acres of Pinot Noir were planted in what has become known as West Block, using budwood from Karl Wente's estate vineyard in Arroyo Seco (Joe, Jr., told me the year was 1970, but many references and the winery's website state the year as 1969). Joe, Jr., says that he insisted that Wente sell him cuttings from his most special French Pinot Noir vines and he paid 10 cents a bud, a huge expense at the time. A team from University of California at Davis has looked at the original Pinot Noir plantings at Rochioli Vineyards, and determined that they are one or more Pommard field selections.
The West Block plantings were typical for the era with a 14 foot spacing between rows and 8 foot spacing between the vines (see current photo below). The rootstock is phylloxera resistant AxR#1.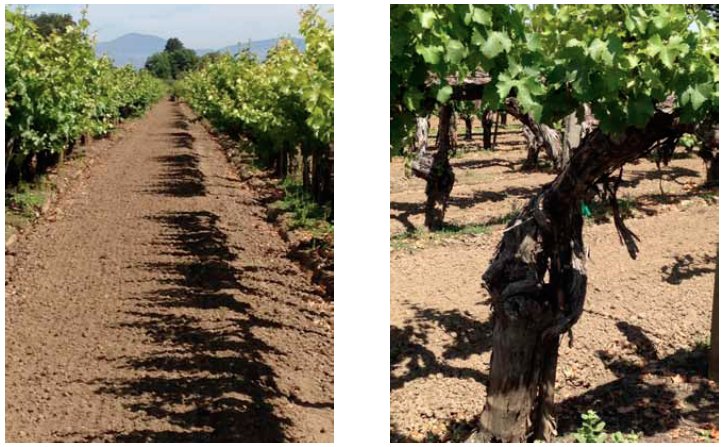 West Block is often referred to as the "mother block" because cuttings from this block were subsequently used to establish several other Pinot Noir blocks on the Rochioli ranch, Allen Vineyard across Westside Road from Rochioli Vineyard (first planted in 1970 with later plantings from West Block), and many other vineyards in the Russian River Valley.
The heavily virused East Block vines were completely replaced with West Block cuttings after the 2008 vintage and a number of vines have been replaced in the West Block as well. West Block is now one-third its original size.
In 1979, Joe, Jr., began selling some West Block Pinot Noir to Williams Selyem, before that famous winery had become bonded. Burt Williams recalls that Joe, Jr., sold him the Pinot Noir grapes for $550 to $600 a ton. Williams Selyem made Rochioli Vineyard famous, when in 1987, the 1985 Williams Selyem Rochioli Vineyard Russian River Valley Pinot Noir, made from West Block grapes, won the Sweepstakes at the California State Fair Competition and became one of the most seminal wines in the history of California Pinot Noir. Williams Selyem continued to source West Block grapes until the winery was sold in 1997, after which time Williams Selyem received grapes from the River Block section of Rochioli Vineyard. Cuttings from West Block are no longer given away or sold. A beautiful cluster of West Block Pinot Noir is shown below: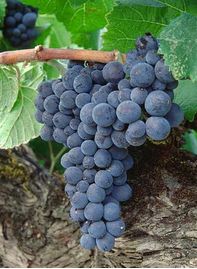 A J. Rochioli West Block-designated Pinot Noir was first offered in 1999: 400 cases, $65. Current production is about half that amount, and the price has risen to $125. The wine is allocated to devoted mailing list customers. Your best option is to buy the wine on the secondary or auction marketplace.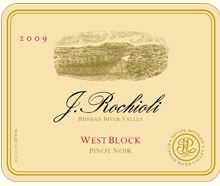 Tasting at Rochioli Vineyards & Winery: