Et Fille
Howard Mozeico started making wine in his garage in 1984. He became quite accomplished, garnering seven Gold Medals for his Pinot Noir in seven state home winemaking competitions. He was encouraged by friends and relatives to become a full-time winemaker and when his daughter, Jessica, agreed to assist him with the 2000 vintage, he began his commercial winemaking career. The name Et Fille ("a few") was chosen, which in French means "and daughter." Howard jokes that "Mozeico Et Fille" just wouldn't work. His wines have been well reviewed and soon he plans on leaving the software company he co-founded to devote himself entirely to Et Fille.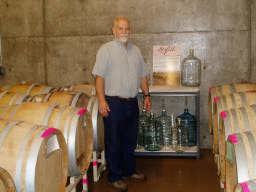 Howard's goal is to craft small lots of distinctive singlevineyard Pinot Noirs that reflect the unique character of each individual vineyard. No two of his wines are made exactly in the same fashion, and each wine is an expression of a specific Oregon terroir. He sources grapes from several prime vineyards including the well-known Maresh Vineyard.
The wines are vinified at August Cellars, a state-of-the-art gravity flow winery just off Highway 99W in Newberg. August Cellars was founded by Tom Schaad and is fashioned after the Carlton Winemaker's Studio, which hosts ten wineries under one roof. At August Cellars, eight separately bonded wineries share space and equipment. Each winery has its own dedicated space for storing barrels during the blending and aging process. The facility opened in 2004 and has a tasting room that is open weekdays during the summer and weekends all year.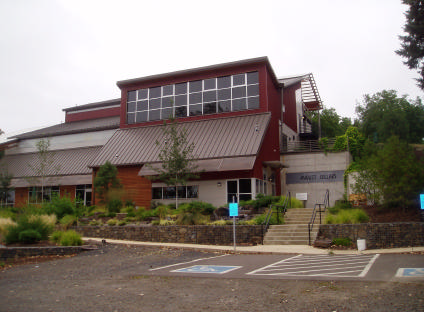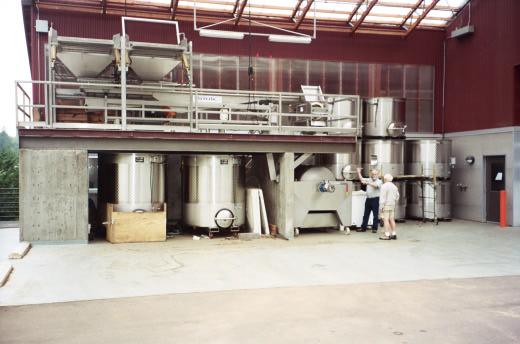 I met up with Howard at August Cellars prior to the IPNC and we tasted through a number of finished wines and barrel samples. The
2005 Et Fille Willamette Valley Pinot Noir, the 2005 Et Fille Palmer Creek Vineyard Eola-Amity Hills Pinot Noir, and the 2005 Et Fille Kalita Vineyard Yamhill Carlton Pinot Noir
were reviewed very favorably previously in the PinotFile (Volume 6, Issue 20).
As you can tell from the wines offered, Howard prefers the Pommard clone as he believes it makes a more complete wine. I also tasted several 2006 barrel samples and the Kalita Vineyard Yamhill- Carlton and Maresh Vineyard Dundee Hills really stood out.
Production is small, about 1,500 cases, and most of the wine is sold through a mailing list. The 2005 lineup of Pinot Noirs are sold out, but you may find a bottle at www.avalonwine.com. The website is www.etfillewines.com and the phone number is 503-449-5030. Tasting can be arranged by appointment.