Recently Tasted Oregon Pinot Noir
After the fruit-forward, extracted and bold 2012 Pinot Noirs, the 2013 wines are a return to the classic Willamette Valley style of lower alcohol, bright acidity, elegance and nuance. Some may find some of the wines a bit demure, even austere at present, but they should put on weight with more bottle age. I am afraid that a number of the 2013 Pinot Noirs from the Willamette Valley won't impress the California palate.
Analemma Wines
Analemma Wines, founded in 2010 by winemakers Steven Thompson and Kris Fade, is one of the few Columbia Gorge wineries growing and producing wines exclusively from within this region. The winery's beginnings trace back to an opportunity to farm the historic Atavus Vineyard (previously Dragonfly Vineyard) on the Washington side of the Columbia River. This experimental site was a vision of Washington State University's Dr. Walter Clore. Planted in 1968 under the guidance of Walter J. Clore, it present conditions ideal for Pinot Noir and Gewürztraminer. Organically and biodynamically farmed at 1,700 feet elevation, this vineyard is positioned on a southern slope with a sweeping view of the Columbia River and Mt. Hood.
The name, Analemma, comes from the sun's path as seen in the sky at the same time each month. Similar to the symbol of infinity, the owners of the winery draw inspiration from this image of "boundlessness."
Analemma Wines farms two distinct alpine environments. The Oak Ridge Vineyard sits at 1,400 feet in the foothills of Mount Adams where Pommard and Dijon 115 are self-rooted and dry farmed in volcanic, ashy loam soils. Six and a half miles south, the Atavus Vineyard contains nearly 50-year-old, self-rooted Mariafeld vines.
A sparkling wine, Blanc de Noir, is also produced from the Atavus Vineyard. The 2010 Analemma Atavus Vineyard Blanc de Noir sparkling wine was a featured wine at the 2015 International Pinot Noir Celebration.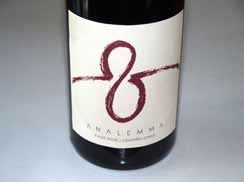 2013 Analemma Oak Ridge Vineyard Columbia Gorge Oregon Pinot Noir
13.6% alc., 230 cases, $32. Pommard and 115 clones from a certified organic vineyard. Majority whole cluster. Aged on lees for 16 months in neutral barrels and concrete. · Moderate reddish purple color in the glass. Intensely fruity nose featuring cherry and raspberry. A bit feral in character, with a mid weight core of dark berry fruit, accented with a note of tar and a kiss of stems. Noticeably fervent entry and attack with a focused finish replete with fruit and tannin. Score: 89
2013 Analemma Atavus Vineyard Columbia Gorge Oregon Pinot Noir
12.3% alc., 70 cases, $N/A (release spring 2016). 47-year-old Swiss Mariafeld clone of Pinot Noir. 100% whole cluster. Aged on lees for 14 months in neutral barrels. · Moderate reddish purple hue in the glass. Inviting aromas of wild berries, spice and floral bouquet, fading a bit over time in the glass. Light to mid weight flavors of black cherry, plum and raspberry with thick wood and stem flavors, offering a slightly shallow mid palate attack. Brightened by citrusy acidity that leads to a juicy finish and underlain with a firm tannic backbone, this wine is unusual in character and should appeal to those looking for something intriguingly different in a whole cluster style. Score: 88
Ghost Hill Cellars
The family owners of this property have farmed 234 acres on Savannah Ridge in the Yamhill-Crarlton AVA since 1906. In 1999, 15 acres of Pinot Noir was planted and the first wine under the Ghost Hill Cellars label was released from the 2006 vintage. Half of the estate grapes are sold to local wineries and half is used in the Ghost Hill Cellars wines. The winemaker for several years. Rebecca Pittock-Shouldis, has been replaced in 2015 by Eric Hamacher, one of Oregon's most respected winemakers. The tasting room is open weekends. Visit www.ghosthillcellars.com.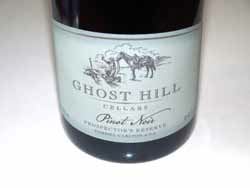 2012 Ghost Hill Cellars Prospector's Reserve Savannah Ridge Yamhill-Carlton Willamette Valley Pinot Noir
13.5% alc., pH 3.74, 148 cases, $55. A special selection of barrels intended to create a more masculine and intense reflection of the site and vintage. A blend of the four main clones from the oldest part of the Bayliss-Bower Vineyard: Wädenswil, Pommard, 777 and 114. Aged in 17% new French oak barrels. · Moderate reddish purple color in the glass. Exemplary purity of black cherry fruit on the nose that really soars. A little more sap and backbone than the regular bottling featuring mid weight flavors of Bing cherry, red raspberry, cola, and baking spice. Very juicy acidity with noticeable finishing power and length. Impeccably balanced for age ability. Score: 92
Keeler Estate Vineyard & Winery
Keeler Estate Vineyard & Winery began as an overgrown 200-acre farm east of the town of Amity, Oregon, acquired by Craig and Gabriele Keeler in 1989. Vineyards were planted methodically and farmed biodynamically. Today, the vineyard is Demeter® Biodynamic certified. The planted 30 acres include Dijon clones 667, 777, 115 and 943, Pommard 4 and 5, and Wädenswil. The winemaker is Darcy Pendergrass. Visit www.keelerestatevineyard.com.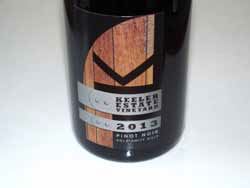 2013 Keeler Keeler Estate Vineyard Eola-Amity Hills Willamette Valley Oregon Pinot Noir
13.8% alc., pH 3.60, TA 0.59, 191 cases, $38. Released September 2015. Harvest Brix 21.7º-22.2º. Pommard, 115 and Wädenswil. 100% de-stemmed. Aged in 100% French oak barrels, 28% new. Unfiltered. · Moderate reddish purple color in the glass. Delightful aromatic array including plum, black cherry, dried herbs, spice, rose petal and cedary oak. A discreetly concentrated styled wine in this vintage, with mid weight plus flavors of black cherry and black raspberry, embellished with savory dried herbs and a woody note. Nicely composed with corralled tannins and some finishing length. Score: 90
2014 Keeler Keeler Estate Vineyard Eola-Amity Hills Willamette Valley Oregon Chardonnay
13.5% alc., pH 3.45, TA 0.60, RS < .2g/L, 156 cases, $28. Released June 2015. Whole cluster pressed, aged 8 months on lees in 65% once-filled French oak barrels and 35% stainless steel. Tartaric acid addition. · Light golden yellow color in the glass. Aromas and flavors of crisp apple, pear, pastry cream and brioche. Very satisfying, with bright acidity and a pleasing apple-driven finish. Score: 90
Van Duzer
With Burgundy native winemaker Florent-Pierre "Flo" Merlier now well established at this winery in Dallas, Oregon, the wines have reached new heights and the winery now belongs in the upper echelon of Willamette Valley wineries. The estate vineyards total 82 acres including multiple clones of Pinot Noir. A majority of the wines are estate grown, but some singular bottlings are from grapes sourced from other regions in the Willamette Valley. The winery's Pinot Noir Rosé and Pinot Gris are among Oregon's finest. The tasting room is a little out of the way and not along the main Willamette Valley winery trail, but well worth an extra effort to visit. The website is www.vanduzer.com.

2013 Van Duzer Willamette Valley Pinot Noir
13.1% alc., 6,100 cases, $32, screwcap. Release December 2015. · Moderately light reddish purple color in the glass. Good character and flavor featuring red cherry, spice, tobacco and dried herb flavors. Light and easy, with suede tannins and a silky mouthfeel. Solid. Score: 89
2013 Van Duzer Eola-Amity Hills Willamette Valley Pinot Noir
13.1% alc., 223 cases, $40. Release October 2015. · Moderate light reddish purple color in the glass. Gorgeous perfume of fresh dark cherry and musk. Light to mid weight cherry goodness with a saucy spice accent. Very easy to like, with a silky texture, modest tannins, welcome fruit purity and good persistence on the cherry-driven finish. Score: 90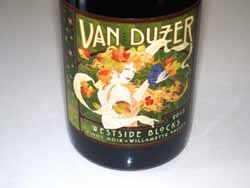 2013 Van Duzer Westside Blocks Willamette Valley Pinot Noir
13.1% alc., 272 cases, $55. Release 2016. A barrel selection. · Moderately light reddish purple color in the glass. Invigorating aromas of cherry, raspberry and the right hint of oak. The delicious cherry core is wrapped in gentle tannins and vibrant acidity. A rich middle palate and virile finish give this wine a special breeding. Score: 91
Winderlea Vineyard & Winery
Winderlea has a storied history in the Dundee Hills. It was formerly known as the Dundee Hills Vineyard when it was first planted in 1974 and was later rechristened Goldschmidt Vineyard after the former Oregon governor who bought the property in 1998. In 2006, Bill Sweat and Donna Morris, who had been highly successful in the financial services industry, left the East Coast for Oregon and the following year bought the Goldschmidt Vineyard, renaming it Winderlea Vineyard. The name is derived from a Vermont property the couple owned and is a German word loosely translated as "valley protected from the wind. The couple brought on veteran winemaker, Robert Brittan to direct the Pinot Noir program.
A tasting room, positioned to take advantage of the panoramic views of the Dundee Hills offers a relaxing venue for wine appreciation and has become an iconic landmark of the Dundee Hills. The inaugural releases of Winderlea Pinot Noir were from the 2006 vintage. Visit the website at www.winderlea.com.