Sips of Recently Tasted California Pinot Noir & Chardonnay
Arista Winery, Healdsburg, CA
Arista is a family owned and operated winery estate founded in 2002 by Al and Janis McWilliams. The four estate Pinot Noir vineyards and hospitality center are located on 36 acres along Westside Road in the Middle Reach sub-region of the Russian River Valley. The emphasis is on appellation and vineyard-designate Pinot Noir and Chardonnay. The wines reviewed here are the inaugural offerings from winemaker Matt Courtney, who joined the winery on January 1, 2013. Courtney spent the previous eight years as an assistant winemaker at Marcassin Winery after graduating from University of California at Davis with a degree in enology and viticulture. The winery's beautiful tasting room is surrounded by a serene Japanese garden and is open daily. The wines are sold on the winery website at www.aristawinery.com, through a mailing list (currently closed but a waiting list is available), and through distribution to wine stores (larger production offerings) and select restaurants nationally.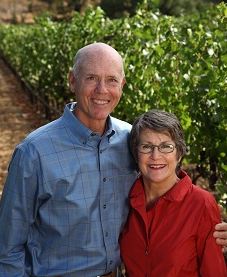 2013 Arista Perli Vineyard Mendocino Ridge Pinot Noir
14.2% alc., 208 cases, $68. Vineyard planted in 2001 and owned and farmed by Steve Alden. Located at 2,200 feet elevation and about 6 miles inland. · Moderately dark reddish purple color in the glass. The nose opens with aromas of dark red berries, black cherry and sous-bois, with an espresso note gaining traction over time in the glass. The mid weight core of nicely ripened dark raspberry, blackberry and black cherry fruits offers length and energy although the fruit is overlain with lavish oak. The satiny texture is very appealing and the smooth finish is generously endowed with fruit and oak-driven notes of anise, smoke and black tea. Score: 90
2013 Arista Harper's Rest Estate Vineyard Russian River Valley Pinot Noir
14.5% alc., pH 3.85, TA 0.52, 156 cases, $82. This vineyard is located on a portion of the Arista property that was once an ancient river bed so the soils are gravely loam. The top soil is relatively shallow so root systems plunge deep beneath the surface. Yields tend to be less than 2 tons per acre. The vineyard is named to honor Ruben Harper, a pioneer farmer who settled in the Russian River Valley in the mid 1800s and homesteaded the land that is now Arista Estate. Ruben is buried under a California Bay Laurel tree in the middle of this 2-acre vineyard. Pommard clone planted in 2007. Yields 1.25 tons per acre. · Moderate reddish purple color in the glass. Charming aromas of an assortment of berry and dark stone fruits lead to an oak-kissed mid weight plus core of dark cherry and blackberry flavors framed by silky tannins. Impressive attack and palate-staining flavor, holding on through a vigorous finish. Still quite young and not as giving as it will be. Score: 92
2013 Arista Two Birds Estate Vineyard Russian River Valley Pinot Noir
14.4% alc., pH 3.87, TA 0.53, 144 cases, $82. Vineyard is named after proprietors Al and Janis McWilliams who call each other "bird" and live next to these vines. This 3-acre vineyard was planted in 2007 to Pommard, Swan and Calera clones of Pinot Noir. Soils are a mixture of loam and clay loam. Yield 1.25 tons per acre. Only a few barrels are chosen each year to go into this blend. · Moderately dark reddish purple color in the glass. Shy, but pleasing aromas of plum, blackberry, violet and spice holding up nicely over time in the glass. A spirited wine that combines grace and machismo. The dark fruits attack and saturate the mouth finishing with outrageous intensity. An oak-driven note of coffee is evident but not intrusive. The mix of clones adds an extra dimension to this wine. Score: 93
Bacigalupi Vineyards, Healdsburg, CA
The Bacigalupi family are Russian River Valley originals, with a history of farming on Westside Road dating back to 1956 when Charles and Helen Bacigalupi bought the 121-acre Goddard Ranch. Today, the Goddard Ranch has 120 vineyard acres and is the oldest ranch among several that the Bacigalupis farm. Charles's son, John, was raised on the Goddard Ranch and after a lifetime of winegrowing experience, teamed with his spouse, Pam Heck Bacigalupi, and fourth-generation nephew and winemaker, Tyler Heck, to found John Tyler Wines. John and Pam's third generation twin sister daughters, Nicole and Katey, became the face of John Tyler Wines and were instrumental in the building of a stylish tasting room on Westside Road where the wines are featured.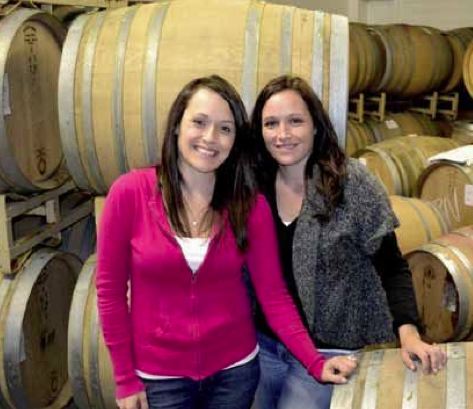 Beginning in 2013, the name of the winery was transitioned from John Tyler Wines to Bacigalupi Vineyards to honor the legacy of winegrowing of the Bacigalupi family. The first releases bearing the Bacigalupi label were from the 2011 vintage and were vinified by new winemaker Ashley Hetzberg. She changed the style of the wines to make them more gracious and enticing upon release. The wines are available at the winery's tasting room and from the online website store at www.bacigalupivineyards.com. The 2013 vintage wines reviewed below are sold out, but the 2014 versions are now available at the same price. The Petite Sirah, Zinfandel and Petite Sirah-Zinfandel blend (Fondare) are also outstanding wines. The Bacigalupi twins staff the tasting room and are delightful hosts. The Bacigalupi wines have a pedigree, a legacy, and a family that embraces the consumer's interest.
2013 Bacigalupi Russian River Valley Pinot Noir
14.5% alc., 232 cases, $65 (sold out). Unfined and unfiltered. · Moderately light reddish purple color in the glass. Lovely perfume of Bing cherry, rose petal, spice and toasted oak. The medium-bodied core of fresh black cherry fruit is complimented by smoky oak and nicely composed t n' a. Very juicy and vibrant on the finish. Score: 90
2013 Bacigalupi Russian River Valley Chardonnay
14.2% alc., 166 cases, $56 (sold out). Unfined and unfiltered. Vines grafted from the original vineyard that supplied the grapes to the 1973 Chateau Montelena Chardonnay that won the 1976 Paris Tasting. · Moderate light golden yellow color in the glass. The nose displays aromas of lemon oil, star fruit, toasty oak and lees. Slightly creamy in the mouth, with flavors of citrus, pear and kiwi set off by a toasty almond note. Very satisfying with a juicy, lip-smacking finish well endowed with oak highlights. Score: 90
Black Kite Cellars, San Francisco, CA
This winery, owned by Tom and Rebecca Green Birdsall, focuses on producing small lots of Pinot Noir from the varied blocks of Kite's Rest Vineyard in the Anderson Valley as well as Pinot Noir and Chardonnay from other similarly expressive vineyard sites in other regions such as the Santa Lucia Highlands and Sonoma Coast. Kite's Rest Vineyard is located on a 40-acre parcel in the "deep end" of the Anderson Valley where vines coexist with towering coastal redwoods. The vineyard consists of a total of 12 acres divided into three very distinct blocks. Veteran winemaker Jeff Gaffner crafts the wines which stylistically feature generous oak highlights. The wines are available through the winery's website at www.blackitecellars.com, the winery's wine club, and through select distribution in wine shops and restaurants nationally.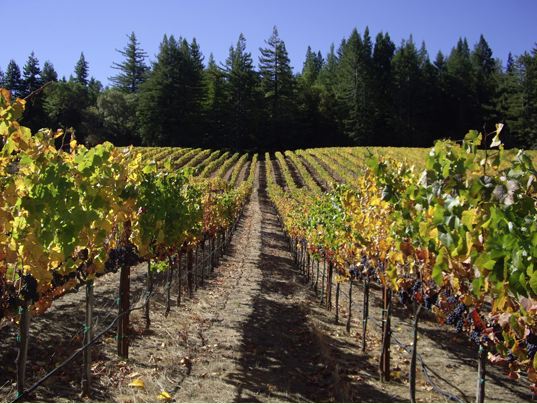 Joseph Phelps Freestone Vineyards, Freestone, CA

2012 Joseph Phelps Freestone Vineyards Quarter Moon Vineyard Sonoma Coast Pinot Noir
13.8% alc., $75. From three specific blocks of the estate 41-acre vineyard located at 500 feet elevation only a few miles from the Pacific Coast as the crow flies. A mixture of Calera and clones 90 and 96 with some 459 and 777. 26% whole cluster. 21% fermented in oak open top fermenters. Aged 14 months in 55% new and 45% 2-year-old and 3-year-old French oak barrels. · Moderately dark reddish purple color in the glass. Terrific aromatic presence featuring scents of blackberry reduction sauce, cassis and exotic spices. Suave, polished and packed with a flavorful assortment of dark fruits, this gorgeous wine offers many nuances including cardamom, Asian 5-spice and game accents combined with a perfect compliment of oak. Admirable balance with welcome acidity on the lip smacking finish. This wine has loads of charisma. Score: 94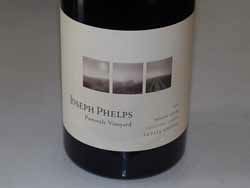 2012 Joseph Phelps Freestone Vineyards Pastorale Vineyard Sonoma Coast Pinot Noir
13.9% alc., $75. This 34.5-acre estate vineyard surrounds the Freestone winery and is but 8 miles inland from the Pacific Ocean. Calera and 777 clones. 30% whole cluster. 33% fermented in oak open top fermenters. Aged 14 months in 55% new and 45% 2-year-old and 3-year-old French oak barrels. · Moderately dark reddish purple color in the glass. Haunting aromas of black cherry, sous-bois, rose petal and spice box. A truly harmonious drinking experience with every component singing in tune. Delicious flavors of black cherry and black raspberry with an accent of exotic spices and black tea. The fruit holds on to the peacock finish for what seems like a minute. Perfectly integrated acidity holds the rich fruit in balance.This wine is true to its mission. Score: 95
Loring Wine Company, Lompoc, CA
Brian Loring has been crafting Pinot Noir for nearly 20 years. He was one of the new wave of early boutique California Pinot Noir producers to enter the field from another profession (in his case, software engineer). His continued success has been predicated in part on his insistence that he acquire first-rate Pinot Noir grapes from prestigious growers. He never professed to be a knowledgeable winegrower, allowing vineyard owners leeway to farm his blocks as they farmed the blocks for their own label. Of course this has changed as he has acquired more experience over the years but quality grapes still remain the cornerstone of the Loring Wine Company label. Many of the vineyards appear on the front label of the vineyard-designated wines. Stylistically, the Pinot Noirs have been bursting with showy fruit framed by a toasted oak character, but the wines have become more refined and now are more reflective of site. Brian branched out into Chardonnay in 2009, and more recently sparkling wine. A new tasting room is open Thursday through Monday in Buellton near the Hitching Post II restaurant. The wines are sold through a mailing list at www.loringwinecompany.com. Brian's sister, Kimberly, is actively involved in all aspects of the winery as well.
At crush, the Pinot Noir grapes are de-stemmed, cold soaked, and then fermented with proprietary yeast. The small lots are pressed using a basket press, and aged in Francois Frères and Sirugue French oak barrels that have medium toast. Approximately 50% of the barrels are new in each vintage. The wines are stored in the caves at Cottonwood Canyon Winery. All wines are closed with screwcap.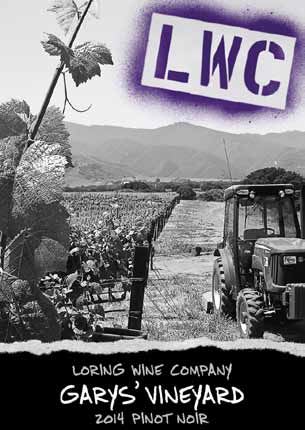 Manross Wines, Sonoma County, CA
Heather Manross carries on a family winemaking tradition by practicing natural winemaking techniques. Her approach is rooted in balance and non-manipulation during every phase of the winemaking process. She left a career in Hollywood's television and film industry to pursue a career in wine. After a stint at one of the largest wine retail and wholesale operations in Southern California, she held management positions for several Napa Valley wineries where she learned the intricacies of winemaking and began to articulate her own winemaking vision. Heather's vineyard sources include Donnelly Creek in Anderson Valley, Lone Oak Vineyard in the Russian River Valley and Hawk's View Vineyard in Oregon's Willamette Valley. The wines are sold exclusively through a mailing list at www.manrosswines.com.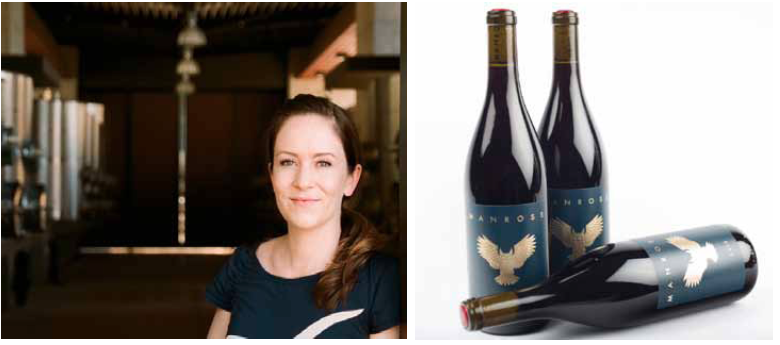 2013 Manross Donnelly Creek Vineyard Anderson Valley Pinot Noir
14.5% alc., 50 cases, $54. 30% whole cluster. Aged 16 months in French oak barrels, 25% new. Unfined and unfiltered. · Moderately light reddish purple color in the glass. Alluring perfume of cherry pie glaze, cranberry and spice. A charming and somewhat delicate wine that delivers plenty of cherry, raspberry and spice flavors. Oak chimes in subtlety as does the whole cluster producing a bit of herbal seasoning. The modest tannins are fine grain and the cherry driven finish offers a juicy grip of acidity. Impressive harmony. Score: 92
Pisoni Estate, Santa Lucia Highlands, CA

2013 Pisoni Estate Santa Lucia Highlands Pinot Noir
14.2% alc., $75 (sold out). A blend of barrels and different vineyard blocks from the estate property.Each block vinified separately in small lots using native yeast fermentation, hand punch downs, no fining and no filtering. · Moderate reddish purple color in the glass. Aromas of blackberry reduction, cassis and baking spices gain intensity in the glass over time. A bit reticent upon opening, but picks up body and appeal with swirling. The mid weight purple and black fruits really glam onto the palate, finishing with uncommon generosity. The wine offers a little less extraction in this vintage, but more juicy acidity. When tasted the following day from a previously opened and re-corked bottle, the wine had undergone a remarkable transformation, offering a plethora of richly flavored fruit on the nose and palate held in check by a firm, balanced structure, and offering a glorious finish that had become even more generous. I would put this wine in the cellar and check it again in 3 to 5 years, but it will most certainly last well over a decade and a half. Score: 93-94
Rhys Vineyards, Santa Cruz Mountains, CA
2013 Rhys Home Vineyard San Mateo County Pinot Noir
13.0% alc., $79. A mixed field blend from 1.57 acres. · Moderately dark reddish purple color in the glass. The nose leads with aromas of red berries, rose petal and whole cluster spice. A daunting wine today, even when tasted the following day from a previously opened and re-corked bottle, with muscular tannins that dominate the charming black cherry fruit. Whole cluster adds cinnamon and other baking spices along with stem notes. Softly textured, the wine's tannins tend to ameliorate some over time in the glass allowing the cherry fruit to shine. Put this wine in the cellar for at least 3 to 5 years to allow the tannins to soften. Score: 89-91
2013 Rhys Alpine Vineyard Santa Cruz Mountains Pinot Noir
12.8% alc., $79. Rhys selection plus heritage clones from 11 acres located at an elevation of 1230 to 1400 feet. · Moderately dark reddish purple color in the glass. Lovely aromas of dark red fruits, rose petal, and stem stream from the glass, becoming more expressive the following day from a previously opened and re-corked bottle. The light to mid weight array of red and purple fruits accented with spice and herb notes is quite approachable. Bright, fresh and charming, with modest tannins and a lively cut of acidity in the background. Score: 91-92
Willowbrook Cellars, Sebastopol, CA
Winemaker Joe Otos formed Willowbrook Cellars in 2001, partnering with retired technology entrepreneur John Tracy and retired sales executive Ed Sillari, both of whom had moved to Sonoma County to pursue the wine business. In 2003, Joe began to seek out small, special vineyards in the area and this led to a long term collaboration with the Kaufman Sunnyslope Vineyard on Sonoma Mountain. The Willowbrook Estate Vineyard Pinot Noir is made from fruit from John Tracy's vineyard. Pinot Noirs are also bottled using fruit from Carneros, Sonoma Coast and Monterey County. Visit www.willowbrookcellars.com for ordering details.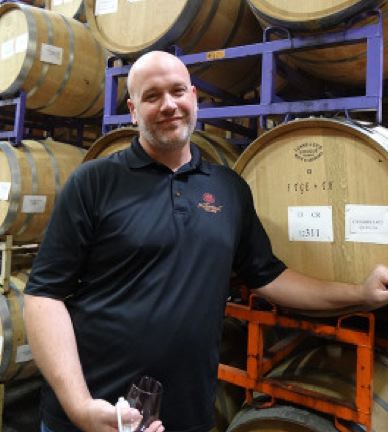 2013 Willowbrook Estate Vineyard Russian River Valley Pinot Noir
14.4% alc., 250 cases, $42. From a 6-acre vineyard on Burnside Road. Clones 115, Swan and Calera. Gold Medal Sonoma County Harvest Fair. · Moderately light reddish purple color in the glass. Deep black cherry aroma with a pleasing hint of spice. The mid weight plus core of Bing cherry fruit is quite flavorful and accented with notes of cola and smoky oak. Impeccable balance with submerged tannins and a generous and juicy cherry finish. Score: 90
2013 Willowbrook Kaufman Sunnyslope Vineyard Sonoma Mountain Pinot Noir
14.4% alc., 207 cases, $42. Double Gold Sonoma County Harvest Fair. Vineyard planted in 1994 and owned by Jim and Sue Kaufman, this 6-acre vineyard sits on the cooler north side of the Sonoma Mountain AVA. Clone 777. · Moderately light cherry red color in the glass. A welcome perfume of fresh cherries and cranberries great the drinker. Elegantly composed, with charming flavors of cherry, raspberry, cola and smoky oak. The tannins are refined and the finish is particularly notable for its silkiness and extended length. Score: 91