Stay and Eat Near Sta. Rita Hills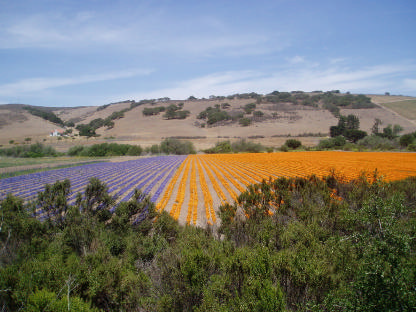 The Ballard Inn & Restaurant
A 15 room romantic country inn that is rated Four Diamonds by AAA. Rates are $225-$315. The intimate restaurant is superb. Executive chef and inn owner, Budi Kazali, turns out wine country cuisine with an Asian slant that is to die for (Kazali studied under noted chef Ming Tsai). Corkage is only $10. 805-688-7770. 2436 Baseline Avenue, Ballard.
Www.ballardinn.com
.
Edison St Inn This B&B was built in 2003, but looks like it dates to the 1890s. A Victorian farmhouse with 4 rooms and a water tower guesthouse. Rates are $185-$295. Romantic. 805-693-0303. 1121 Edison St, Santa Ynez. Www.edisonstreetinn.com.
Santa Ynez Inn Built in 2001. 14 large rooms with full amenities. Adjacent to Vineyard House Restaurant and Au Bon Climat Tasting Room. Full served breakfast. Rates are $295 - $495. 805-688-5588. 3627 Sagunto St, Santa Ynez. Www.santaynezinn.com.
Other lodging options include: The Alisal Guest Ranch & Resort in Solvang, Fess Parker's Wine Country Inn (in small town of Los Olivos and close to tasting rooms), Wine Valley Inn & Cottages in Solvang (for those into Danish kirsch), Marriott Santa Ynez Valley (corporate digs), Skyview Motel (funky and retro), Best Western Pea Soup Anderson's Inn in Buellton (Americana). Avoid the Day's Inn Windmill made famous in the movie Sideways as it is run down.
Recommended Restaurants: Cold Spring Tavern (Hwy 154, historic stagecoach stop), The Hitching Post II (Buellton on Hwy 246), Wine Cask (in Fess Parker's Wine Country Inn), Los Olivos Café & Wine Merchant, Grappolo (Santa Ynez), River Grill (in the Alisal Guest Ranch), Santa Ynez Burrito, Cupid's Hotdogs (Solvang), The Porch at Los Olivos Grocery, Sissy's Uptown Café (Lompoc).
There are multiple wine tasting rooms in Solvang and Los Olivos including Cabana Cellars Tasting Bar (Solvang), Alisal Cellars (estab 1964 in Solvang), Wine Country (Los Olivos), and Los Olivos Tasting Room.