Pinot Briefs —Newsletter 10.45
Panelists Announced for 2017 IPNC Moderator Eric Asimov of The New York Times will be joined for the Grand Seminar, "The French Adventurers: Burgundians Making Pinot Noir in Oregon," by panelists Véronique Boss-Drouhin (Domaine Drouhin Oregon), Dominique Lafon (Lingua Franca), Jackques Lardière (Resonance), Jean-Nicolas Méo (Domaine Nicolas-Hay) and Alexandrine Roy (Phelps Creek Vineyards). The Early Bird Ticket special ($100 off registration fee) expires December 31, 2016. Register now at www.ipnc.org.
Charlie Palmer's Pigs & Pinot The 12th Annual Pigs & Pinot Weekend will be held Friday, March 17 and Saturday, March 18, 2017. Held at the Hotel Healdsburg, this celebration has become a tradition among pork and Pinot Noir enthusiasts who have the opportunity to experience the creations of over 60 winemakers and 20 chefs. Featured winemakers are Aubert Lefas (Domaine Lejeune), Michael Browne (Kosta Browne, CIRQ), Daniel J. O'Connell (O'Connell Vineyards), Lynn Penner-Ash (Penner-Ash Wine Cellars) and Ben Cane (Westwood Estate). Exclusive Alaska Airlines VISA Signature Pre-Sale is Wednesday, January 11, 2017, with the General Sale starting on Thursday, January 12, 2017, at 11:00 a.m. PST. Both hotel packages and individual event tickets are available. This event sells out within a day or sooner. Visit www.pigsandpinot.com.
World of Pinot Noir The annual World of Pinot Noir will be held March 3-4, 2017, at the Bacara Resort & Spa in Santa Barbara, California. The event includes two days of in-depth tasting seminars, Grand Tastings, a Burgundy seminar and special lunches and dinners. For a list of participating wineries and participating chefs, as well as to register, visit www.worldofpinotnoir.com.
Wine Sales at Peak Wine sales peak in the week leading up to Christmas. Sales are on average 57% higher than any other week of the year. (Nielsen data)
Tasting Blind or Blindly Tasting? I do not taste wines blind for multiple reasons that I have elucidated in the past. First, I frequently have production tech notes on each wine available, and that assists me further in understanding the winemaking and the wine. The more background detail I have, the more I am likely to discover in the wine. Second, I prefer to evaluate wines in the same manner as the consumer experiences them. Third, I believe an essential part of judging wine is to know what you are drinking. Fourth, it is very difficult to judge typicality in blind tasting. A wine must be varietally correct to warrant a high score. Varietal labels offer expectations for both the wine reviewer and the consumer. Fifth, reviews of music, plays, restaurants, cars, etc., are never done blind, so why wine? It make sense that the major wine publications taste blind because they accept advertising and this can create conflict of interest.
Pinot Noir Challenging Cabernet in Popularity Wine-Searcher reports that Cabernet Sauvignon had more searches, around 9 million, so far this year, considerably more than any other varietal. The main competition is Pinot Noir. Non-Burgundy Pinot Noir had 3.3 million searches in 2016, with an upward trend over the last half of the year. Visit www.wine-searcher.com/m/2016/12pinot-noir-s-cabernet-challenge.
Wine Storage Cooler Advice If you are planning to buy a wine storage cooler, pay special attention to the storage capacity of the unit for larger bottles if you buy Pinot Noir. Standard Bordeaux and California Cabernet bottles are 2!" wide at the base, while typical California Pinot Noir bottles are 3"" wide at the base. Unless stated otherwise, the capacity of the unit you are buying will be lower, even up to 40% lower, than what the unit is stated to hold if you are storing Pinot Noir bottles. I recently bought an N'Infinity Pro 94-bottle dual zone wine cellar from Wine Enthusiast for my office where I do tastings. I bring bottles home periodically from my wine locker and store them in the wine cellar where they are at hand at the perfect temperature when I taste. The racking in the N'Infinity Pro units easily accommodates all domestic Pinot Noir and Chardonnay bottles on its pull-out shelves without significantly reducing the stated capacity of 94 bottles. The top shelf accommodates odd shaped bottles and magnums.
2016 Cost of Vineyard & Plantable Land $$ Per Acre Source: www.wineindustryinsight.com/?p=76821.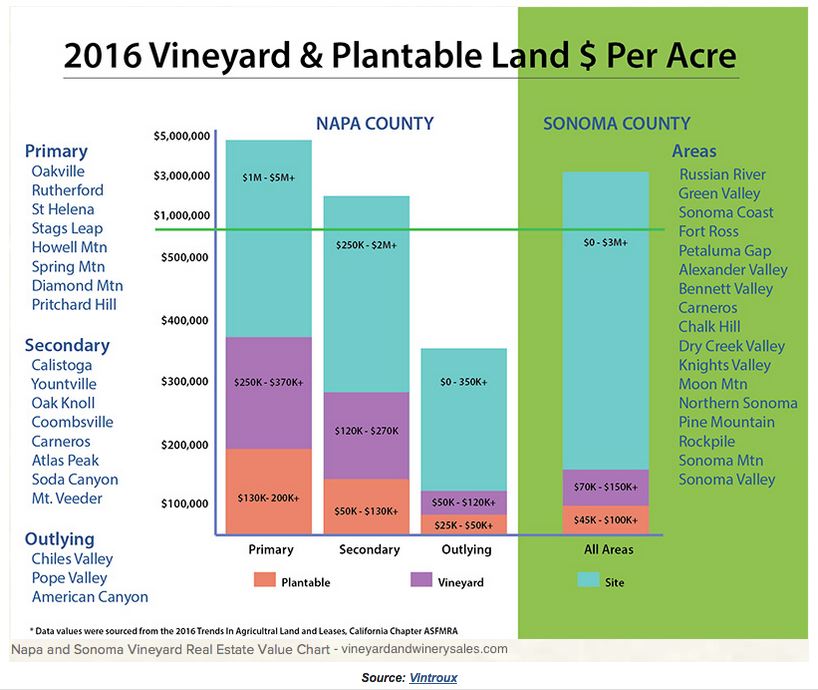 Highly Recommended Website Software Master For the past few years I have used the free lance services of Michael MacDonald to manage and update my website software. I have inserted this recommendation because I have found him to be extremely competent, responsive and easy to work with. Michael has had a long career performing in a variety of different software related roles, mostly with Fortune 500 firms. While the actual responsibilities have been different, the common thread has been success as third level support, a person the experts in a field go to when they can't figure something out. Typically, these are jobs where the phone rings or an email appears in his box, Michael has no idea what the issue is and may not know anything about the particulars, but he gathers the information, does the research, experiments and intuits, and finds the answer and fixes the problem. What he does specifically: (1) Ongoing support either ad hoc or ongoing support contract; (2) Enhancing existing sites and applications by adding new functionality, either by altering existing code, installing a new piece of software, or making use of an additional cloud based service or API; (3) Database queries and reporting by retrieving data from your database, or a public database, in a format you can use for presentation or research; (4) Software consultant that can do project management and technical interface on a major installation project. Michael did not ask me to post this notice, but I felt he was such a valuable resource that I wanted to inform readers and those in the wine business with websites. His Linkedin profile for his day job resume is available. You can contact Michael at mmacdonaldsilvercity@gmail.com.