Sips of Recently Tasted Oregon Pinot Noir
Big Table Farm, Gaston, Oregon
2015 Big Table Farm Willamette Valley Oregon Pinot Noir
13.9% alc., 2,393 cases, $42. Released March 6, 2017. Label depicts Big Table Farm pigs Kirby and Pickle. A blend of all 8 vineyards that the winery works with and a representation of the northern Willamette Valley. · Moderately light garnet color in the glass. Nicely perfumed with fresh aromas of cherry, berry and spice. Mid weight and very approachable in style, with flavors of cherry, spice, espresso, and smoky toast. Silky tannins make for easy drinking, and attractive dark red and purple berry flavors infuse the finish. A solid offering that will please at the table, although I found oak hogging a little too much attention. Score: 89
2015 Big Table Farm Pelos Sandberg Vineyard Eola-Amity Hills Oregon Pinot Noir
13.3% alc. 402 cases, $48. Released March 6, 2017. A maturing vineyard that offers wines of increasing complexity and depth. · Moderately dark garnet color in the glass. Very welcoming aromas of cherry, cranberry, cardamon, bark and musk. Discreetly concentrated flavors of black cherry, truffle, game and smoke. Noticeably silky in the mouth, with secluded tannins, fresh natural acidity and a finish of redeeming excellence. A wine of impressive balance that is of exceptional quality. Score: 93
Coeur de Terre Vineyard, McMinnville, Oregon
The McMinnville AVA is known for intensely fruity wines with well-structured tannins and earthy overtones. The wines of Coeur de Terre are true to this character with earth and shiitake notes pervasive in the Pinot Noirs. The 2014 vintage is notable because the fruit is perfectly ripened and owner and winemaker Scott Neal has embossed these Pinot Noirs with dreamy textures while taming the fruit tannins. These are the best wines Scott has crafted since I have been tasting each vintage. Visit the website at www.cdtvineyard.com.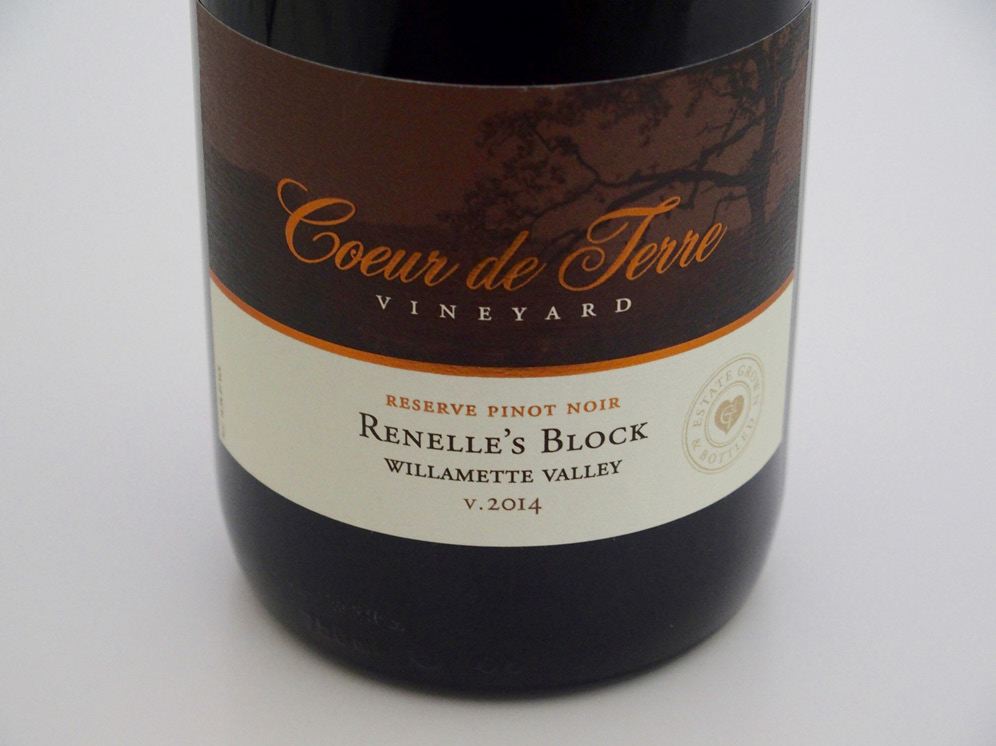 Evening Land, Salem, Oregon
Magnum formats are available for the wines reviewed here (and the Seven Springs Chardonnays reviewed in this issue). A 30th anniversary Commemorative Wooden Box 6-pack of the 2014 vintage bottlings of Seven Springs Estate Pinot Noir and Chardonnay is available for $500, and a Reserve Case containing 2 bottles each of 2014 Anden Pinot Noir and 2014 La Source Pinot Noir, 3 bottles of 2014 La Source Chardonnay and 5 bottles of 2014 La Source Pinot Noir for $1,000. Visit www.eveninglandvineyards.com. The Evening Land Seven Spring Vineyard Pinot Noir and Chardonnay are among the most-heralded world-class wines now being offered from the 2014 vintage in Oregon.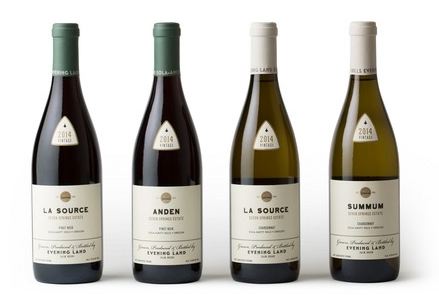 2014 Seven Springs Estate Eola-Amity Hills Oregon Pinot Noir
13.1% alc., 2,078 cases, $45. Produced from own-rooted Pommard and Wädenswil vines planted in 1984. 75% of fruit de-stemmed. Aged 16 months in French oak barrels, 30% new. Bottled unfined and unfiltered. · Moderate garnet color in the glass. Embraceable aromas of black cherry, cardamom spice, toast and burnt tobacco. Mid weight flavors of black cherry with an earthy riff in a very engaging style. There is noticeable smoky oak overlay but it is not excessive. The tannins are silky, and the tart cherry finish has good persistence and cut. Score: 93

2014 Seven Springs Estate La Source Eola-Amity Hills Oregon Pinot Noir
13.1% alc., 1,611 cases, $75. Since 2012, this wine has always been a selection of the very best barrels in the cellar. For this vintage, rather than hew to tradition, Sashi Moorman and Rajat Parr tasted through all individual blocks of Seven Springs Vineyard. The uppermost blocks planted to Dijon clones set themselves apart from the older vines downslope. The upper vines are in rockier soils and exposed to windier conditions making them stressed. Adjacent to the top block is a small vineyard called Clos de La Fôret that is encircled by a dense grove of Douglas Fir (see photo below). This block performs beautifully in a warm vintage like 2014. This wine was aged in French oak barrels, 30% new, and bottled without fining or filtration. · Moderate garnet color in the glass. Welcoming aromas of cherry, pomegranate, rose petal, exotic spices and sweet pipe smoke. Delicious attack of cherry fruit with added notes of spice and rose water. Luscious, yet balletic, with refined tannins, complimentary oak, and an aromatic finish featuring cherry and strawberry at its best. This wine is a perfect example of why people get so excited about Pinot Noir. It simply grabs your heart. Still superb when tasted the following day from a previously opened and re-corked bottle. Score: 96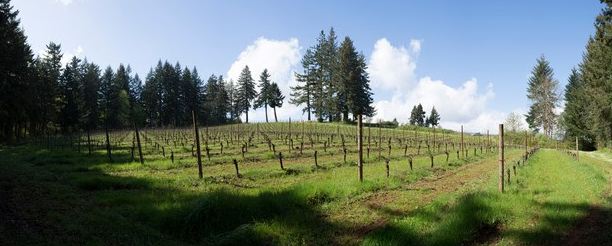 2014 Seven Springs Estate Anden Eola-Amity Hills Oregon Pinot Noir
13.5% alc., $. The lower half of Seven Springs Vineyard is home to the original 1984 plantings of Pommard and Wädenswil clones of Pinot Noir planted on their own roots. This wine celebrates the history of Seven Springs focusing on vines that are slowly succumbing to the ravages of phylloxera. The smallest and most beautiful clusters are harvested and fermented on the stems. The wine was raised in 100% new Ermitage barrels and bottled without filtration. · Moderately light garnet color in the glass. Very shy nose initially, even reductive, picking up appealing aromas of cherry, spice and toasty oak over time. Very fulfilling in the mouth, with a whole cluster fermented demeanor, offering flavors of dark cherry, spice and burnt tobacco. There is also a savory underpinning that is intriguing. Very subtle oak support, integrated tannins and a juicy finish. Even better when tasted the following day from a previously opened and re-corked bottle indicating this wine will benefit from more time in the cellar. Score: 94-95
Ghost Hill Cellars, Carlton, Oregon
The wines reviewed here were estate grown and produced and bottled by Ponzi Wines in Sherwood, Oregon.
2014 Ghost Hill Cellars Bayliss-Bower Vineyard Yamhill-Carlton Oregon Pinot Noir
13.5% alc., pH 3.39, 520 cases, $42. Released May 1, 2017. A blend of 45% Pommard, 20% Dijon 777, 20% Dijon 114 and 15% Wädenswil. Aged in French oak barrels, 10% new. · Light ruby red color in the glass. Highly fragrant aromas of red cherry, red cherry hard candy, honeysuckle, earthy flora and sweet oak. Light to mid weight in style, with delicate, but flavorful tastes of red cherry, raspberry and spice. A genteel wine with admirable balance and a lip-smacking finish. Score: 90
2014 Ghost Hill Cellars Bayliss-Bower Vineyard Prospector's Reserve Yamhill-Carlton Oregon Pinot
13.5% alc., pH 3.42, $55. Released May 1, 2017. A blend of six barrels that created a more masculine and intense reflection of the site and vintage. Wädenswil, Pommard, 777 and 114 clones from the oldest part of the vineyard. · Moderately light garnet color in the glass. Conspicuous aromas of cherry and forest floor lead to a mouthful of black cherry, blueberry and plum flavors that linger in the mouth and on the finish. Fine-grain tannins back up the fruit that is deftly touched by oak. A polished wine with gratifying balance that will benefit from a little more time in bottle to ameliorate the tannins. Score: 93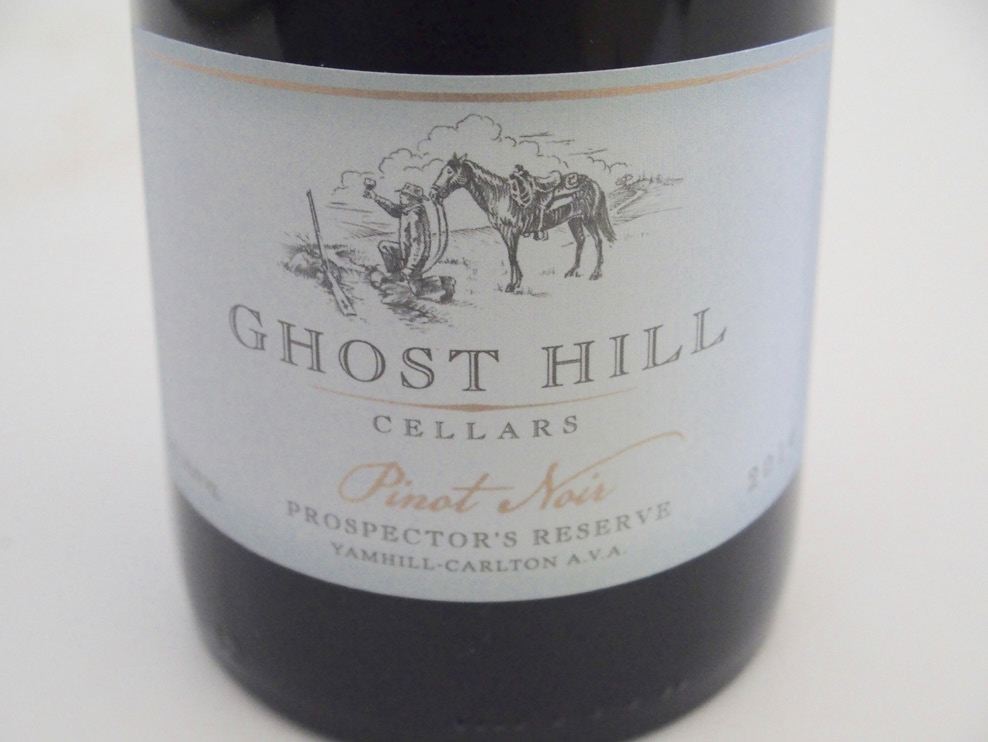 Gran Moraine, Yamhill, Oregon
This winery takes its name from the cataclysmic floods that occurred in the northern Willamette Valley of Oregon during the last ice age. The Missoula floods traveled across the Columbia basin carving out the Columbia Gorge. The Willamette Valley became a large temporary lake left with huge deposits of silt and giant boulders (erratic rocks). The erratic rock outcroppings manifest themselves throughout the vineyard. They were once part of the giant dam's moraine - thus the name "Gran Moraine."
Planting of the vineyard was completed in 2005 with multiple Dijon clones of Pinot Noir including 667, 777, 115, and 114, and Pommard and Chardonnay (clones 76 and 95). The vineyard director is well known viticulturist Ken Kupperman. The winemaker is Shane Moore, an experienced winemaker who has spent stints in wineries in Canada, Western Australia, Israel's Golan Heights and California. He moved to the Willamette Valley in 2013 to build the winemaking program for the newly-established Gran Moraine winery and became the Winemaker at Gran Moraine in 2016. Tasting is available daily at 17090 NE Woodland Loop Road in Yamhill. Visit www.granmoraine.com.
2014 Gran Moraine La Première Yamhill-Carlton Oregon Pinot Noir
14.3% alc., pH 3.56, TA 0.64, 85 cases, $85. La Première is French for "the first." Limited production. 100% Gran Moraine Vineyard. Depending on vintage, block and clone, grapes undergo a 3 to 10-day cold soak. Matured in 100% French oak barrels. · Moderately dark garnet color in the glass. Aromas of dark berries, vanilla, spice and sweet oak blend together. Mid weight assortment of black fruit flavors are accented with notes of oak-driven smoke, tar and anise. Agreeable tannins and balanced acidity, with some length on the finish. A very good wine, but I wish it had slightly less oak influence. Score: 91

2014 Gran Moraine Estate Reserve Yamhill-Carlton Oregon Pinot Noir
14.1% alc., $65. The Estate Reserve Vineyard surrounds the Gran Moraine Vineyard and consists of 35 acres planted in 2007 to a variety of Dijon and heritage clones. · Dark garnet color in the glass. The aromas of fresh dark fruits rise up over time in the glass. The onslaught of delicious black raspberry, blackberry and black cherry flavors are luscious and seductive. Big by Oregon standards, with great depth of fruit, but still charming along with a soothing texture. When tasted the following day from a previously opened and re-corked bottle, the nose had taken on plenty of spice and floral aromas (my notes say "terrific") and the wine had assumed a harmonious demeanor. I would cellar this wine for a couple of years to achieve full enjoyment. Still a good friend now. Score: 95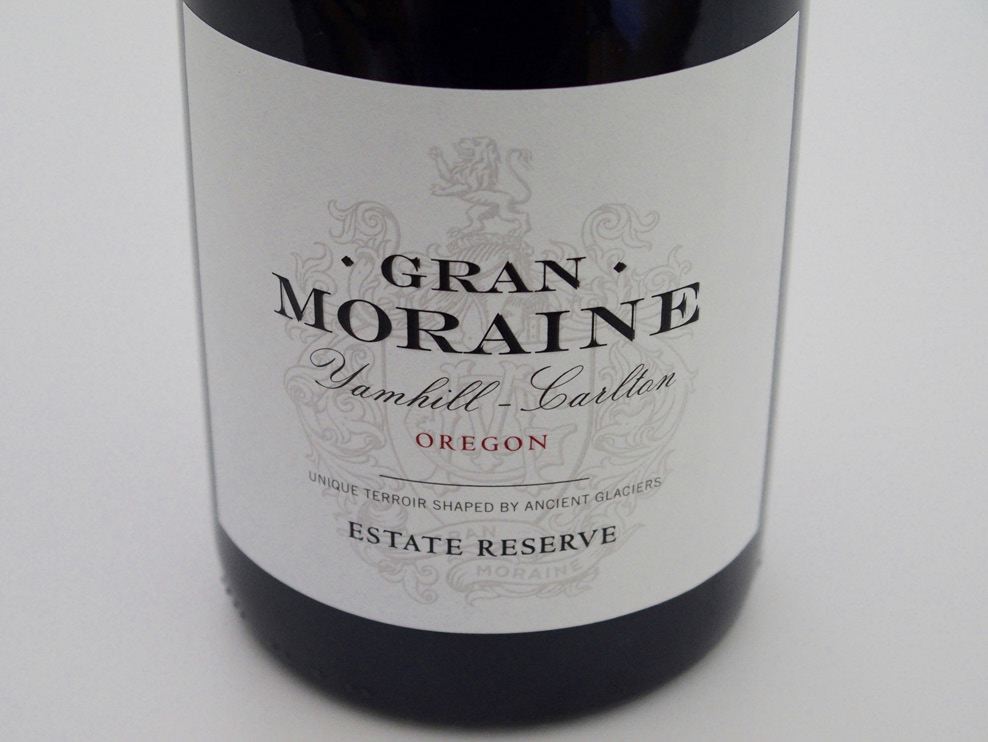 Kramer Vineyards, Gaston, Oregon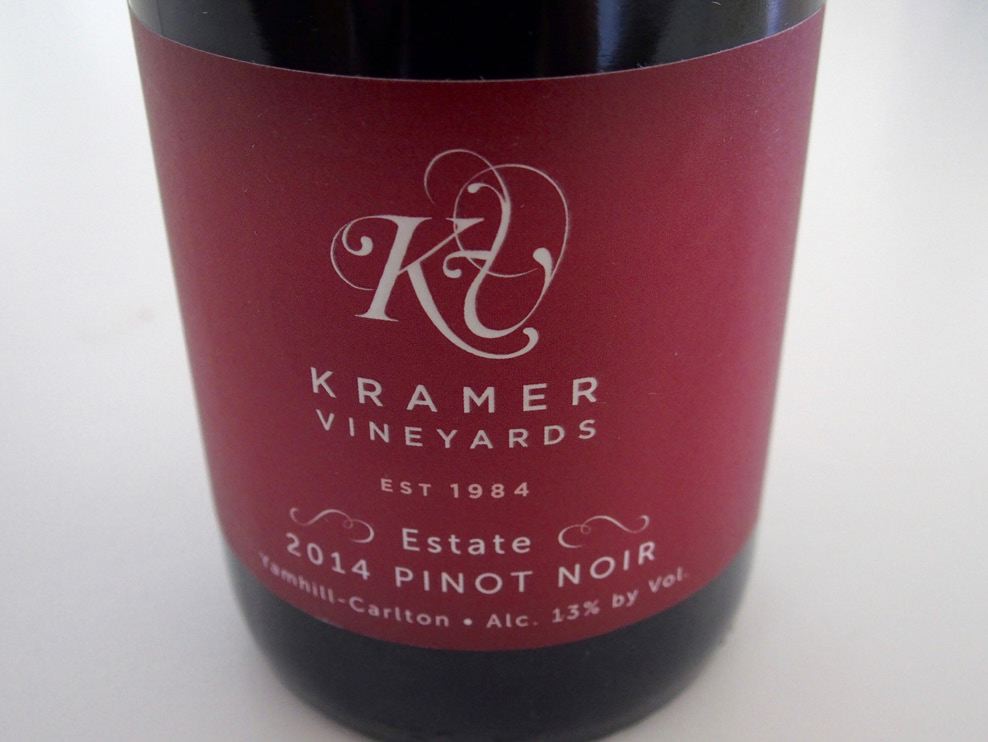 Walter Scott Wine, Salem, Oregon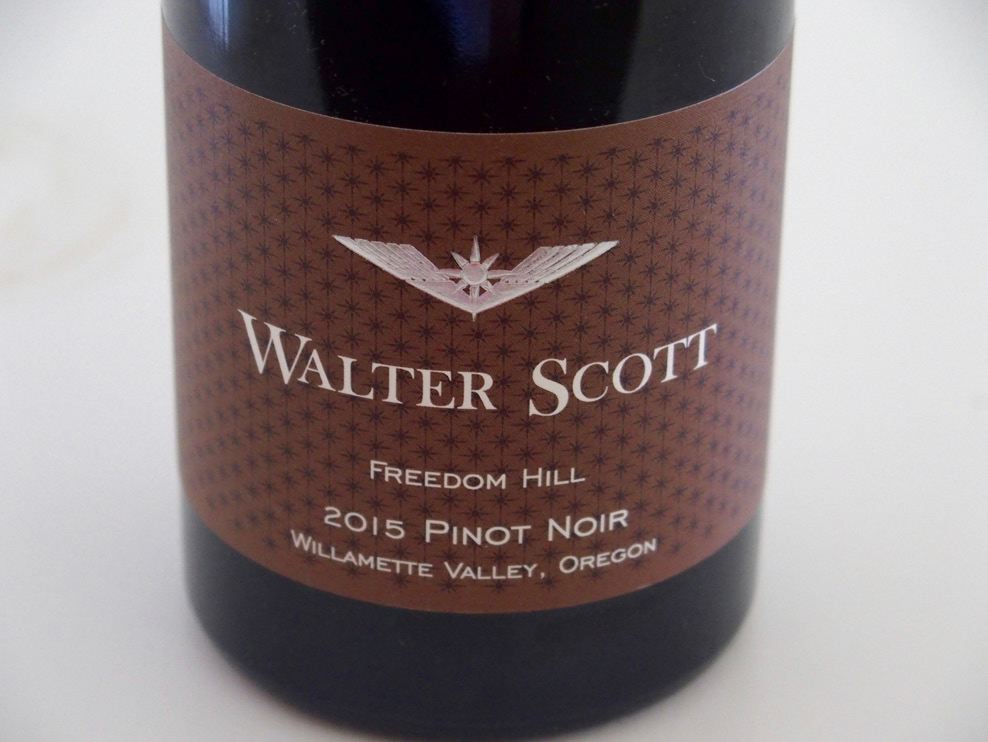 Youngberg Hill, McMinnville, Oregon
Youngberg Hill is a 50-acre estate with 20 acres of sustainably farmed vineyards. Oregon wine legend Ken Wright planted the first vineyards on this property in 1989 to source fruit for Panther Creek. The first wine labeled as Youngberg Hill was made in 1996. Current proprietors Wayne and Nicolette Bailey acquired the property in 2003 and transformed the land into a sustainably farmed wine estate and hospitality center. The vines are among the most westernmost in the Willamette Valley and receive considerable marine influence. The original own-rooted Pinot Noir vines planted 60% to Pommard and 40% to Wädenswil clones encompass 12 acres and are are called Jordan and Natasha blocks, after the two oldest Bailey daughters. The winery offers several Pinot Noirs each year along with estate Pinot Gris and Chardonnay. Tastings are available daily at the winery. Lodging is also available. Visit www.youngberghill.com.

2014 Youngberg Hill Cuvée Willamette Valley Oregon Pinot Noir
13.5% alc., pH 3.20, TA 0.62, RS 0, 243 cases, $35. A blend of clones 777 and "828," from vineyards in the McMinnville and Eola-Amity Hills AVAs. Average vine age 9 years.Harvest Brix 22.7º. Aged 14 months in French oak barrels, 40% new. · Moderately light garnet color in the glass. Aromas of dark red cherry and berry with savory notes of bark, timber and underbrush. Somewhat lush on the palate, with a flavor core of dark red cherry accented with notes of red licorice, savory herbs and earth. Balanced tannins, integrated acidity, finishing with cherry-fueled goodness. Score: 89
2014 Youngberg Hill Natasha Block McMinnville Willamette Valley Pinot Noir
14.0% alc., pH 3.20, TA 0.62, RS 0, 437 cases, $50, screwcap. Willakenzie marine sedimentary soil. Harvest Brix 22.3º. 60% Pommard and 40% Wädenswil planted in 1989. Aged 13 months in French oak barrels, 35% new. Dark garnet color in the glass. · Deeply aromatic, with scents of very ripe black cherry, black raspberry accompanied by a slight oxidative note in the background. Full-bodied with plenty of ripe, sappy, and sweet black fruits underlain with a thread of oak. The lower pH and muscular tannins lead to some astringency and bitterness on the finish. Score: 87
2014 Youngberg Hill Jordan Block McMinnville Willamette Valley Pinot Noir
13.7% alc., pH 3.20, TA 0.67, RS 0, 448 cases, $50, screwcap. Volcanic soil. 60% Pommard and 40% Wädenswil clones. Harvest Brix 21.7º. Aged 13 months in French oak barrels, 35% new. · Moderately dark garnet color in the glass. The nose offers aromas of blackberry jam, cassis, espresso and sage. Richly endowed with a mid weight plus charge of purple and black fruits framed by a substantial but complimentary tannic structure. Nicely crafted, with deft oak management, no bitterness, and some length on the pleasingly lengthy finish. Score: 90
More Pinot Noir
2014 Argyle Willamette Valley Oregon Pinot Noir
13.9% alc., $27 ($19.99 at Trader Joe's), screwcap. Fermented in small 1.5-ton lots and plunged by hand. · Moderately light garnet color in the glass. Aromas of cherry, strawberry, briar and oak barrel lead to a mid weight style offering, featuring flavors of red cherry, raspberry, cranberry and toasty oak. Secluded tannins, with juicy acidity and a modest finish. Score: 87
2015 Farmlands Willamette Valley Oregon Pinot Noir
13.1% alc., $22. Grown, produced and bottled by Johan Vineyards in Rickreall, Oregon. · Moderately light reddish purple color in the glass. Aromas pick up intensity over time in the glass, revealing notes of dark cherry, underbrush and toast. Light in weight and featuring a core of juicy black cherry fruit, this pleasant wine has silky tannins, a compliment of herbal oak, and a modest finish. A good value play available in supermarkets. Score: 87
2015 Siduri Yamhill-Carlton Oregon Pinot Noir
14.2% alc., 1,830 cases, $37, screwcap. Cellared and bottled by Siduri. · Aromas of oak vanillin and shy purple fruits lead to a mid weight charge of succulent black raspberry and boysenberry fruits backed by balanced tannins. The oak treatment is overwhelming on the nose, but is well integrated on the palate. The finish offers a pleasingly boisterous fruit presence. Score: 87