Elite California Pinot Noir Vineyards III: Central Coast - Sta. Rita Hills
Domaine de la Côte
Owners: Raj Parr, Sashi Moorman and business partners acquired the 40.5-acre property from Evening Land Vineyards. Sahsi had developed the vineyards here in 2007 along with Phillip King.
Acres: 40.5 acres of Pinot Noir organized by six vineyards: Memorious (3.5 acres), Bloom's field (7.5 acres), Siren's Call (3 acres), Clos Juliet (1 acre), La Côte (9.5 acres) and 15.5 acres of appellation Sta. Rita Hills.
Year planted: 2007
Location: Far western reaches of the Sta. Rita Hills AVA, only seven miles from the Pacific Ocean in the city of Lompoc.
Aspect: South-facing hillside rising to an elevation of 700 feet. Each vineyard has a unique aspect including elevation and microclimate.
Pinot Noir scions: Heritage selections
Soil: A 25-million-year-old seabed with clay loam over shale and some diatomaceous earth that is unique to the Sta. Rita Hills AVA.
Vines: Extremely high vine densities between 4,000 and 7,000 vines per acre that is unprecedented for the Sta. Rita Hills AVA.
Farming: Organically farmed from 2007 to 2016 and then transitioned to biodynamic practices during the 2017 growing season.
Winery clients: None, a monopole
Comments: The winery's name translates to 'Estate of the Slope.' The winery in Lompoc is three miles from the Domaine's vineyards. Sashi Moorman is the winemaker who employs a significant amount of whole cluster fermentation during vinification.
2012 Domaine de la Côte Bloom's Field Sta. Rita Hills Pinot Noir
12.5% alc., magnum. 50% whole cluster fermentation. · Moderate garnet color in the glass. Very seductive nose offering soaring aromas of cherry, burnt tobacco, sweet mulch and sap.The vibrant, middleweight flavors of black cherry and black raspberry are enhanced with accents of clove and cardamom spices. Slightly earthy with a shadow of oak and gossamer tannins. Juicy acidity propels the cherry-imbued finish.The wine still has 5+ years left in this format. Score: 92
2018 Domaine de la Côte Bloom's field Sta. Rita Hills Pinot Noir
13.5% alc., 500 cases, $75. · Moderately dark garnet color in the glass. Lovely aromas of dark rose petal, black cherry, peppery herbs, burnt tobacco and pine sap. Less whole cluster input on the palate, showing mid-weight flavors of black cherry, black raspberry, and spice with a subtle herbaceous underpinning. Sleek in the mouth, with matched tannins, a touch of oak, and a lengthy finish. Unchanged when tasted the following day from a previously opened bottle. The infusion of herbs will please whole cluster fans. Score: 93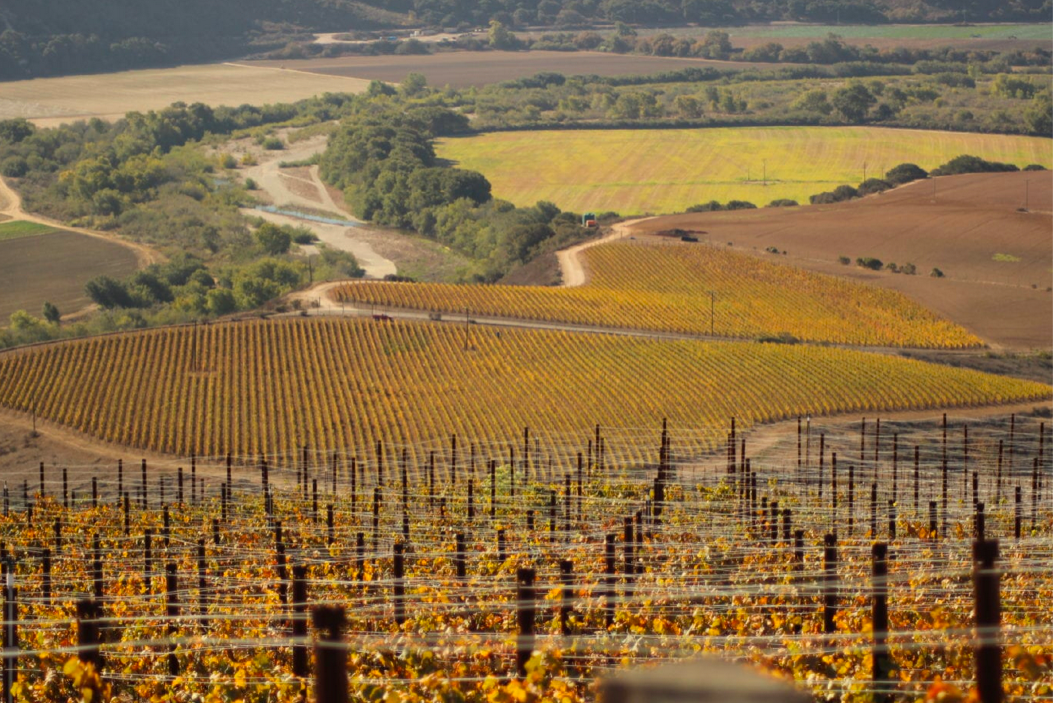 More reviews: www.princeofpinot.com/vineyard/1727/



Clos Pepe Vineyard
Owners: Steve and Cathy Pepe and Cathy's son Wes Hagen established this estate vineyard and wine label. The couple purchased this former horse ranch property in 1994 and release the inaugural Pinot Noir in 2000 that was well-received by wine critics. With the 2015 vintage, The Pepes entered into a 15-year vineyard lease with Hall Wines of Napa which markets Clos Pepe grapes under the Hall's WALT label. The Pepes retained ownership of the property and lived in the home on the estate. In May 2021, the Pepe family listed Clos Pepe vineyards property and home for sale so the future of this vineyard is unclear.
Acres: 24 acres of Pinot Noir and 4 acres of Chardonnay
Years planted: 1996: 14 acres of Dijon 115, 667, 777 and Pommard. 14 acres of Chardonnay were planted in 1994 but because of poor ripening, in 2001 10 acres of the Chardonnay planted to Wente clones were budded over to Dijon clones 115 and 777 of Pinot Noir
Location: West Highway 246, 8 miles east of Lompoc, and just west of Babcock Winery.
Aspect: Gently sloping hillside location
Pinot Noir scions: Pommard, Dijon 115, 667 and 777
Soil: Well-draining calcareous shale with some sandy loam.
Farming: Sustainable, organic with biodynamic practices during Wes Hagan's management.
Winery clients: About 25% of the estate fruit was retained for the Clos Pepe Vineyard wines that were crafted by Wes Hagen who also managed the vineyard through the years. The last Clos Pepe Vineyard Estate Pinot Noir was released from the 2014 vintage. There have been multiple eager clients over the years including A.P. Vin, Arcadian, Au Bon Climat, Bonaccorsi Wine Company, Brewer-Clifton Winery, Carr Vineyards, Clarice, Copain, Flying Goat, Hitching Post, Ken Brown Wines, Kenneth Crawford, Loring Wine Co., Roessler Cellars, Siduri, The Ojai Vineyard, Tyler, and WALT.
Comments: The name, Clos Pepe ('Clo Peppy') comes from the French word 'clos' and the vineyard proprietor's name, Steve Pepe. For a full understanding of the origins and history of this vineyard, consult the book written by Stephen Pepe, "Clos Pepe: A Vigneron's Quest for Great Dirt," or get in touch with Wes who is now the winemaker for J. Wilkes Wines in the Santa Maria Valley. During its heyday. Clos Pepe Vineyard was a shining star in the Sta. Rita Hills AVA and fortunately Adam Lee is carrying on the tradition and producing very special Pinot Noir wines under his Clarice label from this vineyard.

2017 Loring Wine Company Clos Pepe Vineyard Sta. Rita Hills Pinot Noir

14.2% alc., 400 cases, $54, screw cap. Clones 115 and 777. Aged 10 months in 15% new French oak barrels. · Moderate garnet color in the glass. Uplifting aromas of black cherry and spice rub lead to a mid weight plus styled wine with a generous core of delicious black cherry and purple berry fruit. Supple tannins provide marvelous support and the energetic acidity adds vigor. A compelling wine with an extremely long finish. Reviewed February 23, 2019. Score: 94

2019 Beau Marchais Clos Pepe Vineyard Quest (West) Sta. Rita Hills Pinot Noir

15.1% alc., $95. Pommard and 667 clones. 33% whole cluster. 48-day extended maceration. · Moderately dark garnet color in the glass. Leading off are aromas of blackberry, blueberry, pomegranate, tilled earth and seasoned oak. Midweight plus in style, packed with a dense core of purple and black fruits that are a bit unyielding at this point. A floral note adds charm. Showing a little more oak and tannin than the East bottling but with a flood of fruit on a longer finish. This wine offers more nuances and I found more appealing than the East bottling. Surely this wine will benefit from a couple of years in the cellar. Reviewed March 21, 2021. Score: 93

2019 Beau Marchais Clos Pepe Vineyard Estate (East) Sta. Rita Hills Pinot Noir

15.1% alc., $95. Clones 115 and Pommard. · Complex nose offering aromas of blackberry, cassis, violets, blueberries, underbrush, oak spice and sweet pipe smoke. Mid-weight plus in heft with flavors that replicate the aromas with added tastes of plum, tar and spice. Big-boned, yet sleek in texture. Infused with plenty of felty, dry tannins that contribute some astringency to the long finish. The alcohol is well positioned in the overall balance. A tasting of the wine the following day from an opened bottle required some coaxing in the glass to reveal itself. Reviewed March 21, 2021. Score: 91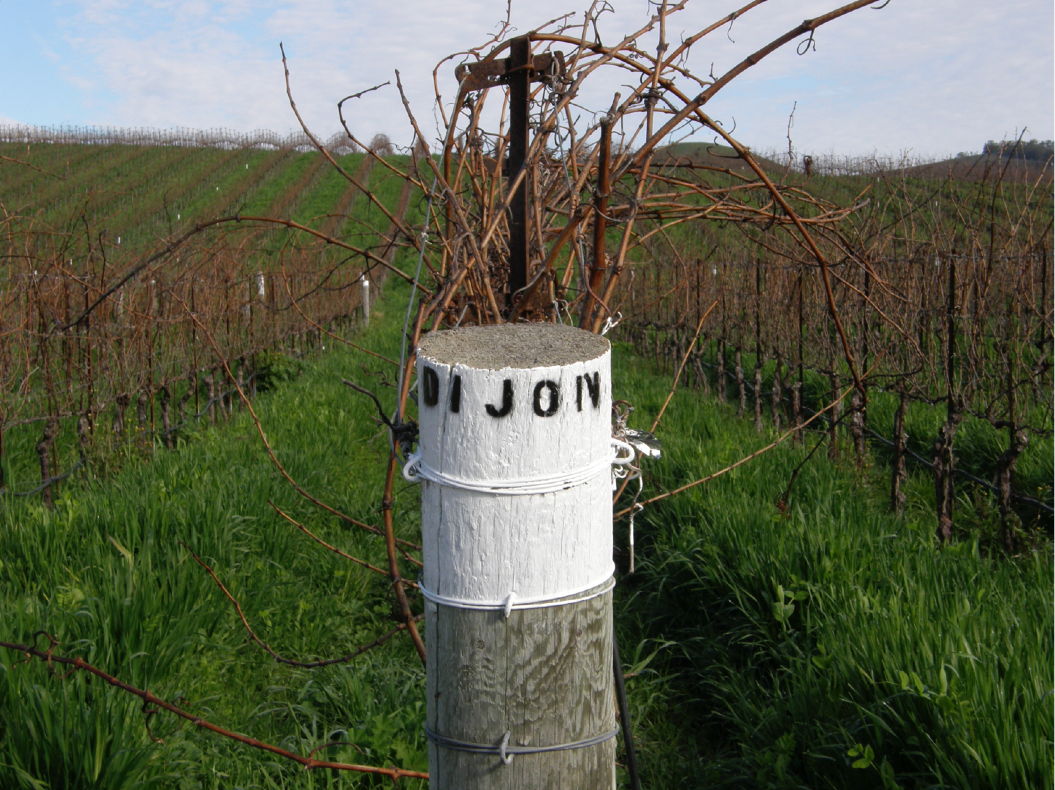 More reviews: www.princeofpinot.com/vineyard/88/



Fe Ciega Vineyard
Owners: Originally, this was an estate vineyard established by Rick Longoria of Longoria Wines and owned by Hank and Brenda Klehn. Adam Tolmach, proprietor and winemaker of The Ojai Vineyard, purchased the vineyard in January 2021.
Acres: 9 acres of Pinot Noir on a 40-acre property
Years planted:
1998: 7.75 acres of Pinot Noir
2008: 1.25 acres of Pinot Noir and .75 acres of Chardonnay
Location: Established in the middle of a ranch at the end of Sweeney Road about 8 miles east of the Lompoc city limits. It is at the western end of the Sta. Rita Hills AVA, just west and across the Santa Ynez River from the Sanford & Benedict Vineyard. The location is sometimes referred to as the 'Pinot Bowl' because other vineyards within view are La Encantada, La Rinconada, Sea Smoke, Mt. Carmel, Bentrock, and Radian.
Aspect: Situated on a small mesa at 350 feet elevation above the Santa Ynez River with gentle southern exposure. One block has east-west rows and the other north-south rows.
Pinot Noir scions: Pommard 5, Mt. Eden, and Dijon 115 and 667
Soil: Clay loam with shale fragments
Vines: 4' x 8' spacing
Farming: Tolmach plans to convert the vineyard to organic farming practices and optimize the vineyard's resistance to drought vintages.
Winery clients: Clients have included Longoria Wines, The Ojai Vineyard and Foxen Vineyard & Winery.
Comments: The Ojai Vineyard has produced a Fe Ciega vineyard-designated Pinot Noir since 2003. The vineyard name was originally Blind Faith (from the band name of rock music fame) but because the name was already copyrighted, Rick chose the Spanish translation, 'Fe Ciega.' Recently, Rick Longoria announced his retirement as a longtime winery owner.

2018 The Ojai Vineyard Fe Ciega Vineyard Sta. Rita Hills Pinot Noir

12.5% alc., $53. · Moderately light garnet color in the glass. Engaging aromas of black cherry, rose petal and herb cupboard. Exuberant flavors of cherry, strawberry and cherry with a bit of spice and dried herbs in a middleweight fashion. The aromas and flavors pick up interest over time in the glass and reach a peak the following day from a previously opened bottle. The svelte tannins and long finish complete the grand impression. Score: 94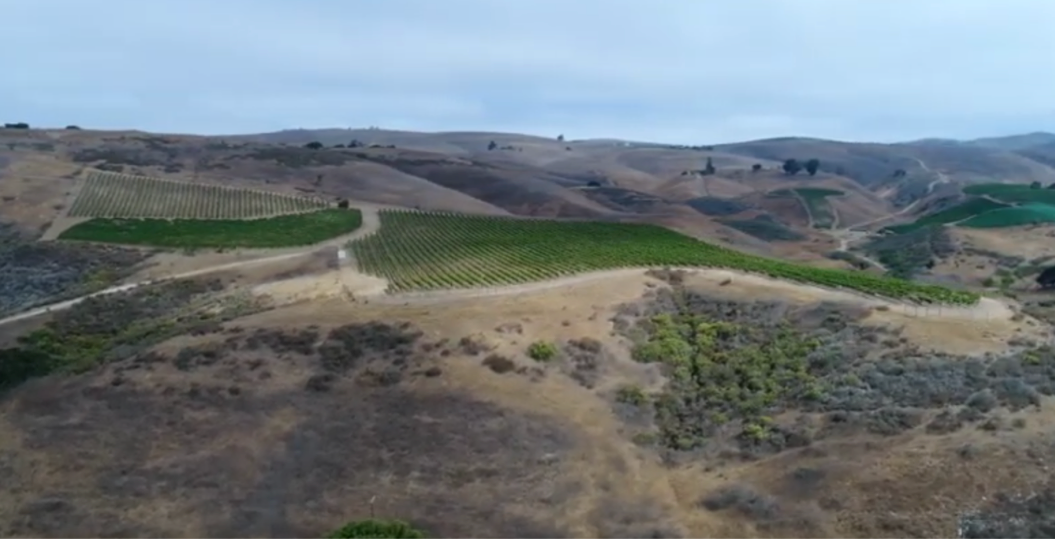 More reviews: www.princeofpinot.com/vineyard/214/



Fiddlestix Vineyard
Owners: Kathy Joseph acquired the 133-acre former flower farm in 1996.
Acres: 96 (about 91 acres of Pinot Noir)
Years planted: Initial plantings date to 1998.
Location:Western end of a transverse-oriented (east-west) valley in the Sta. Rita Hills AVA at mile marker 7.28 on Santa Rosa Road across from the famed Sanford & Benedict Vineyard.
Aspect: The proximity to the Pacific Ocean (10 miles) in a narrow valley of lower latitude ensures adequately comfortable conditions for the vines. Fog hands over the vines until mid-morning, the temperature barely rises about 75 degrees, and the coastal breezes cool the grapes throughout the long day of sunshine. Vines are primarily north-south facing.
Pinot Noir scions: Pommard 4 and 5, Dijon 113, 115, 667, and 777, and Swan selection
Soil: Clay intermixed with fossilized ancient sea shells and gravelly chert
Vines: 1556 vines per acre, 4' x 7', 4' x 8', and 5' x 7' spacing, VSP trellising.32 mini-blocks with unique combinations of seven clones and three rootstocks (101-14, 3309, and 110 R).
Farming: Owner Kathy Joseph leads conscientious, meticulous, and sustainable farming in partnership with Atlas Vineyard Management. Shoot thinning, leaf pulling, and crop thinning is performed numerous times in a single season.
Winery clients: Among many, Ancien, Anglim, Arcadian, Bonaccorsi, Byron, Cold Heaven, Cornerstone Cellars, Dragonette, Etude, Fess Parker, Hartford Court, Hitching Post, Jaffurs Wine Cellars, Pali, Prodigal, Ryan Cochrane, RN Estate, Rusack, Summerland, and Wedell.
Comments: Kathy Joseph established Fiddlehead Cellars in 1989, producing Pinot Noir (she retains about 15% of the vineyard's production for her own label), Grüner Veltliner, and Sauvignon Blanc (sourced). Kathy was a pioneer among California's women winemakers. Production is at her winery in the 'Wine Ghetto' of Lompoc, and includes Pinot Noir from the Willamette Valley. Fiddlestix Vineyard played a cameo role in the movie, 'Sideways.' Besides Pinot Noir, Fiddlestix Vineyard is planted to Chardonnay and Grüner Veltliner.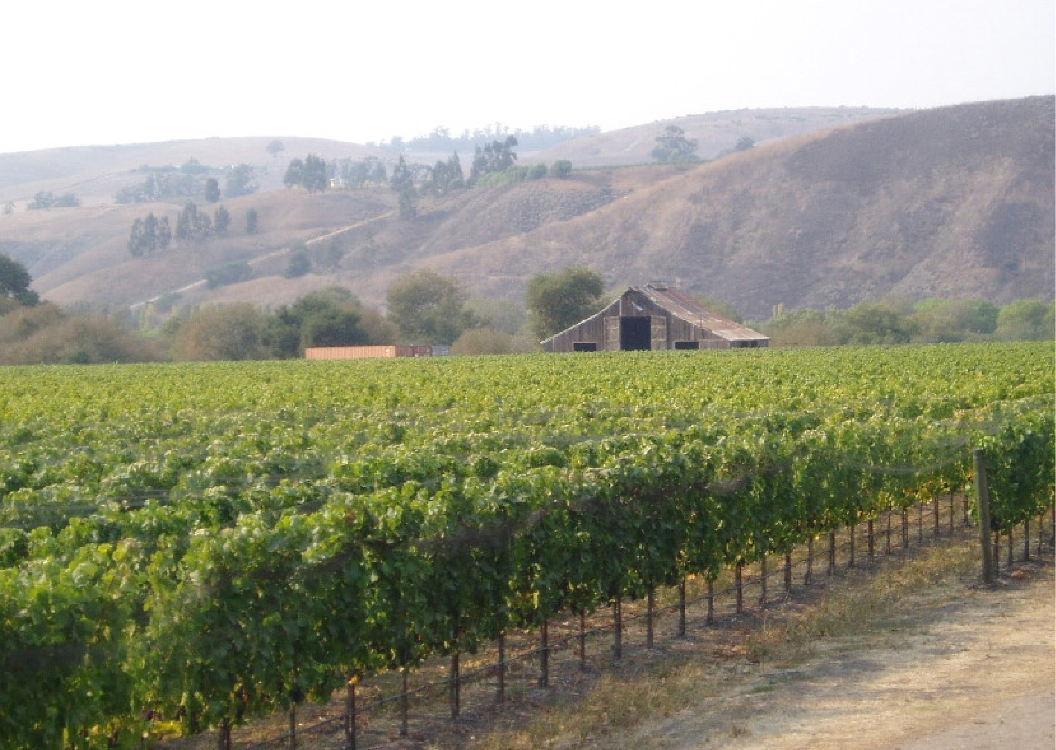 More reviews: www.princeofpinot.com/vineyard/135/



Sanford & Benedict Vineyard
Owners: Sanford Winery/Terlato Wine Group (since 2002)
Acres: 146+ acres of Pinot Noir including 51 acres of original Pinot Noir plantings
Years planted: 1971-1972: 120 acres of Pinot Noir, Chardonnay, Riesling, Merlot and Cabernet Sauvignon vines were planted initially. Additional plantings of Pinot Noir through the years since. Location: Nestled in a site between the Santa Ynez Mountains and San Rafael Mountains in an east-to-west valley adjacent La Rinconada Vineyard.
Aspect: North-south vine rows. The vineyard is a full 20 degrees cooler than Napa and Sonoma on the hottest days making for a cool and lengthened growing season.
Pinot Noir scions: The original Pinot Noir scion was an Mt. Eden selection acquired directly from Mount Eden and FPS 18 (Gamay Beaujolais). Currently, scions include Pommard, Wädenswil, Calera, Swan, Martini 15, 90, 91, 97, Dijon 114, 115, 667, 777, and 943 distributed over 35 blocks. Each block consists of a single clone or selection. Each block is harvested, fermented, and aged separately.
Soils: 24 unique soil variants. A soil mapping project was initiated in 2006. Primarily calcium-rich clay loam containing fractured shale and chert with good water-holding capacity.
Vines: Variable vine spacing and rootstocks among the different blocks. The original Pinot Noir vines are planted on their own roots. All vines are on a VSP trellis except the original Chardonnay vines that are California sprawl.
Farming: Sustainable and organic but not certified
Winery clients: Sanford Winery retains 60% of the fruit and the rest is sold to about 30 wineries including Au Bon Climat, Chanin Wines, Fess Parker, Gary Farrell Winery & Vineyards, Ken Brown, Liquid Farm, Lutum, Pence Vineyards & Winery, Racines, Sandhi, Testarossa, Tyler, WALT, Wedell Cellars, Whitcraft, and Windrun. Most of the sourced wines are vineyard-designated. Because of the many different blocks, clones/selections, and soils, as well as variable microclimates in different parts of the vineyard, Sanford & Benedict Pinot Noir will not taste the same from every winery client. The Sanford Winery bottlings highlight the soil variations and uniqueness of each block. Only Sanford Winery produces an Old Vines Pinot Noir bottling.
Comments: Richard Sanford and Michael Benedict were the first to discover the potential of the Santa Rita Hills as an ideal region for growing Pinot Noir and Chardonnay. The vineyard is home to the oldest Pinot Noir vines in Santa Barbara County. There are 10 blocks planted to Chardonnay (Wente, 15, 76, 96, and an S&B selection).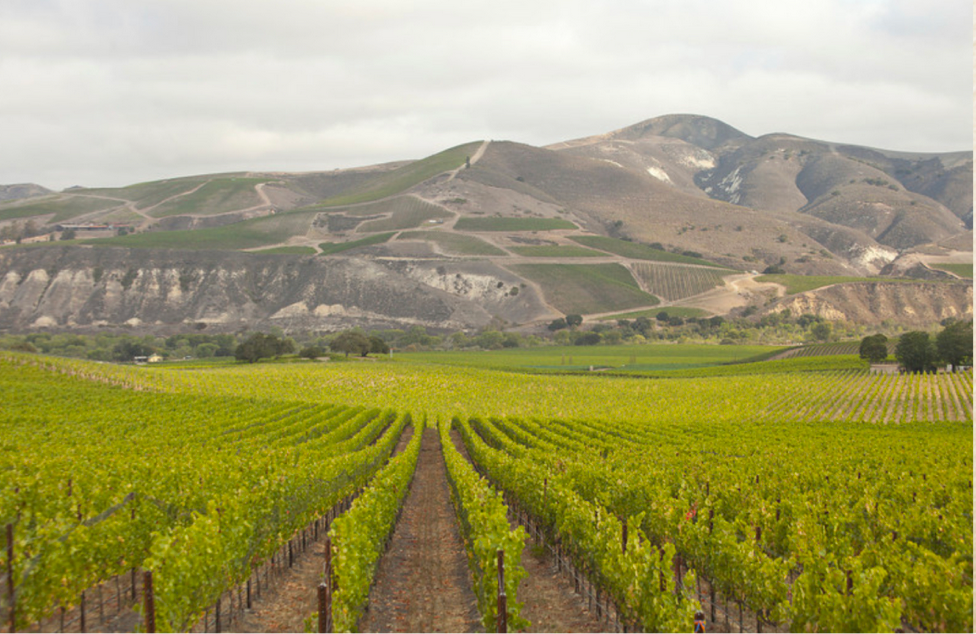 More reviews: www.princeofpinot.com/vineyard/53/



Sea Smoke Vineyard
Owners: Bob Davids and Prescott-Ashe (who invested in Sea Smoke and became a capital partner in 2012).
Acres: 160, primarily Pinot Noir
Years planted: 1999: 100 acres of Pinot Noir and Chardonnay. 2012: 60 acres of Pinot Noir and Chardonnay. Some replanting is ongoing.
Location: 7.5 miles west of the Pacific coastline and just north of the Santa Ynez River in the 'Pinot Bowl' of the Sta. Rita Hills AVA. Situated above Fiddlestix Vineyard.
Aspect: South-facing hillside bluffs with an elevation of 350'-650', 8.75% to 36.4% slopes, north-south rows.
Pinot Noir scions: Ten clones: 113, 667, 777, 459, Wädenswil 2A, Pommard 5, Mt. Eden, 09 and 16
Soils: A base of semi-siliceous shale with calcareous strata and diatomite under a top of shallow Botella, Gazos, and Lopez clays.
Vines: 1999: 3.5' x 8' spacing, single guyot on VSP, rootstocks primarily Riparia Gloire, 1091-14, and 3309. 2012: 3' x 6' spacing, single guyot on VSP, rootstocks primarily 101-14 and 3309 with some 44-53. As portions of blocks are replanted, higher lime-tolerant rootstocks like 1103P and 110/140R are used. Farming: Organically and biodynamically (80 acres) farmed and sustainably farmed since 2003. The goal is low crop yields and small grape clusters of intense flavor. Every vine receives personal handling from the vineyard crew seven to eight times each year.
Winery clients: None currently, a monopole. Some Pinot Noir was sold to Foxen for the first ten years and some Chardonnay was previously sold to Brewer-Clifton. The winery, located in Lompoc, has never bought fruit.
Comments: Labels in the 2009-2010 vintages displayed the wording,"California Grand Cru."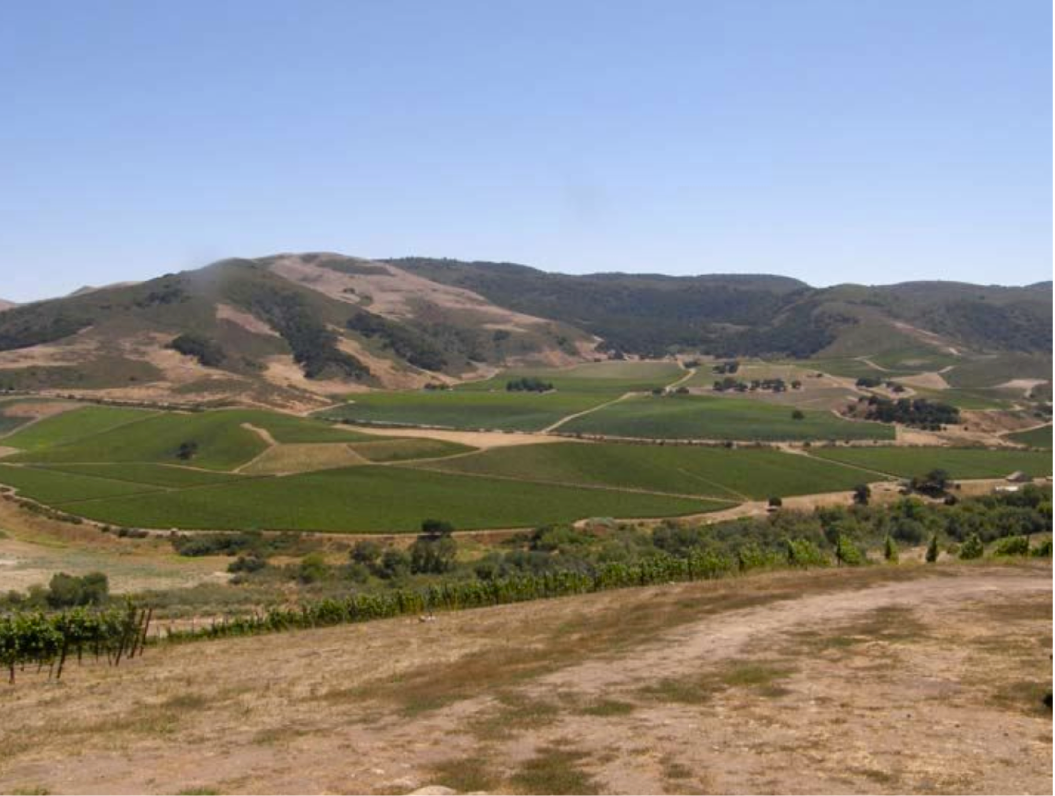 More reviews: www.princeofpinot.com/vineyard/141/